San Diego Jazz and Blues Weekends don't get much better than this 2nd weekend of April 2015's Jazz Appreciation Month, with great concerts and clubs, learning opportunities, and windows to the future of San Diego Jazz. From the This Is Jazz! series in Carlsbad, Middle Earth in Del Mar, Willie Jones III in La Jolla, and the Summer Jazz Workshop Open House Concert and Jam Session in Linda Vista, to Buddy Guy at Downtown San Diego's Historic Balboa Theater, there is Jazz and Blues for everyone to appreciate and celebrate! And you can always check out the Jazz 88.3 Jazz and Blues Calendar for complete listings of Jazz and Blues events, concerts, festivals at top San Diego venues ALL WEEK LONG!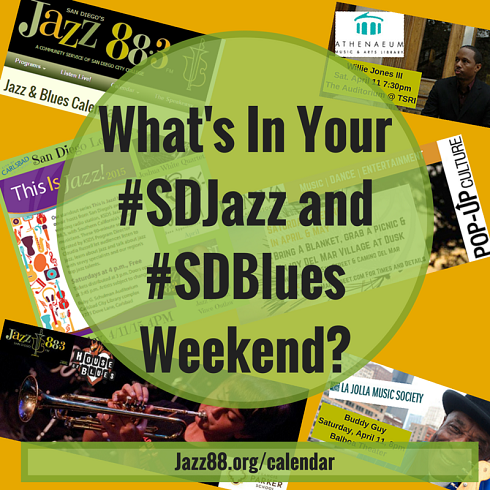 READ THE FULL ARTICLE
for more details and links of some great events presented by our
Jazz 88.3 Partners
!
Willie Jones III Presented by Athenaeum Jazz at TSRI
The 2015 installment of the
Athenaeum Jazz at The Scripps Research Institute, or TSRI
, series (formerly the Neurosciences Institute), presented by the
La Jolla Athenaeum Music and Arts Library
, continues on
Saturday, April 11, 7:30pm with the Willie Jones III Quintet
(click for tickets), an all-star ensemble featuring Jones on drums, past Tonight Show band member Ralph Moore on sax, Gilbert Castellanos on trumpet, former Wynton Marsalis band member Eric Reed on piano, and acclaimed veteran jazz artist Buster Williams on bass. Jones' association with the Athenaeum jazz series goes back to 1995, when he first appeared at the library in the stellar collective group Black/Note alongside longtime friend and musical collaborator Gilbert Castellanos. An L.A. native who studied with West Coast masters Billy Higgins and Tootie Heath, Jones moved to New York City in 1997.
Buddy Guy at the Balboa Theatre presented by the La Jolla Music Society
Middle Earth At The PopUp Culture Series Presented By The Del Mar Village Association
Middle Earth
, a San Diego based group that performs original and traditional music for belly dance, and other ethnic styles, plays on
Saturday, April 11 from 5 to 7 PM
for the 2nd installment of the
PopUp Culture series
presented by the
Del Mar Village Association
. This April and May 2015 series of pop up concerts, performances and various entertainment scheduled for outdoor performances at L'Auberge Amphitheater on the corner of 15th Street and Camino Del Mar. Bring a blanket, grab a picnic, and enjoy Del Mar Village at dusk! FREE to the public (except for 5/16 CineCucina – a ticketed event).
This Is Jazz! 2015 at the Ruby G. Schulman Auditorium Presented by City of Carlsbad
Jazz 88.3 Summer Jazz Workshop Open House, Concert, and Jam Session
The 5th Annual
Jazz 88.3 Summer Jazz Workshop Presented by House of Blues
, with 2 sessions in June and July 2015
TAKING APPLICATIONS NOW
, kicks off their 2015 season with a FREE
open house, concert, and jam session in Crivello Hall at Francis Parker School on Sunday, April 12th, 2015 from 3:00-5:00pm
. The concert will feature the Ambassadors of Soul, a fantastic big band directed by trombonist Andy Geib that features some of San Diego's best student musicians and many alumni of the Summer Jazz Workshop, with guest appearances by Summer Jazz Workshop faculty members including Derek Cannon(Trumpet), Justin Grinell(bass), Danny Green(piano), Tommy Collins(Guitar), Melonie Grinnell(piano), Ian Tordella(Saxophone), and Leonard Patton(Voice). Following the performances will be an open Jam session and all middle and high school students are encouraged to bring their instruments and sit in with the band!! This a great opportunity to hear some hear some of the best students and professionals in the area as well as check out the excellent facilities where the summer jazz workshop takes place!