Chase Morrin comes back to friends and family in San Diego for the holiday in the midst of another milestone year, after completing 4 years at Harvard and the New England Conservatory (NEC), a 5th year for a Master at NEC, and half way through a year at the Berklee College of Music. With a a pair of new releases in his gift bag, "Turtle", with his longtime trio, and "The Corn Night", a piano-marimba duo, he stopped by the Jazz 88 studios to talk with The Jazz 88 Round Up host Vince Outlaw about the journey from San Diego North County's Canyon Crest Academy, mentoring and collaboration with world-renowned performers and educators, his new music, and what's next!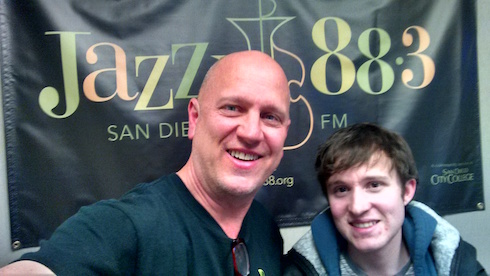 Check out the Jazz 88 Speakeasy Audio, Jazz 88 YouTube Channel video, pics and more...
Chase Morrin Interview with Jazz 88 Round Up Host Vince Outlaw [Streaming Audio]
Chase Morrin Interview [Video]

Chase Morrin Previews New Releases and 12/30/16 Concert on The Jazz 88 Round Up
Check out the segment Chase recorded for the December 18, 2016 installment of
The Jazz 88 Round Up with host Vince Outlaw
, which included a quick preview of his two recent releases, "Turtle" and "The Corn Night", and his December 30, 2016 concert appearance in San Diego at Dizzy's, plus the tune "EC" from "Turtles". Chase's segment was captured on video here and starts at about 7 minutes into the Jazz 88 Round Up replay from the Jazz 88 Speakeasy.
The replay of the Jazz 88 Round Up will be available here after processing (usually Monday evening following the weekend).