Gilbert stopped by the KSDS-FM Jazz 88.3 studios on Wednesday, August 26, 2015 for a live, on-air chat with
Afternoon Jazz host Ron Dhanifu
about all of those next steps plus the mentorship that Dizzy Gillespie gave him that inspires him to do the same to the next generation, and more.
READ THE FULL ARTICLE
for Jazz 88 Speakeasy Audio of the interview along with a full transcript...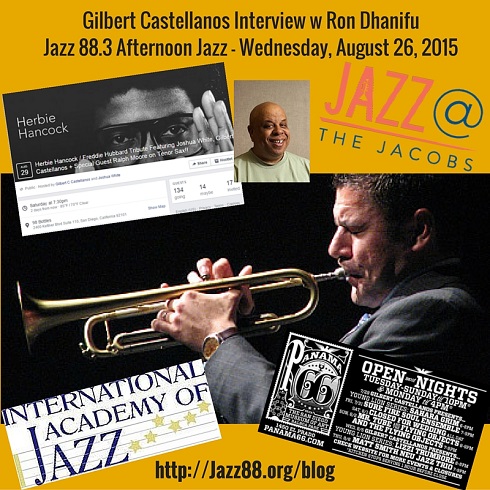 Gilbert Castellanos With Ron Dhanifu on KSDS-FM Jazz88.3 Afternoon Jazz
[00:00:00] Gilbert Castellanos (GC): We have a great concert lined up in November, January, February, and then we are going to close out our series in May. The November concert will include an all-star living legends concert that will feature San Diego's own Charles McPherson along with Mike Wofford and then also Henry "The Skipper Franklin", Roy McCurdy, the great Tom Scott, Barbara Morrison, Marshall Hawkins, and it's going to be a great night of music and we're going to have the Young Lions open up for them that night...I'm putting together an all-star Young Lions group, comprised of the best high school musicians in the county.
[00:00:39] Jazz 88.3 Host Ron Dhanifu (RD): So when you say the Symphony, are you guys converging together on stage?
[00:00:48] GC: The actual orchestra is not a part of the series, this is just all Jazz, so if you can imagine Norman Grantz presents in the year 2015, that's exactly what we are trying to do here, and I'm just thrilled. I'm bringing Diane Reeves out in January, actually February, and in May, we are bringing out Gregory Porter, who spent a lot of time here. It's a great lineup and the tickets are really reasonable, so look it up on their website, since I'm on the same sentence here about the Young Lions....
[00:01:24] GC: The Young Lions have a new home as well and they perform every Wednesday night at Panama 66, every Wednesday from 6 to 8, it's a family-friendly event, no cover charge, no food-drink minimum, and the best part about it is that it's being co-sponsored by the San Diego Museum so they are adding it as being part of their educational component, so we're thrilled to be a part of Balboa Park.
[00:01:52] RD: So are you hearing what this young man is doing? Not only playing his great trumpet and getting his musician chops down as he does each and every day, but also giving our community a chance to hear some great music and Jazz and bringing on young people to hear Jazz and you also teach in schools and you bring Jazz projects to elementary schools, stuff like that. You are doing a lot of stuff, man!
[00:02:15] GC: Well, it's important Ron, for me, you have to have all the burners on the stove going when it comes to music, it's really important to keep our classical music alive...our heritage, Jazz, and the most important thing to me is to really educate the young about it and make sure that they continue to pass it on to the next generations and to teach them how to love and appreciate this music and show respect for it, as well. You know, I'm really pleased to be a part of the community hear and really proud of San Diego, to be honest, because so much has changed in the last few years, we've become a real city for many aspects and I'm just humbled to be a part of that.
[00:03:08] RD: And I think that we have a thriving Jazz community here, not just saying that, I really believe that we have that now...a Jazz Community.
GC: We do, we have many venues to perform in, great programs for kids now, as a matter of fact, there's another program, the International Academy of Jazz, which is an after-school program, a non-profit program that we offer to kids in the age groups 8 to 18 and that takes place every Saturday and I'm the artistic director for that, so I get to work with these kids every Saturday, so for me it's just a joy to be there and to teach them about Jazz and to really pass the baton on to the next generation.
[00:03:48] RD: I think that you learned this early on because somebody tapped you on the shoulder and mentored you into education of music and that was Dizzy Gillespie. Lots of people don't know that he mentored you into a scholarship.
[00:04:04] GC: That's true. Yeah. He was responsible for getting me a scholarship to Berklee College of Music in Boston and I got to play with him for 2 years with the Monterrey [Jazz Festival] High School All-Star Big Band and I think they call it the Next Generational Festival now but back then it was part of the Monterey Jazz Festival, so I was luckily enough to be part of that program for 2 years and I got to hang out with Dizzy, I got to go to Japan for 2 summers, he had an all-star big band that backed him up, and if it wasn't for him I would not be here speaking with you this afternoon.
[00:04:38] RD: Isn't that great. He did that throughout his life for people...where he brought on Paquito D'Rivera from Cuba, so people over them and mentored them over here...Sandoval...he brought him over, just so many things. When you told me that a few years ago, I was astonished that he heard your musicianship back then..20 years ago or more, I guess...tapped you on the shoulder and said "Hey young man, you've got to go."
[00:05:07] GC: It was the right move...for me, I just happened to be at the right place at the right time, so that's also something that helped. The most important thing that I learned about music, mainly from my father, is that you always have to respect the music. The one thing Dizzy Gillespie said was "If you take care of the music, the music will take care of you."
[00:05:32] RD: Absolutely. So Gil, you are doing so much in the community and I'm glad you stopped by real quickly because I know you have to get your Young Lions roared up over at the part today and also your Jam tonight. So if you haven't heard Gilbert, you have a chance tonight to hear him in two venues today.
[00:05:54] GC: The main reason why I came on your show today was to really get the word out about a very special concert that I am putting together with Joshua White, San Diego's own...our local hero here in San Diego...we're putting together a Herbie Hancock / Freddie Hubbard Tribute that's taking place this Saturday night at 98 Bottles and we're bringing the great Ralph Moore from Los Angeles to join us for the evening. It's a quintet along with Dean Hulett on bass and Ryan Shaw on drums, but we're extremely thrilled to have Ralph Moore come down and be a part of the unit and if you don't know who Ralph Moore is, go home and Google him or Google him right now...he's played with Freddie Hubbard, he's played with Horace Silver, he's played Cedar Walton...he's played with the greats...it's just going to be an honor to play with him this Saturday. And I wanted to say one more thing...I wanted to offer free tickets to the show tonight to the first person that can answer this trivia question.
[00:06:57] RD: What you probably need to do is put it on your website.
[00:07:03] GC: Yeah, just go to my Facebook Music page and just Inbox me the answer to this question: What Mongo Santamaria hit was made famous that was an original Herbie Hancock composition? That's an easy one. So it's a very famous Herbie Hancock composition that was made famous by the Mongo Santamaria band. If you can answer that, the first person to Inbox me at my Facebook page, you will win a pair of tickets to the 9:30 show, this Saturday at 98 Bottles. There are two shows..a 7:30 and a 9:30...you can get your tickets online as well at the 98 Bottles website..tickets are going fast and they are discounted right now but the day of the show, the prices will go up just slightly. So please go out and get your tickets and show your love and support.
[00:07:56] RD: So many things are happening for Gilbert Castellanos. And one more thing I just wanted to say, that I heard you a couple of weekends ago up in Idyllwild and what was so great...not only did you play with Charles McPherson, but that huge orchestra of 30 people...that Seawolf [Seahawk] Orchestra was fantastic...man the charts on that blew me away.
[00:08:19] GC: That was so much fun.
RD: That was a good day there.
GC: It sure was...just a fantastic weekend for me.
RD: And I don't hear Gilbert that much anymore because I'm doing so much more stuff and we don't get together like we used to but he came by today and gave us a shout about all the things he's doing in this community and do go out and support some live music and support Gilbert Castellanos. We'll go home with...take you out with your Federal Jazz Project you had back in 2013...that great play..and we'll get a number out of that after we do this...thank you Gilbert.
GC: Thank you Ron! Thank You KSDS!