Acclaimed Bassist Darek Oles
brings a super group in to the Saville Theatre for our next Jazz Live TONIGHT. The concert will focus on the music of John Coltrane as this week we recognize the 50th anniversary of the great saxophonist's passing. The band includes
Chuck Manning
on tenor,
Jon Mayer
on piano,
Larry Koonse
on the guitar and
Roy McCurdy
on drums. It will be a very memorable
Jazz Live
. This show is
SOLD OUT
but you can listen at 8pm to the live broadcast. If you are coming tonight here's the
parking pass
. Oh, and
Zoe's Place Food Truck
will also be on-site from
5-8PM
--so come hungry!

The Facebook Event - Darek Oles Presents Coltrane's Sound
Use our Facebook Event
to let your friends know you are Interested and Going, to put it on your FB calendar and get updates in your timeline, Share with your friends, and tell us what you are looking forward to!
Darek Oles Presents Coltrane's Sound - In His Words
I asked Darek to share with his thoughts on John Coltrane and the show he will be presenting...
We will commemorate 50 years of the passing of John Coltrane, the musical legend that influenced us so much. John Coltrane's music had a huge impact on my life, growing up in Poland. In the late 1980's, I was fortunate to meet the Coltrane family.




I performed and recorded with Alice Coltrane (John Coltrane wife), his sons Ravi and Oran and his step daughter Michelle. Ravi Coltrane was my classmate at California Institute Of The Arts. We played lots of music at the college and after we graduated, in different groups. We have recently performed, with Ravi, a tribute to John Coltrane [at] a jazz festival in my home town Wroclaw, in Poland.

On July 18, in San Diego I will present a tribute to John Coltrane; the group I named "Coltrane's Sound", after an album that Coltrane recorded in 1960. We will perform the arrangements from the "Coltrane's Sound" album. That album contains some of the most influential Coltrane's compositions and arrangements.

The group will be a quintet: Chuck Manning; a great saxophonist and Larry Koonse, great guitarist. I have worked with those musicians for almost 30 years. Jon Mayer; pianist , who actually performed and recorded with John Coltrane circa 1960, Roy McCurdy, a veteran drummer, who also got to meet and play with Coltrane. They sounds just amazing playing Coltrane's music!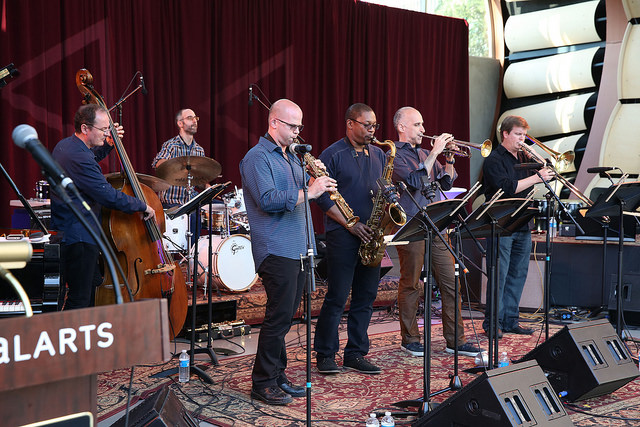 Darek Oles, Mark Ferber, Peter Epstein, Ravi Coltrane, Ralph Alessi, Harrison Kirk
CalArts Herb Alpert School of Music 25th Anniversary of Capitol Records CD Project
Darek also sets the stage for one of the most memorable Jazz Live San Diego interviews,
"I would like all the musicians participate in the interview for your radio show. Jon and Roy have great stories from the old days to share, about their experiences with John Coltrane." Sounds GREAT to me!
Coltrane's Sound - The John Coltrane Album
Darek Oles Plays Coltrane - The Jazz Live Preview