Jazz Live San Diego will be kicking of 2015 in great fashion with a series of concerts that starts January 13, 2015 at 8pm PT with legendary mallet man Joe Chambers, and includes San Diego's own Euphoria Brass Band, saxophonists Christopher Hollyday and San Diego icon Joe Marillo leading a quintet, and W.C. Handy Blues Award nominee The Missy Andersen Band. Jazz Live San Diego is San Diego's Jazz 88.3's monthly (twice a month June/July) live concert series from the Saville Theatre on the San Diego City College campus broadcast world wide on Jazz 88.3 and Jazz88.org,




READ THE FULL ARTICLE for more about these upcoming shows and how YOU CAN GET IN FREE!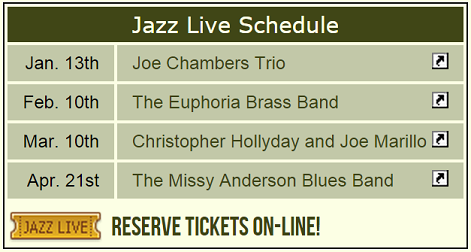 The Euphoria Brass Band- Tuesday, February 10, 2015, 8-10 PM PT
The Euphoria Brass Band
is San Diego's only authentic New Orleans-style brass band. It's ALWAYS a party with them and we're celebrating Mardi Gras that night.
Christopher Hollyday and Joe Marillo - Tuesday, March 10, 2015, 8-10 PM PT
Together with Friends.
Joe Marillo
is a San Diego treasure, joined here by kindred saxophone spirit
Christopher Hollyday
for a solid, straight-ahead quintet performance.
The Missy Andersen Band - Tuesday, April 21, 2015, 8-10 PM PT
Become a Jazz 88 Member and You Get 2 FREE TICKETS TO EVERY JAZZ LIVE SHOW!