On February 26th San Diego's Jazz 88.3 will be celebrating 100 years of recorded jazz. Back, in 1917, The Original Dixieland Jass Band cut two sides for the Victor Recording Label. Since then we have been blessed with hundreds of quintessential jazz recordings. On Sunday, February 26th (beginning at 10am), we will be airing our Top 100 Jazz Recordings of all time to celebrate this historic date. This list will be put together with your help. Please E-mail us at top5@jazz88.org and give us YOUR top 5 jazz recordings (songs/individual tracks) of all time. The 100-year anniversary celebration of recorded jazz will include hourly giveaways as well as a Grand Prize drawing. It all begins at 10am on February 26th. Again, E-mail us your Top 5. SHARE ON SOCIAL...

Share Your Vote For The Top 5 Jazz Recording Of All Time
SHARE
Our
Top 5 Jazz Recordings Of All Time Facebook Facebook Event
WHEN YOU VOTE
For Yours! Just SHARE our post below, type your Top 5 Recordings (Artist "Tune" - Recording) and POST! You'll want to also say you are GOING so you can get a reminder about our broadcast of the Top 100 Jazz Recordings, based on your votes, on Sunday, February 26!
Here's what mine looked like when I did it! I love these tunes! I bet a few show up in the Top 100...
Share Your Top 5 Jazz Recordings On Twitter
Here are a couple ideas for getting your vote in and sharing it with everyone via Twitter...
Get Creative But GET YOUR VOTE IN...and Share It!
Screenshot (until I can get embed working) of our original tweet...click, then Retweet...VOTE!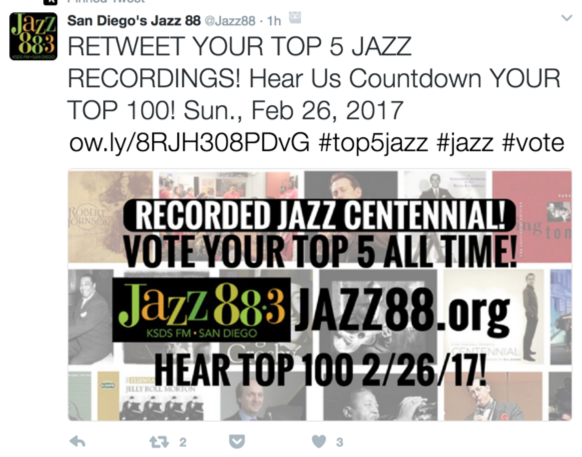 Tweet @Jazz88 A Screenshot Of Your Vote-By-Email To top5@jazz88.org....