Kronomorfic, whose latest release "Entangled" is a favorite pick for Jazz 88.3's late weeknight Progressive Night's hosts, performed music from that collection, their 2010 release "Micro Temporal Infundibula", and other original compositions, before a sparse but enthusiastic and engaged audience at San Diego City College's Saville Theater and a much larger live broadcast audience on Jazz Live San Diego, Tuesday, May 19, 2015. Co-founder's David Borgo, saxophone, and Paul Pellegrin, drums, also sat down with Jazz Live host Vince Outlaw for a recorded interview aired after the groups performance.




READ THE FULL ARTICLE

for links to Jazz 88 Speakeasy Audio of the concert and interview, video of the interview, pictures from the evening, odds and ends, and the Jazz 88 Speakeasy Audio preview of our NEXT JAZZ LIVE, Tuesday, June 9, 2015 8-10pm PT with Chuchito Valdes Jr.!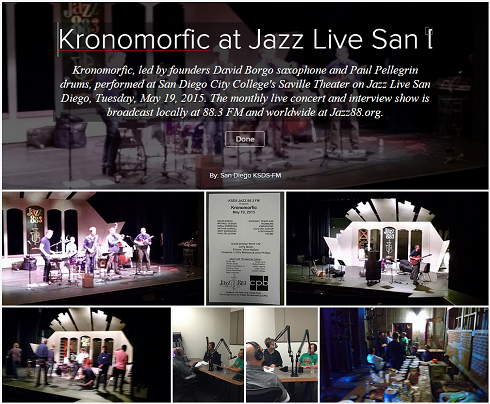 Listen To Kronomorfic Perform at Jazz Live San Diego
Kronomorfic, David Borgo soprano / tenor sax, Michael Dessen trombone, Kjell Nordeson vibraphone, Nathan Jarrell electric guitar, Andy Zacharias contrabass, Paul Pellegrin drums, performed a 90 minute set of music from their 2014 release "Entangled", their 2010 collection "Micro Temporal Infundibula", and others. The entire performance, as all Jazz Live San Diego and other specialty shows are, was recorded and is available to stream from the
Jazz 88 Speakeasy...JOIN FOR FREE TODAY!
Enjoy!
David Borgo and Paul Pellegrin of Kronomorfic Do The Jazz Live San Diego Interview
Co-founders of Kronomorfic David Borgo and Paul Pellegrin hiked up the Jazz 88.3 studios in the "L" building off Curran Plaza at San Diego City College before their performance to chat with Jazz Live San Diego host Vince Outlaw about "polymetric time", the musicians on 2014's "Entangled" and those performing at Jazz Live, Paul's search for rhythmic (and professional) meaning and finding it in the "clave" rhythms that propel Kronomorfic's music, David's work as a professor at UCSD, and more. The interview audio is also available in the Jazz 88 Speakeasy and through uncut video captured in studio and posted to the
Jazz 88.3 YouTube Channel (SUBSCRIBE!)
.
Kronomorfic at Jazz Live San Diego - The Photo Album
I arrive around 5pm or so and start snapping a few shots of the stage setup, the lineup program for the show, the interview at the studio (thanks Michael!), and various shots during the show. This week, we also have some guest shots from folks in the audience, so enjoy the photos! Follow
KSDS San Diego's Jazz 88.3 Jazz88.org on Flickr
and check out more photos!
Some Kronomorfic Odds and Ends
Here's a video of the soundcheck...
Jazz Live San Diego Preview - Chuchito Valdes Jr., Tuesday, June 9, 2015 8-10pm PT
Cuban pianist and 3rd generation of the piano dynasty, Chuchito Valdes Jr.
returns to San Diego City College's Saville Theatre for a live, worldwide broadcast on San Diego's Jazz 88.3 and Jazz88.org on Tuesday, June 9, 2015 from 8 to 10 pm PT. In addition to the concert, the broadcast includes an interview with band members and a preview of upcoming Jazz Live San Diego performances. Jazz 88.3 Members receive 2 free tickets to each Jazz Live San Diego performance, so become a member or renew your membership today and reserve your tickets at Jazz88.org!
Here's the preview of Chuchito's appearance, including some biography and a couple of tunes from his
2002 release "Encantado"
...