To join in International Jazz Day Celebrations on this Thursday, April 30, 2015, and on the eve of our launch of the 2015 Music Matters Instrument Drive collection program, part of The Future of Jazz initiative at San Diego's Jazz 88.3 Jazz88.org, we are hosting a guest blog post of The Top Jazz Artists of All Time, as compiled by the students and staff of Napoli School of Music and Dance near Philadelphia, PA.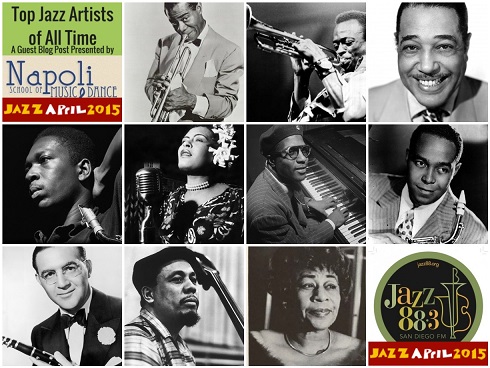 The students at Napoli learn about a wide variety of topics in the jazz realm, including scales, reading, theory, repertoire, and improvisation. Our jazz music lessons take our students through the greats, including Joplin and Gershwin. In preparation for Jazz Appreciation Month, the students were asked who some of their favorite artists were, then the staff worked to put it all together into the first Jazz 88.3 Guest Blog Post...at least that I know of ;) Jazz 88 has taken the YouTube video's selected by Napoli as illustrating each of the artists repertoire and put them into a
playlist
on the
Jazz 88.3 YouTube Channel (SUBSCRIBE!)
.
If you'd like to discuss your ideas for a guest post on the Jazz 88.3 Blog, send me an email at VinceO@Jazz88.org!
READ THE FULL ARTICLE for today's guest post!
The Top Jazz Artists of All Time
Jazz music is said to come from the soul. A genre of music that emanated from African-American communities during the late 19th and early 20th century, jazz has become one of the most popular musical genres across the globe. Over time, different cultures have added different styles and improvisations to the genre creating various unique sub-genres of jazz.
Genres such as blues, swing, rock & roll, funk, rhythm & blues and pop can all be traced back to jazz. Throughout jazz history, musical giants like Billie Holiday, John Coltrane and Benny Goodman have helped transcend the genre into one of the most popular and significant aspects of American culture.
Studies have shown that listening to jazz music can increase one's focus and energy, raise one's heart rate, increase motivation and boost productivity. Jazz can even alter your brain waves and create a feeling of relaxation just as effective as receiving a massage. Napoli School of Music & Dance has helped students of all ages learn to enjoy jazz and help teach the benefits of learning "one of America's original art forms." So without further adieu, we give to you our definitive top 10 Jazz artists of all time.
10. Ella Fitzgerald
: Often referred to as the "Queen of Jazz," Ella Fitzgerald was noted for her pure tone, clear-cut diction and her improvisational ability. An exceptional vocalist and soloist, Fitzgerald became well known for her collaborations with artists such as Duke Ellington & Louis Armstrong. Check out hits such as
"Dream A Little Dream of Me"
and "They Can't Take That Away From Me."
9. Charles Mingus
: Known as "The Angry Man of Jazz," Charles Mingus was a highly influential bassist, composer and bandleader who created his own brand of music that created a unique and different kind of jazz. Check out one of his most famous hits
"Goodbye Pork Pie Hat."
8. Benny Goodman
: Known as the "King of Swing," Benny Goodman led one of the most popular music groups in America. Wildly popular in the mid 1930's, the musician, clarinetist and bandleader helped usher in jazz's "coming out party to the world of respectable music.". His most popular hits include
"Sing, Sing, Sing"
and "Bugle Call Rag."
7. Charlie Parker
: Charlie Parker was an American jazz saxophonist and composer. Known as "Bird," Parker was a leading figure in the development of bebop – a faster tempo style of jazz known for its improvisation. Check out "The Gypsy" and
"All the Things You Are."
6. Thelonious Monk
: Thelonious Monk was a noted jazz pianist and composer throughout the 20th century. Monk is the second most-recorded jazz composer after Duke Ellington, which is remarkable considering Ellington wrote more than 1,000 pieces while Monk only wrote 70. He's best known for his hits
"Round Midnight"
and "Blue Monk."
5. Billie Holiday
: Nicknamed "Lady Day," Holiday was an American jazz singer and songwriter. A pioneer for women and jazz music as a whole, Holiday was best known for her unique vocal style that manipulated phrasing and up-tempo. Her most popular songs include "Strange Fruit" and
"I'll be Seeing You."
4. John Coltrane: Trane was one of the most significant saxophonists in music history. Coltrane
influenced numerous musicians while appearing as a sideman on many albums with popular artists such as Miles Davis & Thelonious Monk. Check out "In A Sentimental Mood" and
"My Favorite Things."
3. Duke Ellington
: The Duke was one of the most influential composers, pianists and bandleaders in music history. He led his orchestra for a career spanning over 50 years. Ellington wrote over 1,000 compositions and helped elevate jazz to an art form on par with other traditional music genres. Listen to "Take the A Train" and
"It Don't Mean A Thing."
2. Miles Davis
: Miles Davis is considered one of the most influential musicians of the 20th century, as he was at the forefront of making several developments in jazz music. The Rock and Roll Hall of Fame recognized him as "one of the key figures in the history of Jazz." One of his most famous pieces is the song
"So What."
1. Louis Armstrong
: Satchmo came into prominence in the 1920s as an inventive trumpet player, but he would go on to become one of the most influential figures in jazz and music history. Known for his gravelly voice, Armstrong was one of the first African-American entertainers to cross over into popular music and reach wide audiences across all cultures. His most well-known hits include
"What A Wonderful World"
and "Mack the Knife."
Who are your favorite jazz artists?
The Top Jazz Artists of All Time - Video Playlist
We've put together the YouTube videos referenced by the Napoli School Students and Staff into a handy playlist for your enjoyment.
SUBSCRIBE to the Jazz 88.3 YouTube Channel!