NEW THIS WEEK FOR 3/28/11
VERNELL BROWN, JR. – "DO YOU REALLY LOVE ME" (Pianist, leading various band configurations, doing all original material).

Biography
ROGER DAVIDSON & DAVID FINCK – "UMBRELLAS & SUNSHINE" (Pianist and bassist doing the Michel Legrand songbook).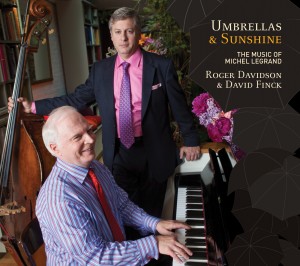 Promo:

"I feel a tremendous kinship with Michel Legrand," says Davidson. "Legrand is French, and so am I. He is a very romantic composer; he writes music with feeling. We both love to write melodies. Like everyone else, I heard his tunes played over and over by many wonderful musicians, and I started playing them myself." The result is Umbrellas and Sunshine, a celebration of Michel Legrand, romance, and swing.





AL DiMEOLA WORLD SINFONIA – "PURSUIT OF RADICAL RHAPSODY" (Guitarist, with strings and other accompaniment, doing world sounds).




JazzTimes Review: "Generally speaking, guitar wizard Al Di Meola has divided his musical attentions over the years between electric and acoustic, fusion and world music directions. This time out he splits the difference with some dazzling results. Coming off his short-lived reunion with Return to Forever, Di Meola returns to the solo spotlight with

Pursuit of Radical Rhapsody

, a strong and varied effort that moves mostly in the acoustic direction and features some high-profile personnel, including pianist Gonzalo Rubalcaba and bassist Charlie Haden."



HIGHTIME – "MORNING WALK" (Guitar/piano quartet, doing an eclectic mix of straight-ahead and contemporary, all originals by band members).




Promo: "

HighTIME is a funky jazz group, featuring world-renowned musicians including co-leader drummer/percussionist Ndugu Chancler, guitarist Fred Hamilton, keyboardist Pat Coil, and co-leader/bassist Lou Fischer. The infectious groove-based performance of original tunes is delivered with a focus on quality with solid grooves and good feeling!

"



ABDULLAH IBRAHIM & EKAYA – "SOTHO BLUE" (Pianist, backed by horns and rhythm section, doing all straight-ahead originals).





Guardian Review: "The great South African pianist/composer Abdullah Ibrahim has often seemed to consign his enduring themes to glass cases in recent times, imparting to them an untouchably meditative solemnity. This session for the latest edition of Ibrahim's Ekaya band features classic originals like The Wedding and The Mountain, expressed in luxuriously deep-toned sax-and-trombone arrangements, developed in successions of individual solos that rarely accelerate past walking pace. "



DANIELLE REICH – "THIS YEAR'S KISSES" (Female vocalist, doing mostly the Great American Songbook…great arrangements).






JazzHouston Review: "Danielle Reich's debut album comes after five years of honing her craft as a jazz vocalist in the Houston club scene. Danielle comes from the classical school, but after completing a degree in vocal performance and performing professionally, she turned to vocal jazz as a creative outlet, exploring improvisation, interpretation, and interaction with fellow musicians."



THEO SAUNDERS – "INTERGENERATION" (Pianist, leading a sextet, doing mostly straight-ahead originals).






CDBaby: "

A two- generation dynamic yet sensitive sextet playing original compositions and unusual arrangements of jazz, broadway, and country standards in the styles of New Orleans, Latin jazz, Afro-Pop, EuroJazz as well as Straight Ahead."





HAL SCHAEFER – "BRILLIANT!" (Solo piano versions of classic standards).




Hal's Site: "Hal claims that these are his best-ever solos. It's not a surprising assertion, coming from a musician brimming with imagination and invention. He says he is supposed to get better playing the piano. He relates hearing an interview with Clint Eastwood about his film directing. Clint said, "It's supposed to get better and if it doesn't get better, I'll stop directing." Hal has adopted the same philosophy."



DANIEL SMITH – "BASSOON GOES LATIN JAZZ!" (As the title implies, latin versions of jazz standards, better than you might think).



SEAN SMITH QUARTET – "TRUST" (Bassist, leading a quartet, doing all originals).

Cross Harp Chronicles Review: "
Sean Smith makes a welcome return to recording with Trust — his third album as a leader, his first since 2001, and the debut release for his own imprint, Smithereen Records. Smith's swinging, finely attuned quartet, which consists of guitarist John Hart, saxophonist John Ellis, and drummer Russell Meissner, is dedicated to exploring Smith's original compositions.
"Trust is such a big part of what we do," Smith says. "I trust that these guys are going to interpret my pieces without me telling them very much. Oftentimes they make them sound better than I had envisioned. They'll suggest something, or go with an idea and trust that it will be the right thing at the moment."

THE UPTOWN JAZZ COLLECTIVE – "SHE DO WHAT SHE DO" (Mostly vocal album, of some familiar tunes and originals).

AllAboutJazz: "While The Uptown Jazz Collective has plenty of great music to present, and clearly believes in the philosophy that variety is the spice of life, too much spice can occasionally cover up the natural flavors within the music. Still,

She Do What She Do

is a fine program of music that hints at great potential for development, and future success for The Uptown Jazz Collective."



WAHID – "INSIDE SILENCE" (Oud player and percussionist. In spite of exotic instrumentation, works very well as an option-slot choice).




FAME Review: "ahid is a two-man configuration of just oud and frame drums, a duet reaching back to mid-Eastern sounds and traditions in order to create a result that's remarkably full for being so ostensibly spare. The largest aspect of that quality is due to Dimitris Mahlis' extraordinary expressiveness on the stringed instrument he wields so adroitly. In his playing, and in Chris Wabich's almost haunting time-keeping, emphases, and undercurrents, can be heard again why Ralph Towner and Oregon were so enamored of that region's musics, and why Steve Tibbetts, Marc Anderson, and others echoed the same in their own exotica."



KENNY WERNER – "BALLOONS" (Relatively straight-ahead live performance, backed by an all-star band).






Half Note Announcement: "On it, the influential composer assembles a sterling group of associates for an in-depth examination of four originals, all showcasing his singular approach to composition and the quintet's collective approach to improvisation.

Recorded live at the Blue Note, the music represents a leap forward for Werner, who last year earned a Guggenheim Fellowship Award with his masterwork, No Beginning, No End. Balloons' tracks reflect Werner's adventurous nature; they are spirited, lyrical, possessing song-like qualities that evoke both a meditative air and the effortless whimsy of children at play.