San Diego's KSDS-FM Jazz 88.3 celebrates Jazz Appreciation Month April 2016 with Smithsonian Jazz with some fantastic events to highlight "the extraordinary heritage and history of jazz", shining a spotlight on the role of Jazz in San Diego in the past, present, and future.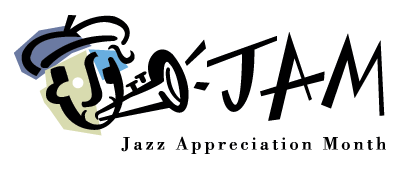 READ THE ENTIRE ARTICLE for details on just some of the events planned to celebrate Jazz Appreciation Month 2016 and the month's featured artist!
San Diego Jazz Heritage Concert Celebrates Mulligan at Hoover High School 1954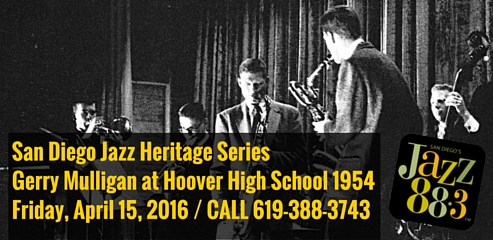 The second concert in our series celebrating San Diego's rich jazz heritage will be Friday, April 15 (7:30PM) at Hoover High School and it will celebrate the informal beginning of The Gerry Mulligan Sextet. The group only lasted a couple of years but was one of the most unique small groups in jazz history and is often overlooked. Out of all of Mulligan's ensembles, the sextet was one of his favorites. This is not a re-creation of the original December 14, 1954 concert, rather a celebration of it! We will be forming a group of world-class jazz musicians to perform the original arrangements and it will be a rare opportunity to hear the music played live. Pete Christlieb will be filling the baritone chair and Harry Allen (tenor) will play the Zoot Sims book. Ron Stout (trumpet), Jim Hughart (bass) and Kendall Kay (drums) are also tapped for this special night. Tickets are only $20 (cash only if you're paying at the door the night of the concert)! Make your reservation NOW by calling 619-388-3743.
Jazz Live San Diego Gets Combustible With Mr. Bongo, Jack Costanzo

One of the pioneers of Latin Jazz graces the stage on Tuesday, April 19th for Jazz Live. Mr. Bongo, Jack Costanzo will be bringing his Latin Combustion Band to the Saville Theatre
for a night of music you don't want to miss. If you are a valid Jazz 88 member you can make your reservation for
2 free tickets in the Jazz 88.3 Speakeasy
. If you need to purchase additional tickets you can do so by calling 619-388-3743.
BECOME A MEMBER
for 2 Free Tickets to Every Jazz Live Show!
San Diego School for Creative and Performing Arts Competes In Essentially Ellington
Jazz 88.3 will be sponsoring a performance celebrating the birthday of Duke Ellington (April 29) featuring the future of San Diego Jazz, the San Diego School of Creative and Performing Arts' (SDSCPA) Jazz Ensemble (concert details to be announced).
SDSCPA has been chosen to go to New York City to compete in the "Essentially Ellington Swing Competition," May 5-7th. This band is one of only 15 bands chosen throughout the United States and Canada to compete.
Celebrate Jazz Appreciation Month By Supporting LIVE Jazz and Blues Presenters
Jazz Appreciation Month 2016 Featured Musician: Benny Carter
Benny Carter,
"an African American musician, composer, arranger, and bandleader who made major contributions to the development of jazz, helped define the role of the alto saxophone, and whose work helped break down boundaries in the music and entertainment industries", is the
Jazz Appreciation Month 2016 Featured Musician
and is presented on
the official poster for JAM 2016
.
Smithsonian Jazz has provided
his oral history with transcript, Benny's Music Class exploring lessons about jazz including: the alto saxophone, instruments, chorus and repeat, mood in music, music for television, and more.