This is Jazz! 2015, a partnership between the City of Carlsbad Cultural Arts Office and San Diego's Jazz 88.3, continues Saturday, April 11 at 4PM in Carlsbad City Library's Ruby G. Schulman Auditorium with a celebration of Jazz Appreciation Month with San Diego's 2011 Thelonious Monk International Piano Competition Finalist Joshua White and his Quartet and Jazz 88.3 host Vince Outlaw present "San Diego Jazz Legends and Young Lions".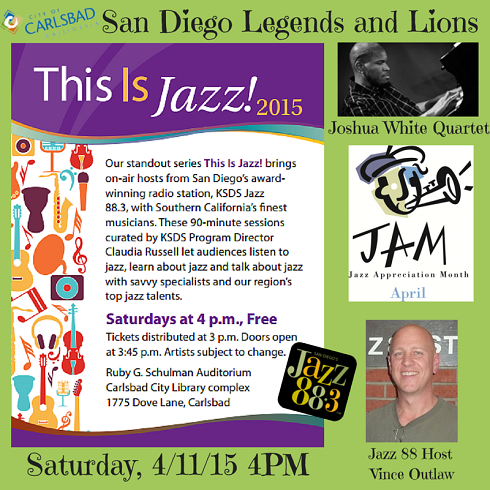 San Diego Jazz has both a rich history and a currently thriving, invigorating and nationally recognized scene, or as San Diego Magazine recently characterized, "the renaissance of West Coast Jazz is happening right here and now." We'll introduce and explore the artists, venues, organizations, media outlets, both past, present, and emerging while hearing music from one of the top Jazz Quartets led by pianist Joshua White, who none other than Herbie Hancock described as a "cutting-edge innovator".
READ THE FULL ARTICLE for the presentation slides from the event and Joshua White's set list from the show (YEA!)...
This Is Jazz! San Diego Legends and Young Lions Presentation
I took a bit of a different look at the "Legends and Lions" theme in the inaugural version of this presentation, opening up the discussion to not only the standard "musicians" topic, but also to venues, concerts / festivals, education, advocacy, and media, past and present. Please send additions, correction, and MOST IMPORTANTLY, your stories of the history of Jazz in San Diego!
Some other ways to view the presentation:
At the request of several attendees of the event, here is the set list, in no particular order (per Joshua), of the music performed by the Joshua White Quartet (Joshua piano, Josh Johnson alto sax, Dave Robaire bass, Dan Schnelle drums).
A MILLION DAZE (JOSHUA WHITE)
CURIOSITY LANDING (JOSHUA WHITE)
MORNING (JOSHUA WHITE)
EVIDENCE (THELONIOUS MONK)
THE LOWER CASE (JOSHUA WHITE)
SCARLET TANAGER (JOSHUA WHITE)