Tom Harrell is the Jazz 88.3 Artist of the Week starting June 15, 2015. You can hear this fantastic trumpter, flugelhornist, composer, and bandleader's music all week played by your favorite hosts LIVE on San Diego's Jazz 88.3 and Worldwide at Jazz 88.3.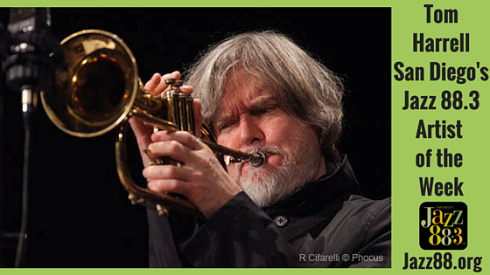 READ THE FULL ARTICLE for a Portrait in Jazz video preview of Tom Harrell, 26 Tom Harrell albums you can hear on Jazz 88.3, and links to more about this great Jazz artist.
Tom Harrell Portrait In Jazz Video Preview
Tom Harrell is featured on our weekly Noontime (PT) preview Portrait In Jazz and here's a preview of the show from the Jazz 88.3 YouTube Channel (SUBSCRIBE!)...
26 Tom Harrell Albums You Can Hear On San Diego's Jazz 88.3
| | |
| --- | --- |
| Album | Record Label |
| 5 | Highnote |
| Cape Verde | Mons Records |
| Colors Of A Dream | ADA US |
| Double Gemini | Highnote |
| Form | Fantasy Inc. |
| Labyrinth | RCA Victor |
| Light On | HighNote Records / Savant Records / Fedora Records |
| Live At The Village Vanguard | BMG |
| Number Five | HighNote Records / Savant Records / Fedora Records |
| Open Air | Stepple Chase Productions |
| Paradise | RCA BlueBird |
| Passages | Chesky Records |
| Prana Dance | HighNote Records / Savant Records / Fedora Records |
| Roman Nights | ADA US |
| Sail Away | Contemporary |
| Serbia | CTA Records |
| Stories | Fantasy Inc. |
| The Art Of Rhythm | RCA Victor |
| The Eternal Flame: A Baltimore Jam | |
| The Time of the Sun | HighNote Records / Savant Records / Fedora Records |
| These Rooms | Denon |
| Time of The Sun | High Note |
| Time's Mirror | RCA Victor |
| Trip | HighNote Records / Savant Records / Fedora Records |
| Visions | Fantasy/Contemporary |
| Wise Children | RCA BlueBird |
Tom Harrell Links