Happy New Year to all our Jazz and Blues lovers! It was a great year of music. Music Director, Joe Kocherhans culled his list down to a mere 10. See below for his Top Ten selections. We hope you have a great and jazzy new year.




HERE'S OUR TOP 10...
1- Russell Malone- "All About Melody"
2- Joey Alexander- "Countdown"
3- Gregory Porter- "Take Me to the Alley"
4- Kenny Garrett- "Do Your Dance"
5- Cyrus Chestnut- "Natural Essence"
6- Warren Wolf- "Convergence"
7- Dave Stryker- "Eight Track II"
8- George Coleman- "A Master Speaks"
9- One For All- "The Third Decade"
10- Tierney Sutton- "The Sting Variations"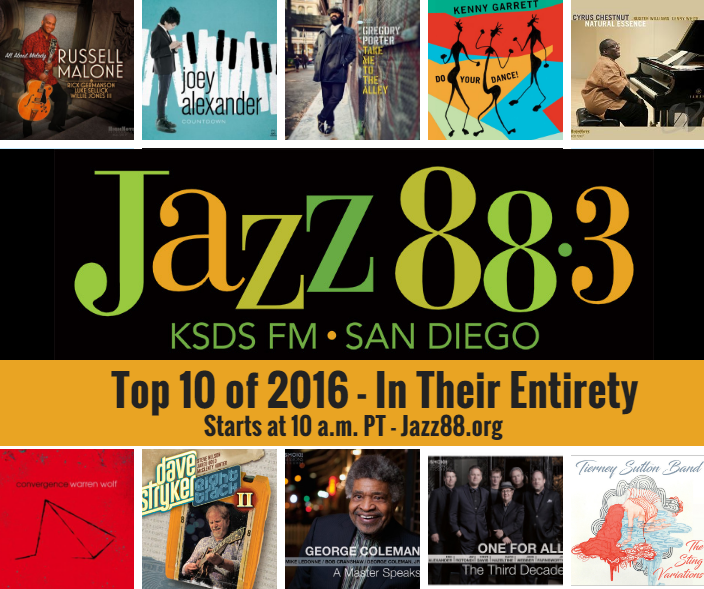 1.
RUSSELL MALONE – "ALL ABOUT MELODY"

IT'S AN ARTIST WHO ACTUALLY CAME IN FIRST LAST YEAR, INDICATIVE OF THE GREAT PRODUCT HE CONTINUALLY PUTS OUT. IN ADDITION TO HIS ORIGINALS, THERE ARE ALSO SOME FAMILIAR JAZZ TUNES AND STANDARDS. HE LEADS A QUARTET WITH RICK GERMANSON, PIANO; LUKE SELLICK PLAYS THE BASS; AND WILLIE JONES III PLAYING THE DRUMS. HERE'S RUSSELL MALONE AND "ALL ABOUT MELODY", OUR NUMBER ONE RECORD FOR 2016. HAVE A SAFE CELEBRATION AND NOTHING BUT THE BEST FOR 2017. I'M JOE KOCHERHANS, THANKS FOR LISTENING, UNTIL NEXT TIME…ENJOY IT.
2.
JOEY ALEXANDER – "COUNTDOWN"

IT'S A NEWCOMER TO OUR TOP TEN LIST, BUT PROBABLY NOT HIS LAST APPEARANCE, AFTER ALL, HE'S ONLY 13 YEARS OLD. IT CONTAINS SOME JAZZ CLASSICS, A COUPLE OF STANDARDS AND EVEN HIS OWN CREATIVE COMPOSITIONS. CHRIS POTTER PLAYS SOPRANO SAX ON ONE TRACK; LARRY GRENADIER AND DAN CHIMIELINSKI SHARE THE BASS DUTIES, WITH ULYSSES OWENS, JR. PLAYING THE DRUMS. HERE'S JOEY ALEXANDER AND "COUNTDOWN", NUMBER 2 FOR 2016, ON SAN DIEGO'S JAZZ 88.3.
3.
GREGORY PORTER – "TAKE ME TO THE ALLEY"

THIS YEAR'S NUMBER 3 RECORDING IS FROM ONE OF TODAY'S MOST HIGHLY REGARDED JAZZ SINGERS. HE PERFORMS ALL OF HIS OWN ORIGINALS. HE'S BACKED BY SINGER ALICA OLATUJA; CHIP CRAWFORD, PIANO; AARON JAMES, BASS; EMANUEL HARROLD, DRUMS; ALONG WITH TRUMPETER KEYON HARROLD; ALTO SAXPHONIST YOSUKE SATO; TENOR SAX PLAYER TIVON PENNICTT AND ONDREJ PIVEC PLAYING THE ORGAN. HERE'S GREGORY PORTER AND "TAKE ME TO THE ALLEY", OUR NUMBER 3 RECORDING FOR 2016, ON SAN DIEGO'S JAZZ 88.3.
4.
KENNY GARRETT – "DO YOUR DANCE"

IS AN EXCELLENT AND CREATIVE SAXOPHONIST AND COMPOSER, WHO HAS GRACED THIS LIST IN PREVIOUS YEARS. IT CONSISTS ENTIRELY OF HIS OWN ORIGINAL COMPOSITIONS. HE'S VERY BY VERNELL BROWN, JR., PIANO; CORCORAN HOLT PLAYING THE BASS; AND RONALD BRUNER, JR., DRUMS; ALSO APPEARING THE RECORDING IS DRUMMER McLENTY HUNTER AND DONALD "MISTA ENZ" BRONW, JR., RAPPING. HERE'S KENNY GARRETT AND "DO YOUR DANCE", NUMBER 4 FOR 2016 ON SAN DIEGO'S JAZZ 88.3.
5.
CYRUS CHESTNUT – "NATURAL ESSENCE"

IT'S ONE OF THE OUTSTANDING PIANISTS IN JAZZ OVER THE LAST SEVERAL YEARS, PERFORMING HIS ORIGINALS AND SOME FAMILIARY JAZZ TUNES AND STANDARDS. HE'S BACKED BY BASSIST BUSTER WILLIAMS AND LENNY WHITE PLAYING THE DRUMS. HERE'S CYRUS CHESTNUT AND "NATURAL ESSENCE", OUT NUMBER 5 PICK FOR 2016, ON SAN DIEGO'S JAZZ 88.3.
6.
WARREN WOLF – "CONVERGENCE"

IS ONE OF THE NEWCOMERS TO THE TOP TEN, AND ONE OF TODAY'S GREAT YOUNG INSTRUMENTALISTS. IT CONTAINS MOSTLY HIS OWN COMPOSITIONS, WITH SOME STANDARDS AND EVEN AN ADAPTATION OF A CLASSICAL PIECE. HE'S JOINED BY BRAD MEHLDAU PLAYING THE PIANO; JOHN SCOFIELD, GUITAR; CHRISTIAN McBRIDE PLAYING THE BASS AND DRUMMER JEFF "TAIN" WATTS. HERE'S WARREN WOLF AND CONVERGENCE, NUMBER 6 FOR 2016, ON SAN DIEGO'S JAZZ 88.3.
7.
DAVE STRYKER – "EIGHT TRACK II"

NEXT IS AN ACCOMPLISHED GUITARIST, WITH THE SECOND OF TWO RECORDINGS PAYING TRIBUTE TO POPULAR SONGS OF THE 60'S, 70'S AND 80'S, WRITTEN BY AMONG OTHERS, THE ISLEY BROTHER, STEVIE WONDER, PRINCE AND THE ZOMBIES. HE'S GOT STEVE NELSON PLAYING VIBES, WITH JARED GOLD, ORGAN; AND McCLENTY HUNTER PLAYING THE DRUMS. HERE'S DAVE STRYKER AND "EIGHT TRACK II", COMING IN AT NUMBER 7 FOR 2016, ON SAN DIEGO'S JAZZ 88.3.
8.
GEORGE COLEMAN – "A MASTER SPEAKS"

MOVING FORWARD TO THE NUMBER 8 IS A VENERABLE SAXOPHINIST, WHO CAME OUT WITH HIS FIRST RECORDING AS A LEADER IN MANY YEARS. IT FEATURES HIS OWN ORIGINALS AND SOME FAMILIAR JAZZ TUNES AND STANDARDS. HE'S BACKED BY MIKE LeDONNE, PIANO; THE LATE BOB CRANSHAW, BASS; HIS NAMESAKE SON PLAYING THE DRUMS, WITH GUITARIST PETER BERNSTEIN AS A GUEST ON ONE TRACK. HERE'S GEORGE COLEMAN AND "A MASTER SPEAKS", NUMBER 8 FOR 2016 ON SAN DIEGO'S JAZZ 88.3.
9.
ONE FOR ALL – "THE THIRD DECADE"

IS AN ALL-STAR ENSEMBLE, GETTING TOGETHER TO RECORD EACH OTHERS SONGS, WITH ONE STANDARD BY RODGERS & HART. ANOTHER JAZZ LIVE ALUM, ERIC ALEXANDER, PLAYS TENOR SAX, ALONG WITH JIM ROTONDI, TRUMPET; STEVE DAVIS, TROMBONE; DAVID HAZELTINE AT THE PIANO; JOHN WEBBER, BASS AND JOE FARNSWORTH PLAYING THE DRUMS. HERE'S ONE FOR ALL AND "THE THIRD DECADE", OUR NUMBER 9 RECORDING FOR 2016, ON SAN DIEGO'S JAZZ 88.3.
10.
TIERNEY SUTTON – "THE STING VARIATIONS"
IT'S A GREAT RELEASE BY A VOCALIST, WHO HAS GRACED OUR SAVILLE THEATER STAGE FOR JAZZ LIVE. IT IT FEATURES SONG WRITTEN BY ONE OF THE GREAT SONGWRITERS OF TODAY. SHE'S BACKED BY CHRISTIAN JACOB, PIANO; KEVIN AXT AND TREY HENRY PLAYING THE BASSES AND RAY BRINKER, DRUMS AND PERCUSSION. HERE'S TIERNEY SUTTON AND "THE STING VARIATIONS", NUMBER 10 FOR 2016, ON SAN DIEGO'S JAZZ 88.3.
Some Of Those We Lost In 2016
I'D LIKE TO TAKE THIS MOMENT TO REMEMBER SOME OF THE MUSICIANS, CONTRIBUTORS AND FRIENDS IN THE JAZZ AND BLUES WORLD WE LOST THIS PAST YEAR…PAUL BLEY…LONG JOHN HUNTER…OTIS CLAY…NANA VASCONCELOS…ERNESTINE ANDERSON…JOE ASCIONE…JOE MARILLO…DAVE BAKER…GATO BARBIERI…BILL HENDERSON…JEREMY STEIG…PETE YELLIN…DOUG RANEY…CANDYE KANE…DON FRIEDMAN…CHARLES DAVIS…CLAUDE WILLIAMSON…PETE FOUNTAIN…BOBBY HUTCHERSON…LOUIS SMITH…TOOTS THIELEMANS…RUDY VAN GELDER…BUCKWHEAT ZYDECO…BOB CRANSHAW…KIRK HOFFMAN…VICTOR BAILEY…MOSE ALLISON…HOD O'BRIEN. THEY WILL LIVE ON IN OUR HEARTS, THROUGH WHAT THEY GAVE TO THIS MUSIC…AND, THANKS TO ALL OF YOU FOR YOUR KIND WORDS AND SUPPORT THIS YEAR AND ALL THROUGH THE YEARS.......OUR BEST WISHES TO YOU AND YOUR LOVED ONES IN THE COMING NEW YEAR.