The Caravan was a success. Thank you for attending!
We want to thank the below performers and venues for their participation. Stay tuned for details on the next Caravan. The venues and performers were as follows:
MORE ON MAP / CLUBS / ARTISTS / HOSTS...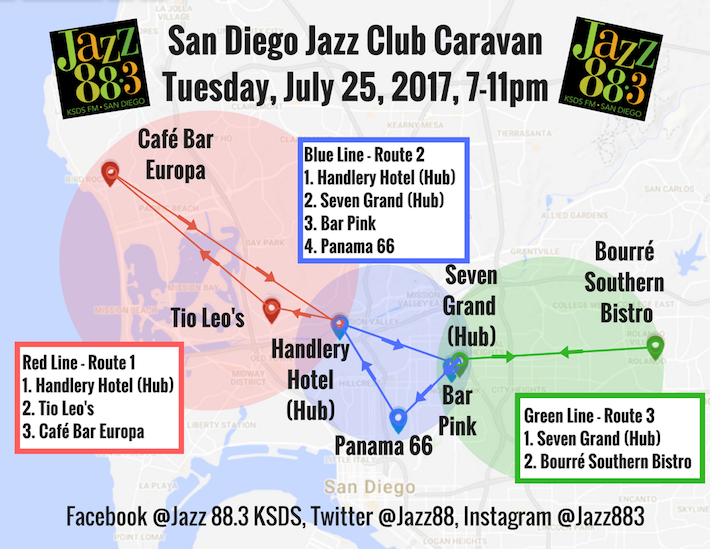 The inspiration and vision of Cafe Bar Europa, is to recreate the feeling of the small, local bars of southern Europe. Places where the people stop and gather, to hear the news, catch up with friends, relax and enjoy a coffee and a fine pastry or a small meal and a glass of wine. They are found in the countries that border the Western Mediterranean Sea, that same sea which has been named since ancient times as the Turquoise Sea, a sea that meets and mingles all upon its shores with the real and mythical, joyous and jubilant, serious and serene. Places where I saw more similarities than differences, and when seen as a whole, make up a region all its' own. "The Lands of the Turquoise Sea" – Basilio Ceravolo, owner and creator of Cafe Bar Europa.
Tio Leo's, with three convenient locations, has been one of San Diego's most loved Mexican Restaurants since 1979. Be sure to check out our Live Music at Tio Leo's Lounge on Napa Street where we feature live music, and salsa & swing dance nights! And for all of your special events, see our famous Mexican Catering Menu
.
The Handlery Hotel hosts the Jazz Happy Hour at in the 950 Lounge! San Diego's world-renowned Jazz Flutist and Presenter Holly Hofmann brings in world class musicians every Friday from 5:30-7:30PM. There's NO COVER CHARGE and parking is not only FREE, but it's bountiful! You can also enjoy a full bar and happy hour menu prices while you're there! What better way to kick off your weekend?!
Panama 66 at the San Diego Museum of Art - Gilbert Castellanos Presents: The Young Lions
The San Diego Museum of Art's Panama 66 is Zagat-rated as one of the hottest new beer bars in the country. Located in The San Diego Museum of Art's May S. Marcy Sculpture Court, Panama 66 features lunch and dinner, late hours, live music, and weekend brunch. Take in views of the Museum's May S. Marcy Sculpture garden and enjoy local craft beers on tap, exhibitions-themed cocktails, and locally-sourced seasonal sandwiches, salads, and entrees at Panama 66. Check out the Panama 66 Blog for calendar of events, photos, menu, and more!
Panama 66 has a Facebook Event For the San Diego Jazz Club Caravan, so let them know you are Going or Interested...and SHARE IT!
Gilbert Castellanos' Young Lions series came to Panama 66 in July 2015 after starting at Croce's West and has been showing off the Next Generation of Jazz every Wednesday since. Gilbert recently created the new Young Lions Jazz Conservatory as his next step in persuing where his "passion and heart and soul is."
Alongside hand-crafted cocktails, state-of-the-art beverage delivery systems, live music, pool tables and private party areas, Seven Grand San Diego is home to the ever-popular Whiskey Society; a unique membership program providing guests the opportunity to further explore the spirit via education and experimentation with comprehensive tastings featuring Master Distillers, International Brand Ambassadors, and notable members of the liquor industry.
- Daneen Wilburn with Kamau Kenyatta
Bourré Southern Bistro is located in the community of Rolando and serves Southern Creole favorites with a California fusion twist. What is Bourré? In French, Bourré means "stuffed" and when you dine with us, you will never leave hungry. Our menu includes many of the items one associated with New Orleans southern cuisine such as; fried catfish, jambalaya, gumbo and more. We invite you to visit Bourré for a delicious meal with the ambience and charm of New Orleans.
Bar Pink is an unpretentious cocktail lounge in North Park that features bubbles (in drinks and in decor) and live bands, with elephants plastered on the walls and a disco ball on dance nights. Play billiards, go dancing, or watch the live entertainment with a signature cocktail enhanced by Champagne. The primarily pink bar sells shot glasses, canvas totes, and tee shirts, so you can preserve your memories of your night among the bubbles and elephants forever. [Thrillst]