New Jazz Music being added to the Jazz 88 Music Library the week of July 14, 2014 includes several past and future Jazz Live San Diego artists (Henry Butler 4/2011,
Matt Falker 6/24/14
, Barbara Morrison...next Jazz Live 7/22/14...
hear the preview
!) plus the latest from San Diego band Pocket and an Los Angeles-based Jazz guitarist that will be featured on The New Jazz Thing on 8/8/14 and performing in San Diego on 8/1, Andy Waddell. Oh...and new music from the great Cyrus Chestnut too!!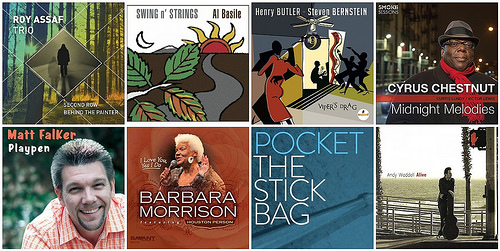 ROY ASSAF TRIO – "SECOND ROW BEHIND THE PAINTER"
AL BASILE – "SWING n' STRINGS
HENRY BUTLER-STEVEN BERNSTEIN AND THE HOT 9 – "VIPER'S DRAG"
CYRUS CHESTNUT – "MIDNIGHT MELODIES"
MATT FALKER – "PLAYPEN"
BARBARA MORRISON – "I LOVE YOU, YES I DO"
POCKET – "THE STICK BAG"
ANDY WADDELL – "ALIVE"
You can check out their debut on The New Jazz Thing @Jazz88, Monday, July 14, 2014 between 6 and 8 PM PT!
The full list, with additional annotations, links to and quotes from reviews and releases, and your chance to comment on this week's New, is after the split...