An abundance of New Jazz hits the Jazz 88 Music Library the week of July 21, 2014, including new releases by Jazz stalwarts like Anthony Branker, Robin Eubanks, Larry Goldings, Paquito D'Rivera, Bill Warfield with Randy Brecker, and former TNJT Guest Walt Weiskopf and a fantastic never-before-issued live solo performance by pianist Jaki Byard. And lots of new jazz artists to explore too!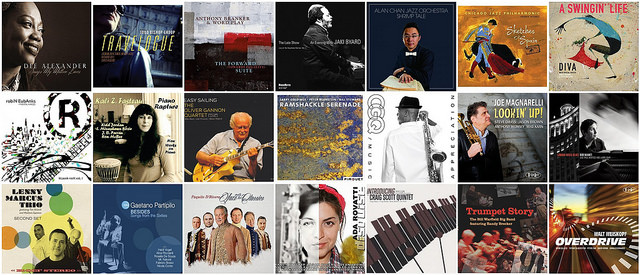 DEE ALEXANDER – "SONGS MY MOTHER LOVES"
TODD BISHOP GROUP – "TRAVELOGUE"
ANTHONY BRANKER & WORD PLAY – "THE FORWARD (TOWARDS EQUALITY) SUITE"
JAKI BYARD – "THE LATE SHOW"
ALAN CHAN JAZZ ORCHESTRA – "SHRIMP TALE"
CHICAGO JAZZ PHILHARMONIC CHAMBER ENSEMBLE – "SKETCHES OF SPAIN"
DIVA – "A SWINGIN' LIFE"
ROBIN EUBANKS + MENTAL IMAGES – "KLASSIK ROCK, VOL.1"
KALI Z FASTEAU – "PIANO RAPTURE"
OLIVER GANNON QUARTET – "EASY SAILING"
LARRY GOLDINGS – "RAMSHACKLE SERENADE"
CHRIS GREENE – "MUSIC APPRECIATION"
JOE MAGNARELLI – "LOOKIN' UP!"
BOB MAMET – "LONDON HOUSE BLUES"
LENNY MARCUS – "SECOND SET"
GAETANO PARTIPILO – "BESIDES: SONGS FROM THE SIXTIES"
PAQUITO d'RIVERA – "JAZZ MEETS THE CLASSICS"
ADA ROVATTI – "DISGUISE"
"INTRODUCING THE CRAIG SCOTT QUINTET"
BILL WARFIELD BIG BAND FEATURING RANDY BRECKER – "TRUMPET STORY"
WALT WEISKOPF – "OVERDRIVE"
You can check out their debut on The New Jazz Thing @Jazz88, Monday, July 21, 2014 between 6 and 8 PM PT!
The full list, with additional annotations, links to and quotes from reviews and releases, and your chance to comment on this week's New, is after the split...