A bit of a shortened list of new adds to the Jazz 88 Music Library for the week of July 28, 2014, but a full spectrum from Gpysy Jazz (Cyrille Aimee) to Sax/Bass Duo work from Jazz studs Steve Wilson and Lewis Nash ("Duologue").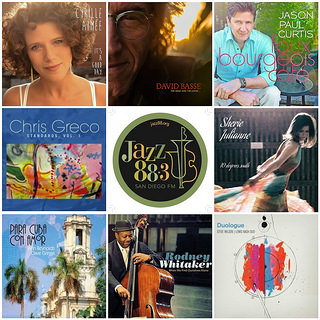 CYRILLE AIMEE – "IT'S A GOOD DAY"
DAVID BASSE – "THE HERO AND THE LOVER…"
JASON PAUL CURTIS – "FEAU BOURGEOIS CAFÉ"
CHRIS GRECO – "STANDARDS, VOL.1"
SHERIE JULIANNE – "10 DEGREES SOUTH"
ANN REYNOLDS CLAVE GRINGA – "PARA CUBA CON AMOR"
RODNEY WHITAKER – "WHEN WE FIND OURSELVES ALONE"
STEVE WILSON/LEWIS NASH DUO – "DUOLOGUE"
You can check out their debut on The New Jazz Thing @Jazz88, Monday, July 28, 2014 between 6 and 8 PM PT!
The full list, with additional annotations, links to and quotes from reviews and releases, and your chance to comment on this week's New, is after the split...