We are always excited when San Diego artists release new Jazz music and this week flautist extraordinaire Lori Bell pays tribute to her New York root with her new release "Brooklyn Dreaming". Lori has CD Release events planned on both coasts in January, so keep a look out for those as well as an interview about the disc around then too! Lori's release is just 1 of the 12 new releases to the Jazz 88.3 Music Library the week of November 9, 2015. These new releases will be featured by all your favorite Jazz 88.3 hosts in the weeks to come!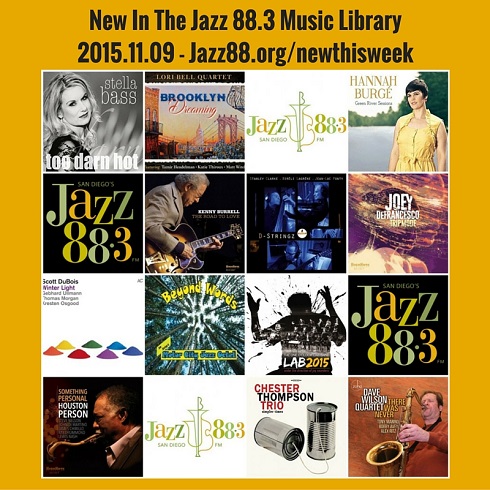 STELLA BASS – "TOO DARN HOT"
LORI BELL QUARTET – "BROOKLYN DREAMING"
HANNAH BURGÉ – "GREEN RIVER SESSIONS"
KENNY BURRELL – "THE ROAD TO LOVE"
STANLEY CLARKE / BIRELI LAGRENE / JEAN-LUC PONTY – "D-STRINGZ"
JOEY DeFRANCESCO – "TRIP MODE"
SCOTT DuBOIS – "WINTER LIGHT"
MOTOR CITY JAZZ OCTET – "BEYOND WORDS"
UNIVERSITY OF NORTH TEXAS 1:00 LAB BAND – "LAB 2015"
HOUSTON PERSON – "SOMETHING PERSONAL"
CHESTER THOMPSON – "SIMPLER TIMES"
DAVE WILSON QUARTET – "THERE WAS NEVER"
READ THE FULL ARTICLE
for links to artists websites, release reviews, and additional listening notes from the Jazz 88 Music staff....