Bohemia After Dark
About The Program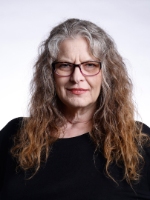 Host:
Claudia Russell
Bohemia After Dark: Where Hipster meets Hippie, Bopper meets Beatnik, Blues Brother meets Soul Sister, Swing meets Spoken Word. Claudia Russell (aka The Ever Lovin' Jazz Kitty) brings an eclectic mix extending to all jazz and jazz-infused music to weeknights from 7 to 10 on Jazz 88.3. Multi-generational, always hip. Jazz and beyond finding a home where artists dwell. Sharing the sound of Bohemia After Dark. Dig and Be Dug.
Latest Blog by Claudia Russell
Pianist/composer and Steinway Artist Connie Han has been described as "a decisively brazen talent with an exhilarating control of her skills and vision" by All About Jazz. On her imminent Mack Avenue release Iron Starlet, Han manifests "an intimate clairvoyance into all that has come before her" with "uncompromising vitality" at the piano. Her powerful vision takes in the full evolution of her forebears, from iconic innovators like McCoy Tyner and Hank Jones through the Young Lions revolution spearheaded by the Marsalis Brothers, Kenny Kirkland and Jeff "Tain" Watts, among others.
"The music's intention is to continue a legacy of tough, primal, raw but still intellectually engaging jazz," Han declares. When discussing her new album, the 24-year-old is unafraid of using the word "tradition," secure in the fact that she's not a throwback but a fresh voice inheriting a legacy of raw power and urbane lyricism in the jazz piano idiom.
According to Downbeat Magazine, Han possesses "skills as a bop player of fearsome ability, a supple balladeer, and a groove merchant par excellence." She has "already absorbed the post-bop piano masters" with "all the technical mastery she'll ever need." The New York Times describes her as "the rare musician with fearsome technical chops and a breadth of historical knowledge." Jazziz Magazine predicts Iron Starlet will "confirm her as one of the brightest young stars in jazz." On this trajectory, Connie Han continues on her stratospheric ascent in the jazz world as a major force to be reckoned with.

(Source: www.conniehan.com)
Here's what Claudia Russell is talking about:
Latest 5 blog articles...
On-Demand Audio Content
---
Here are a few CD selections featured most recently:
---
Here are the 30 most recent tracks played on this show:
August 9th at 9 PM Hour
9:41 PM
Cecil Taylor
"Abyss (First Movement)/Petals & Filaments (Second Movement)/"

— Silent Tongues

BUY
9:36 PM
Weather Report
"Harlequin"

— Heavy Weather

BUY
9:28 PM
Hank Crawford
"I Had A Dream"

— Tight

BUY
9:22 PM
Junior Cook
"Turbo Village"

— Junior's Cookin'

BUY
9:10 PM
Aaron Goldberg
"Oud To Omer"

— Worlds

BUY
9:02 PM
Mark Turner Quartet
"The Edenist"

— Lathe Of Heaven

BUY
9:00 PM
Lucy Anderton
"Eve's Sestina For Adam"

— The Spoken Word Revolution Redux

BUY
August 9th at 8 PM Hour
8:51 PM
Ada Rovatti
"The Kerry Dance"

— Green Factor

BUY
8:44 PM
Roberto Occhipiniti
"Three Man Crew"

— The Next Step

BUY
8:35 PM
Jack DeJohnette's Special Edition
"Master Mind"

— Audio Visualscapes

BUY
8:30 PM
Jack DeJohnette
"Dirty Ground"

— Sound Travels

BUY
8:22 PM
Jack DeJohnette
"Priestesses Of The Mist"

— Earth Walk

BUY
8:15 PM
Sun Ra
"Brainville"

— Sun Song

BUY
8:11 PM
Paul Motian_the Electric Bebop Band
"Be-Bop"

— Reincarnation of a Love Bird, Vol. 71-81

BUY
8:04 PM
Steve Gadd
"Honky Tonk - I Can't Stop Loving You"

— The Gadd Gang

BUY
8:00 PM
Cyrus Chestnut
"Cubano Chant"

— My Father's Hands

BUY
8:00 PM
Nora Gomringer
"Moment on Rattan Bench"

— The Spoken Word Revolution Redux

BUY
August 9th at 7 PM Hour
7:52 PM
Roberta Piket
"Mentor"

— West Coast Trio

BUY
7:42 PM
Roberta Piket
"I'm My Everything"

— Live at the Blue Note

BUY
7:34 PM
Caili O'Doherty
"Mr. O"

— Quarantine Dream

BUY
7:29 PM
Curtis Stigers
"(What's So Funny 'Bout) Peace, Love And Understanding"

— This Life

BUY
7:21 PM
James Brandon Lewis
"A Gathering Of Souls"

— Divine Travels

BUY
7:13 PM
Chet Baker
"Lament for the Living"

— On A Misty Night

BUY
7:07 PM
Conte Candoli
"Minor Groove"

— Sweet Simon

BUY
7:03 PM
Lord Buckley
"James Dean"

— ...

BUY
August 8th at 9 PM Hour
9:41 PM
John Esposito
"Two Worlds"

— A Book of Five Rings

BUY
9:30 PM
Rez Abbasi
"Mid-Life"

— Bazaar

BUY
9:27 PM
Stan Getz & Luiz Bonfa
"Mania De Maria"

— Jazz Samba Encore!

BUY
9:20 PM
Blurring The Edges
"Jimenco"

— Sombra

BUY
9:07 PM
Erb Baker Rosaly
"for canaries, career opportunities in the mining industry"

— ...don't buy him a parrot...

BUY
RSS feed of the 30 most recent tracks of the show.