Bohemia After Dark
About The Program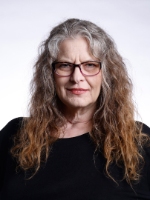 Host:
Claudia Russell
Bohemia After Dark: Where Hipster meets Hippie, Bopper meets Beatnik, Blues Brother meets Soul Sister, Swing meets Spoken Word. Claudia Russell (aka The Ever Lovin' Jazz Kitty) brings an eclectic mix extending to all jazz and jazz-infused music to weeknights from 7 to 10 on Jazz 88.3. Multi-generational, always hip. Jazz and beyond finding a home where artists dwell. Sharing the sound of Bohemia After Dark. Dig and Be Dug.
Latest Blog by Claudia Russell
Pianist/composer and Steinway Artist Connie Han has been described as "a decisively brazen talent with an exhilarating control of her skills and vision" by All About Jazz. On her imminent Mack Avenue release Iron Starlet, Han manifests "an intimate clairvoyance into all that has come before her" with "uncompromising vitality" at the piano. Her powerful vision takes in the full evolution of her forebears, from iconic innovators like McCoy Tyner and Hank Jones through the Young Lions revolution spearheaded by the Marsalis Brothers, Kenny Kirkland and Jeff "Tain" Watts, among others.
"The music's intention is to continue a legacy of tough, primal, raw but still intellectually engaging jazz," Han declares. When discussing her new album, the 24-year-old is unafraid of using the word "tradition," secure in the fact that she's not a throwback but a fresh voice inheriting a legacy of raw power and urbane lyricism in the jazz piano idiom.
According to Downbeat Magazine, Han possesses "skills as a bop player of fearsome ability, a supple balladeer, and a groove merchant par excellence." She has "already absorbed the post-bop piano masters" with "all the technical mastery she'll ever need." The New York Times describes her as "the rare musician with fearsome technical chops and a breadth of historical knowledge." Jazziz Magazine predicts Iron Starlet will "confirm her as one of the brightest young stars in jazz." On this trajectory, Connie Han continues on her stratospheric ascent in the jazz world as a major force to be reckoned with.

(Source: www.conniehan.com)
Here's what Claudia Russell is talking about:
Latest 5 blog articles...
On-Demand Audio Content
---
Here are a few CD selections featured most recently:
---
Here are the 30 most recent tracks played on this show:
August 8th at 9 PM Hour
9:41 PM
John Esposito
"Two Worlds"

— A Book of Five Rings

BUY
9:30 PM
Rez Abbasi
"Mid-Life"

— Bazaar

BUY
9:27 PM
Stan Getz & Luiz Bonfa
"Mania De Maria"

— Jazz Samba Encore!

BUY
9:20 PM
Blurring The Edges
"Jimenco"

— Sombra

BUY
9:07 PM
Erb Baker Rosaly
"for canaries, career opportunities in the mining industry"

— ...don't buy him a parrot...

BUY
9:04 PM
Sue Palmer And Her Motel Swing Orchestra
"Cow Cow Boogie"

— Party Favorites

BUY
9:00 PM
John Sinclair
"Cow"

— Full Circle

BUY
August 8th at 8 PM Hour
8:50 PM
Michael Fiorino/Ensemble 456
"Another Voyage"

— Another Voyage

BUY
8:42 PM
Anthony Branker & Word Play
"Y Not?"

— Dialogic

BUY
8:37 PM
Jimmy Witherspoon
"Gee Baby, Ain't I Good To You"

— Rockin' L.A.

BUY
8:35 PM
Jimmy Witherspoon
"Don't Come Back to Me (For Sympathy)"

— Blue Spoon/Spoon in London

BUY
8:31 PM
Jimmy Witherspoon
"Big Fine Girl"

— The 'Spoon Concerts

BUY
8:23 PM
Jimmy Witherspoon
"Stormy Monday"

— Live At The Mint

BUY
8:20 PM
Jimmy Witherspoon, Jay Mcshann
"Spoon Calls Hootie"

— Jimmy Witherspoon & Jay Mcshann [1201 Music]

BUY
8:08 PM
Gil Evans
"The Barbara Song"

— Jazz Masters 23

BUY
8:06 PM
Bobby McFerrin & Chick Corea
"Song For Amadeus"

— The Mozart Sessions

BUY
8:01 PM
Benjamin Boone/Philip Levine
"The Music of Time"

— The Poetry of Jazz

BUY
August 8th at 7 PM Hour
7:54 PM
Jennifer Wharton's Bonegasm
"The Day I Tried To Live (feat. Kurt Elling)"

— Not A Novelty

BUY
7:47 PM
Artemis
"Goddess of The Hunt"

— Artemis

BUY
7:41 PM
RONNIE FOSTER
"Sultry Song II"

— Reboot

BUY
7:33 PM
Milt Jackson
"Blues At Twilight"

— Plenty, Plenty Soul

BUY
7:30 PM
Thelonious Monk
"Carolina Moon"

— Genius of Modern Music, Vol. 2

BUY
7:27 PM
Ori Dagan
"Hashtag World"

— Click Right Here

BUY
7:21 PM
WJ3 All-Stars
"Can't Buy Me Love"

— My Ship

BUY
7:09 PM
Howard Johnson & Gravity
"Frame for the Blues"

— Right Now

BUY
7:03 PM
Sonny Rollins
"Oleo"

— Trio in Stockholm 1959

BUY
7:02 PM
Ken Nordine
"Burgundy"

— Colors

BUY
August 5th at 9 PM Hour
9:36 PM
Sonny Rollins
"Why Was I Born?"

— Road Shows, Vol. 3

BUY
9:28 PM
Troy Roberts
"Funkafarian"

— Nu-Jive: Nations United

BUY
9:22 PM
Bernard Allison
"Home Goin'"

— Keepin' The Blues Alive

BUY
RSS feed of the 30 most recent tracks of the show.