Bohemia After Dark
About The Program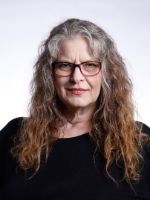 Host:
Claudia Russell
Bohemia After Dark: Where Hipster meets Hippie, Bopper meets Beatnik, Blues Brother meets Soul Sister, Swing meets Spoken Word. Claudia Russell (aka The Ever Lovin' Jazz Kitty) brings an eclectic mix extending to all jazz and jazz-infused music to weeknights from 7 to 10 on Jazz 88.3. Multi-generational, always hip. Jazz and beyond finding a home where artists dwell. Sharing the sound of Bohemia After Dark. Dig and Be Dug.
Latest Blog by Claudia Russell
Pianist/composer and Steinway Artist Connie Han has been described as "a decisively brazen talent with an exhilarating control of her skills and vision" by All About Jazz. On her imminent Mack Avenue release Iron Starlet, Han manifests "an intimate clairvoyance into all that has come before her" with "uncompromising vitality" at the piano. Her powerful vision takes in the full evolution of her forebears, from iconic innovators like McCoy Tyner and Hank Jones through the Young Lions revolution spearheaded by the Marsalis Brothers, Kenny Kirkland and Jeff "Tain" Watts, among others.
"The music's intention is to continue a legacy of tough, primal, raw but still intellectually engaging jazz," Han declares. When discussing her new album, the 24-year-old is unafraid of using the word "tradition," secure in the fact that she's not a throwback but a fresh voice inheriting a legacy of raw power and urbane lyricism in the jazz piano idiom.
According to Downbeat Magazine, Han possesses "skills as a bop player of fearsome ability, a supple balladeer, and a groove merchant par excellence." She has "already absorbed the post-bop piano masters" with "all the technical mastery she'll ever need." The New York Times describes her as "the rare musician with fearsome technical chops and a breadth of historical knowledge." Jazziz Magazine predicts Iron Starlet will "confirm her as one of the brightest young stars in jazz." On this trajectory, Connie Han continues on her stratospheric ascent in the jazz world as a major force to be reckoned with.

(Source: www.conniehan.com)
Here's what Claudia Russell is talking about:
Latest 5 blog articles...
On-Demand Audio Content
---
Here are a few CD selections featured most recently:
---
Here are the 30 most recent tracks played on this show:
December 1st at 9 PM Hour
9:42 PM
Jaco Pastorius
"Invitation"

— The Birthday Concert

BUY
9:37 PM
Jaco Pastorius
"Chromatic Fantasy"

— Word Of Mouth

BUY
9:28 PM
Jaco Pastorius
"Soul Intro/The Chicken"

— Truth, Liberty & Soul

BUY
9:26 PM
Jaco Pastorius
"Blackbird"

— Word Of Mouth

BUY
9:13 PM
Jaco Pastorius
"Liberty City"

— Truth, Liberty & Soul

BUY
9:05 PM
Jaco Pastorius
"6/4 Jam"

— Jaco Pastorius

BUY
9:01 PM
Jaco Pastorius Big Band
"Teen Town"

— Word of Mouth Revisited

BUY
December 1st at 8 PM Hour
8:56 PM
Lou Rawls
"What A Wonderful World"

— Seasons 4 U

BUY
8:52 PM
Lou Rawls
"My Kind Of Town/Chicago"

— Rawls Sings Sinatra

BUY
8:48 PM
Lou Rawls
"The Lady Is A Tramp"

— Rawls Sings Sinatra

BUY
8:45 PM
Lou Rawls
"Snap Your Fingers"

— Portrait Of The Blues

BUY
8:42 PM
Lou Rawls
"Since I Met You Baby"

— Portrait Of The Blues

BUY
8:38 PM
Lou Rawls
"Baby, What You Want Me To Do"

— Portrait Of The Blues

BUY
8:35 PM
Lou Rawls
"If You Gotta Make A Fool Of Somebody"

— It's Supposed To Be Fun

BUY
8:30 PM
Lou Rawls
"It's supposed to be fun"

— It's Supposed To Be Fun

BUY
8:25 PM
Lou Rawls
"Wee Baby Blues"

— For You My Love

BUY
8:23 PM
Lou Rawls
"That's Your Red Wagon"

— For You My Love

BUY
8:17 PM
Lou Rawls
"She's No Lady"

— At Last

BUY
8:10 PM
Lou Rawls
"Somebody Have Mercy"

— The Capitol Jazz & Blues Sessions

BUY
8:07 PM
Lou Rawls
"Two Years Of Torture"

— At Last

BUY
8:04 PM
Lou Rawls
"Fine Brown Frame"

— At Last

BUY
8:00 PM
Lou Rawls
"Chains Of Love"

— Portrait Of The Blues

BUY
December 1st at 7 PM Hour
7:57 PM
Sonny Rollins
"I Know"

— The Complete Prestige Recordings - Disk 1

BUY
7:49 PM
Flutology
"Be Bop"

— First Date

BUY
7:46 PM
Lennie Niehaus
"Blues for Susie"

— Lennie Niehaus, Vol. 2: Zounds!

BUY
7:42 PM
Ken Nordine
"What Time Is It?"

— The Best of Word Jazz Vol. 1

BUY
7:38 PM
Sure Fire Soul Ensemble
"Time To Rebuild"

— Step Down

BUY
7:30 PM
Trey Anastasio
"Push On 'Til The Day"

— Trey Anastasio

BUY
7:22 PM
Rodney Whitaker
"Fan O Gram"

— Oasis

BUY
7:22 PM
PROMO: STORM LARGE "HOLIDAY ORDEAL" 12/10/22
"LA JOLLA MUSIC SOCIETY"

— INFO AND TIX at TheConrad.org

BUY
RSS feed of the 30 most recent tracks of the show.