Bohemia After Dark
About The Program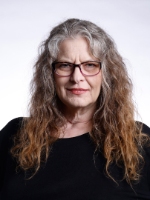 Host:
Claudia Russell
Bohemia After Dark: Where Hipster meets Hippie, Bopper meets Beatnik, Blues Brother meets Soul Sister, Swing meets Spoken Word. Claudia Russell (aka The Ever Lovin' Jazz Kitty) brings an eclectic mix extending to all jazz and jazz-infused music to weeknights from 7 to 10 on Jazz 88.3. Multi-generational, always hip. Jazz and beyond finding a home where artists dwell. Sharing the sound of Bohemia After Dark. Dig and Be Dug.
Latest Blog by Claudia Russell
Pianist/composer and Steinway Artist Connie Han has been described as "a decisively brazen talent with an exhilarating control of her skills and vision" by All About Jazz. On her imminent Mack Avenue release Iron Starlet, Han manifests "an intimate clairvoyance into all that has come before her" with "uncompromising vitality" at the piano. Her powerful vision takes in the full evolution of her forebears, from iconic innovators like McCoy Tyner and Hank Jones through the Young Lions revolution spearheaded by the Marsalis Brothers, Kenny Kirkland and Jeff "Tain" Watts, among others.
"The music's intention is to continue a legacy of tough, primal, raw but still intellectually engaging jazz," Han declares. When discussing her new album, the 24-year-old is unafraid of using the word "tradition," secure in the fact that she's not a throwback but a fresh voice inheriting a legacy of raw power and urbane lyricism in the jazz piano idiom.
According to Downbeat Magazine, Han possesses "skills as a bop player of fearsome ability, a supple balladeer, and a groove merchant par excellence." She has "already absorbed the post-bop piano masters" with "all the technical mastery she'll ever need." The New York Times describes her as "the rare musician with fearsome technical chops and a breadth of historical knowledge." Jazziz Magazine predicts Iron Starlet will "confirm her as one of the brightest young stars in jazz." On this trajectory, Connie Han continues on her stratospheric ascent in the jazz world as a major force to be reckoned with.

(Source: www.conniehan.com)
Here's what Claudia Russell is talking about:
Latest 5 blog articles...
On-Demand Audio Content
---
Here are a few CD selections featured most recently:
---
Here are the 30 most recent tracks played on this show:
September 25th at 10 PM Hour
10:31 PM
Stanley Turrentine
"Sugar"

— Sugar

BUY
10:22 PM
Coryell Auger Sample Trio
"Nadine"

— Coolidge Returns

BUY
10:13 PM
Joanne Brackeen
"Children's Games"

— Take A Chance

BUY
10:00 PM
Support this show at www.jazz88.org
"Bohemia After Dark"

—

BUY
10:00 PM
Jane Bunnett & The Spirits Of Havana
"Francisco's Dream"

— Ritmo + Soul

BUY
September 25th at 9 PM Hour
9:41 PM
Maria Schneider Orchestra
"Buleria, Solea Y Rumba"

— Concert In The Garden

BUY
9:30 PM
Andrew Oliver Sextet
"Biannual/Biennial"

— 82% Chance of Rain

BUY
9:22 PM
Chick Corea & Gary Burton
"Mozart Goes Dancing"

— Hot House

BUY
9:14 PM
Jason Adasiewicz
"Dagger"

— Varmint

BUY
9:00 PM
Tim Berne
"Sam's Dilemma"

— Tim Berne's Caos Totale / Pace Yourself

BUY
September 25th at 8 PM Hour
8:49 PM
Sam Rivers
"Inspiration"

— Inspiration

BUY
8:42 PM
Mal Waldron, Steve Lacy
"Let's Call This"

— The Super Quartet Live At Sweet Basil

BUY
8:30 PM
Jaki Byard
"European Episode"

— Maybeck Recital Hall Series, Vol. 17

BUY
8:22 PM
Ray Drummond
"Susanita-Like"

— Vignettes

BUY
8:16 PM
Holly Hofmann / Mike Wofford
"Twelve"

— Live at Athenaeum Jazz Vol 2

BUY
8:13 PM
Benny Carter
"The Cosmic Eye Suite - Sirius Samba"

— Journey to Next

BUY
8:13 PM
Benny Carter
"The Cosmic Eye Suite - Cosmic Joy"

— Journey to Next

BUY
8:11 PM
Benny Carter
"The Cosmic Eye Suite - Jazz Waltz"

— Journey to Next

BUY
8:00 PM
Von Freeman
"Vonski Speaks"

— Vonski Speaks

BUY
September 25th at 7 PM Hour
7:53 PM
Ron Davis
"Jaggy Dance"

— Pocket Symphronica

BUY
7:49 PM
Gil Scott-Heron
"Lady Day And John Coltrane"

— Pieces Of A Man

BUY
7:46 PM
Gil Scott-Heron
"The Revolution Will Not Be Televised"

— Pieces Of A Man

BUY
7:41 PM
Richard "Groove" Holmes
"Down Home Funk"

— Comin' On Home

BUY
7:30 PM
Chet Baker
"Oh, You Crazy Moon"

— Blue Room: The 1979 VARA Studio Seesions in Holland

BUY
7:27 PM
The Modern Jazz Quartet
"The Sheriff"

— The Sheriff

BUY
7:22 PM
Red Norvo
"Night and Day"

— The Savoy Sessions

BUY
7:13 PM
Dexter Gordon
"Boston Bernie"

— More Power!

BUY
7:10 PM
Ken Nordine
"A Whistler"

— The Best of Word Jazz Vol. 1

BUY
7:03 PM
Sonny Red
"You're Sensational"

— Out Of The Blue

BUY
September 19th at 11 PM Hour
11:44 PM
Pat Metheny
"Orchestrion"

— The Orchestrion Project

BUY
RSS feed of the 30 most recent tracks of the show.