Bohemia After Dark
About The Program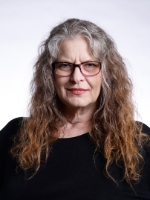 Host:
Claudia Russell
Bohemia After Dark: Where Hipster meets Hippie, Bopper meets Beatnik, Blues Brother meets Soul Sister, Swing meets Spoken Word. Claudia Russell (aka The Ever Lovin' Jazz Kitty) brings an eclectic mix extending to all jazz and jazz-infused music to weeknights from 7 to 10 on Jazz 88.3. Multi-generational, always hip. Jazz and beyond finding a home where artists dwell. Sharing the sound of Bohemia After Dark. Dig and Be Dug.
Latest Blog by Claudia Russell
Pianist/composer and Steinway Artist Connie Han has been described as "a decisively brazen talent with an exhilarating control of her skills and vision" by All About Jazz. On her imminent Mack Avenue release Iron Starlet, Han manifests "an intimate clairvoyance into all that has come before her" with "uncompromising vitality" at the piano. Her powerful vision takes in the full evolution of her forebears, from iconic innovators like McCoy Tyner and Hank Jones through the Young Lions revolution spearheaded by the Marsalis Brothers, Kenny Kirkland and Jeff "Tain" Watts, among others.
"The music's intention is to continue a legacy of tough, primal, raw but still intellectually engaging jazz," Han declares. When discussing her new album, the 24-year-old is unafraid of using the word "tradition," secure in the fact that she's not a throwback but a fresh voice inheriting a legacy of raw power and urbane lyricism in the jazz piano idiom.
According to Downbeat Magazine, Han possesses "skills as a bop player of fearsome ability, a supple balladeer, and a groove merchant par excellence." She has "already absorbed the post-bop piano masters" with "all the technical mastery she'll ever need." The New York Times describes her as "the rare musician with fearsome technical chops and a breadth of historical knowledge." Jazziz Magazine predicts Iron Starlet will "confirm her as one of the brightest young stars in jazz." On this trajectory, Connie Han continues on her stratospheric ascent in the jazz world as a major force to be reckoned with.

(Source: www.conniehan.com)
Here's what Claudia Russell is talking about:
Latest 5 blog articles...
On-Demand Audio Content
---
Here are a few CD selections featured most recently:
---
Here are the 30 most recent tracks played on this show:
March 28th at 9 PM Hour
9:39 PM
Keith Jarrett Trio
"Somewhere/Everywhere"

— Somewhere

BUY
9:31 PM
Bill Watrous
"Answer Me"

— Bone-ified

BUY
9:23 PM
Paul Motian, Bill Frisell, Ron Carter
"I'm So Lonesome I Could Cry"

— Bill Frisell, Ron Carter, Paul Motian

BUY
9:08 PM
Herbie Mann
"A Sad Thing"

— Great Ideas Of Western Mann

BUY
9:00 PM
Russell Malone
"Malone Blues"

— Live At Jazz Standard, Vol. 1

BUY
March 28th at 8 PM Hour
8:54 PM
Charlie Parker
"Groovin' High"

— Boston 1952

BUY
8:49 PM
Chano Pozo
"Manteca"

— El tambor de Cuba

BUY
8:44 PM
Cy Touff
"It's Sand, Man!"

— His Octet And Quintet*

BUY
8:40 PM
Taj Mahal
"Stompin' At The Savoy"

— Savoy

BUY
8:31 PM
Kurt Elling
"The Rent Party"

— Live In Chicago

BUY
8:22 PM
Ben Allison & Man Size Safe
"Language of Love"

— Little Things Run the World

BUY
8:14 PM
Oregon
"Playground in Nuclear Winter"

— Always, Never And Forever

BUY
8:07 PM
Dmitri Matheny
"Film Noir"

— Jazz Noir

BUY
8:01 PM
Joe Locke
"Cinema Paradiso"

— For the Love of You

BUY
March 28th at 7 PM Hour
7:55 PM
Grant Green
"Tracin' Tracy"

— Sunday Mornin'

BUY
7:48 PM
Kitty Margolis
"Money"

— Left Coast Life

BUY
7:43 PM
Connie Han
"Morning Star"

— Secrets Of Inanna

BUY
7:34 PM
Ed Palermo Big Band
"Let'S Move To Cleveland"

— Eddy Loves Frank

BUY
7:30 PM
Shelly Manne
"Zamar Nodad"

— Steps To The Desert: Modern Jazz Versions Of Favorite

BUY
7:23 PM
Dave Stryker
"Deep"

— Prime

BUY
7:17 PM
Barry Harris
"Sun Dance"

— Magnificent

BUY
7:08 PM
Woody Shaw & Louis Hayes
"Sun Bath"

— The Tour: Volume One

BUY
7:02 PM
Rod McKuen
"Six Songs For The Sun"

— Beatsville

BUY
March 27th at 9 PM Hour
9:27 PM
Elvin Jones
"Doll Of The Bride"

— In Europe

BUY
9:20 PM
Jackie McLean
"Tippin' the Scale (Alternate Take)"

— Tippin' The Scales

BUY
9:11 PM
Weather Report
"Mysterious Traveller"

— Footprints: The Life And Music Of Wayne Shorter

BUY
9:05 PM
Snarky Puppy
"Outlier"

— We Like it Here

BUY
9:01 PM
Lorraine Feather
"Waiting Tables"

— Language

BUY
March 27th at 8 PM Hour
8:51 PM
Ian Dogole
"Togo"

— Quinta Essentia

BUY
8:42 PM
Branford Marsalis
"Citizen Tain"

— The Beautyful Ones Are Not Yet Born

BUY
RSS feed of the 30 most recent tracks of the show.