Jazz Across America- Chicago
About The Program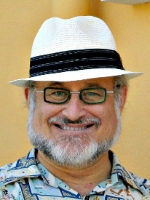 Host:
Neil Tesser
Every weekday at 5PM (Pacific), KSDS, San Diego's Jazz 88.3 brings the flavor of a great American Jazz city to your ears. Join us for Jazz Across America. T Chicago was the nation's first records capital, where Louis Armstrong gained fame, Benny Goodman came up, and Lennie Tristano challenged bebop. Gene Ammons, Ramsey Lewis, the Art Ensemble of Chicago, Kurt Elling, and now Marquis Hill and Makaya McCraven—all of them shaped and spurred by the city's mix of grit and silk. You'll find them and more, along with new discs from across the spectrum, and unique insights gathered in a life covering jazz, with GRAMMY-winning writer/broadcaster Neil Tesser.
On-Demand Audio Content
Previously broadcasted programs. Click on the program description in the table to hear the audio…
---
Here are a few CD selections featured most recently:
---
Here are the 30 most recent tracks played on this show:
February 16th at 6 PM Hour
6:59 PM
John McLean
"Place Talk"

— Better Angels

BUY
6:56 PM
Dee Alexander
"Butterfly"

— Wild Is The Wind

BUY
6:48 PM
Shawn Maxwell
"Jazzline"

— Millstream

BUY
6:41 PM
Greg Spero
"Ropeadope"

— The Chicago Experiment Revisited

BUY
6:35 PM
Greg Ward Rogue Parade
"Crimson Clay"

— Dion's Quest

BUY
6:28 PM
Brad Goode
"Decathexis"

— The Unknown

BUY
6:24 PM
Francesco Crosara
"Plutonium 239"

— Colors

BUY
6:18 PM
Malachi Thompson
"Freebop Now!"

— Freebop Now!

BUY
6:13 PM
Paul Mckee
"Snowfall"

— Gallery

BUY
6:11 PM
Markus Rutz
"The Everyday Escapades of M&M"

— Storybook

BUY
February 16th at 5 PM Hour
5:55 PM
Christopher McBride
"I Fall in Love Too Easily"

— Quatour de Force

BUY
5:52 PM
Petra van Nuis & Andy Brown
"I Should Care"

— Lonely Girl

BUY
5:28 PM
Harold Mabern
"A Few Miles from Memphis"

— The Iron Man`

BUY
5:13 PM
Dan Trudell
"Chocolate Martini"

— Fishin' Again

BUY
5:07 PM
Bobby Broom
"Scoochie"

— Keyed Up

BUY
5:00 PM
Eddie Harris
"Theme In Search of a T.V. Commercial"

— Plug Me In

BUY
February 2nd at 6 PM Hour
6:57 PM
Remy LeBoeuf
"The Melancholy Architecture of Storms"

— The Melancholy Architecture of Storms

BUY
6:52 PM
SWR Big Band, John Beasley, Magnus Lundgren
"Scrapple from the Apple"

— Bird Lives

BUY
6:46 PM
Steve Gadd, Eddie Gomez, Ronnie Cuber, WDR Orchestra
"Way Back Home"

— Center Stage

BUY
6:37 PM
Joshua Redman
"Disco Ears"

— Long Gone

BUY
6:30 PM
Max Bessesen
"Mayhem"

— Trouble

BUY
6:25 PM
Yellowjackets
"Intrigue"

— Parallel Motion

BUY
6:17 PM
Carmen Lundy
"Reverence"

— Fade to Black

BUY
6:13 PM
Terri Lyne Carrington
"Wind Flower"

— New Standards, vol. 1

BUY
6:06 PM
The Baylor Project
"We Swing"

— The Evening

BUY
6:01 PM
Samara Joy
"Can't Get Out of This Mood"

— Linger Awhile

BUY
February 2nd at 5 PM Hour
5:55 PM
Blue Mitchell
"It Could Happen To You"

— Out Of The Blue

BUY
5:52 PM
Stan Getz
"Viva Sonhando"

— Getz-Gilberto

BUY
5:42 PM
Miguel Zenon
"Bambula "

— Musica de las Americas

BUY
5:35 PM
Arturo O'Farrill
"Maquech"

— Fandango at the Wall in New York

BUY
RSS feed of the 30 most recent tracks of the show.