Jazz Across America- Chicago
About The Program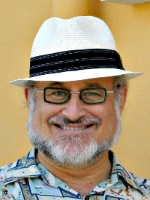 Host:
Neil Tesser
Every weekday at 5PM (Pacific), KSDS, San Diego's Jazz 88.3 brings the flavor of a great American Jazz city to your ears. Join us for Jazz Across America. T Chicago was the nation's first records capital, where Louis Armstrong gained fame, Benny Goodman came up, and Lennie Tristano challenged bebop. Gene Ammons, Ramsey Lewis, the Art Ensemble of Chicago, Kurt Elling, and now Marquis Hill and Makaya McCraven—all of them shaped and spurred by the city's mix of grit and silk. You'll find them and more, along with new discs from across the spectrum, and unique insights gathered in a life covering jazz, with GRAMMY-winning writer/broadcaster Neil Tesser.
On-Demand Audio Content
Previously broadcasted programs. Click on the program description in the table to hear the audio…
---
Here are a few CD selections featured most recently:
---
Here are the 30 most recent tracks played on this show:
September 14th at 6 PM Hour
6:55 PM
Elvin Jones & Richard Davis
"Raunchy Rita"

— Heavy Sounds

BUY
6:48 PM
Richard D. Johnson
"Blues for Stanley Cowell"

— Our Heroes

BUY
6:44 PM
Rene Marie
"Rufast Daliarg"

— Serene Renegade

BUY
6:38 PM
Jackie McLean
"Sirius System"

— Rhythm of the Eart

BUY
6:30 PM
Derek Gardner
"Appointment in Ghana"

— Pan Africa

BUY
6:22 PM
Mehmet Ali Sanlikol
"A Capoeira Turca"

— Turkish Hipster

BUY
6:15 PM
Pierre Dorge
"Munzun Mun"

— At the Royal Playhouse

BUY
6:09 PM
Blue Cranes
"A Night in Montavilla"

— My Only Secret

BUY
6:04 PM
Yosef Gutman-Levitt
"Torah Tsiva Lanu Moshe"

— Soul Song

BUY
September 14th at 5 PM Hour
5:58 PM
Abdullah Ibrahim
"Tskave / Royal Blue"

— Mantra Mode

BUY
5:52 PM
Duke Ellington
"Naturellement"

— Togo Brava Suite

BUY
5:44 PM
Andy James
"Caravan"

— Caravan

BUY
5:38 PM
George Braith
"Boop Bop Bing Bash"

— Complete Blue Note Sessions

BUY
5:33 PM
Eddie Henderson
"Freedom Jazz Dance"

— Witness to History

BUY
5:28 PM
Bobby Kapp
"Whirling Dervish"

— Synergy

BUY
5:19 PM
Darcy James Argue
"Dynamaxion"

— Dynamic Maximum Tension

BUY
5:10 PM
Clark Sommers
"Ripple Effect"

— Feast Ephemera

BUY
5:08 PM
Miles Davis
"Israel"

— Birth Of The Cool

BUY
5:00 PM
Thad Jones-Mel Lewis Orchestra
"Three in One"

— Thad Jones-Mel Lewis Orchestra

BUY
September 7th at 6 PM Hour
6:57 PM
Sahib Shihab
"The Things We Did Last Summer"

— The Jazz We Heard Last Summer

BUY
6:51 PM
Libby York
"The Things We Did Last Summer"

— Here With You

BUY
6:49 PM
Ben Sidran
"At Least We Got to the Race"

— Don't Cry for No Hipster

BUY
6:42 PM
Chick Corea & Gary Burton
"Armando's Rhumba"

— Native Sense

BUY
6:35 PM
Alain Mallet
"Hesitation"

— A Wake of Sorrows Engulfed in Rage

BUY
6:29 PM
Emilio Solla
"Crystal Silence"

— El Siempre Mar

BUY
6:18 PM
Art Blakey's Jazz Messengers
"Ping Pong"

— Ugetsu

BUY
6:14 PM
Terence Blanchard
"Au Privave"

— Terence Blanchard

BUY
6:08 PM
Max Light
"Luftrauser"

— Henceforth

BUY
6:00 PM
Christian Dillingham
"Like No Other "

— Cascades

BUY
September 7th at 5 PM Hour
5:53 PM
Orrin Evans
"Weezy"

— The Red Door

BUY
RSS feed of the 30 most recent tracks of the show.