Jim Gallert
"America's Finest Jazz & Blues from America's Finest City"
About…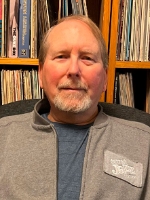 I'm Jim Gallert, proprietor of Jazz Across America- Detroit, the new Detroit focused Jazz program here on KSDS, Jazz 88.3 FM. It'll air every Tuesday night from 5-7PM (Pacific).
I was born in Detroit, Michigan, in 1950, and I've lived in and around Detroit my entire life. I've produced/hosted Jazz programs on WDET-FM (Jazz Yesterday, 1973-1993), Detroit Jazz Alive, 1990-1993.) On WEMU-FM I hosted Swing City, 1995-1997. Both stations are NPR outlets.
My writing has appeared in numerous Magazines, the African American Almanac 9th edition, and served as Liner Notes.
I hope you'll enjoy Jazz Across America- Detroit. I'll feature Jazz musicians from the Motor City and other places. I'll comment on the music and musicians and try to paint an audio portrait of Detroit.
Detroit musicians will be invited to drop by with their latest recorded offering, or to share thoughts & opinions.
Jim Gallert's On-Air Schedule…