Kenny Washington
"America's Finest Jazz & Blues from America's Finest City"
About…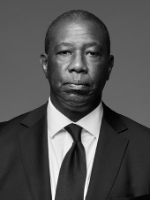 One of the top jazz drummers of the past 40 years, Kenny Washington is also a jazz historian who has played all styles of jazz.
Kenny Washington spent 10 years as a disc jockey at WBGO, public radio station in New Jersey. From there he was recruited by Sirius Satellite Radio to become the first jazz program director from 1999-2003. In 2000 he was awarded the Jazz Journalists Association's Marian McPartland/Willis Conover Award for Excellence in Broadcasting.
He is also an influential jazz educator, teaching jazz history and drums at SUNY Purchase College, the Juilliard School, private studies at NYU and the New School. He is constantly sought after for master classes and as an artist in residence in addition to teaching private lessons.
Kenny Washington's On-Air Schedule…