Loren Schoenberg
"America's Finest Jazz & Blues from America's Finest City"
About…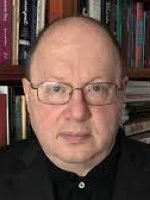 Loren Schoenberg is Senior Scholar of The National Jazz Museum in Harlem. He is currently on the faculty at The Juilliard School, and has also taught at Manhattan School of Music, and The New School. Mr. Schoenberg has lectured at The Metropolitan Museum of Art, The White House, The New York Philharmonic, Stanford University, and The Aspen Institute.
Mr. Schoenberg has conducted the Jazz at Lincoln Center Orchestra (JLCO) as well as The Smithsonian Jazz Masterworks Orchestra, The American Jazz Orchestra and the WDR Jazz Orchestrain Koln, Germany. Mr. Schoenberg, a tenor saxophonist/pianist, has played and recorded with Benny Carter, Benny Goodman, Jimmy Heath, Eddie Durham, Marian McPartland, Clark Terry, John Lewis, Christian McBride, Buck Clayton, and was musical director for Bobby Short from 1997-2005. He also received two Grammy awards, for best album notes in 1994 and 2004. From 1986-1995, Mr. Schoenberg oversaw the Benny Goodman Archives at Yale University.
He has taught for several Jazz at Lincoln Center education programs, and for 20 years served as a screening judge for their Essentially Ellington program. Mr. Schoenberg has been published widely (including the New York Times), and his book, The NPR Guide to Jazz , was released in 2003. He was hired by in 2001 to lead the effort to establish The National Jazz Museum in Harlem, and served for over a decade as its Executive Director, creating many of its signal programs, and enlisted Christian McBride, Jonathan Batiste, Ken Burns, and Wynton Marsalis to the museum's mission.
Loren Schoenberg's On-Air Schedule…