The Jazz Education Network (JEN) 6th Annual Conference is coming to San Diego, January 7-10, 2015 at the Manchester Grand Hyatt on San Diego Bay. Over 4 Jam-packed days, YOU can be one of the over 3,000 Jazz Musicians, Educators, Advocates, and Enthusiasts experiencing and learning about breadth of the music you love, JAZZ, in 71 clinics and panel presentations, 36 Research Presentations, the next JENeration of Jazz with the JENerations Student Jazz Festival, 77 concerts including Pancho Sanchez, Bobby Shew, Ann Patterson's Maiden Voyage, and Grammy winner and recently nominated again, Gordon Goodwin's Big Phat Band. Check out the full, mind-blowing 2015 Conference Clinician and Performer linepup! Oh, and did we mention that Herbie Hancock will be delivering the Keynote Speech on Thursday, January 8, 2015?!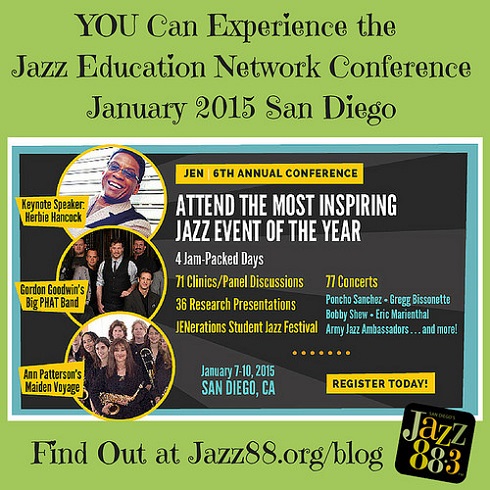 On a personal note, I attended the 2014 conference in Dallas and was BLOWN AWAY by the how much I learned and experienced in 4 short days...and the future of Jazz looks bright!
Read on for 5 ways you can experience this unique and one-of-a-kind event!
Register!

4 days of performances, clinics, presentations, learning, listening, and rubbing shoulders with Jazz artists, educators, and students eager to take Jazz into the next generation! $200 regular, $75 spouse/student; requires JEN membership ($35/yr and up). Online registration closes December 15. The recommended way to experience each and every performance, clinic, and presentation! Check out the

Full Conference Lineup

!

Then Register!
Volunteer!

Attend the 4 day conference entire conference FOR FREE in exchange for as little as 16 hours of volunteer time.

Volunteer Details and Application Form.
Celebrate at JENerosity Celebration 2015!

On Friday, January 9, 2015, 5 to 7:30 PM, join jazz artists such as Jamey Aebersold (2014 NEA Jazz Master), Lynne Arriale, Steve Bailey, David Baker, John Clayton, Jeff Coffin, Dan Haerle, Holly Hoffman, Robert Hurst, Mundell Lowe, Paris Rutherford, and Bobby Shew (to name only a few) and the full JEN Board and Staff to enjoy a great hang, dinner and cocktails, hear great music, honor scholarship recipients, and pay tribute to the amazing work of some of our outstanding leaders in the jazz community. $88 conference registrants, $125 general public.

Includes access to the full evening of concerts

on the main stage.

Get your tickets NOW!
Visit A Day or Night (or Two or Three)!

Get access

Single Event Day Tickets

(clinics, presentations, performances; $20) or come to

Evening Concerts

($60) of great local and international performances on the main stage. There are even special

Local Student / Chaperone One Day Passes

available ($20).

Register Here!
Teach!

JEN is bringing the leading music educators in the world to San Diego for two special Jazz Workshops for San Diego K-5 General Music Teachers and Jazz Music Educators.
Jazz Workshop for K-5 General Music Teachers - Saturday, January 10, 2015, 10am - 3pm, Oak Park Elementary: Learn easy and fun ways to bring jazz into the elementary music classroom through topics including Jazz and Common Core/21st Century Skills Overview, Scat Singing Fun for Kids, Jazz improvisation & Creative Ideas for the K-8 Music Classroom, Jazz for Young Children, and Beginning Vocal Improvisation/Rhythm Section for Elementary Grades. $50 includes lunch. More details and registration here!
Jazz Workshop for All San Diego Music Educators - Saturday, January 10, 2015, 8am - 3pm (plus stay for evening concerts and late night jams), Manchester Hyatt Grand

:

Are you NEW TO JAZZ?

Are you FINDING YOUR GROOVE?

Are you ALMOST PRO?

There's Something for You! Special, in-depth sessions for Vocal / Choral and Instrumental Directors. $125. Register Here!