The Jazz Education Network (JEN) 6th Annual Conference is coming to San Diego, January 7-10, 2015 at the Manchester Grand Hyatt on San Diego Bay. Over 4 Jam-packed days, YOU can be one of the over 3,000 Jazz Musicians, Educators, Advocates, and Enthusiasts experiencing and learning about breadth of the music you love, JAZZ, in 71 clinics and panel presentations, 36 Research Presentations, the next JENeration of Jazz with the JENerations Student Jazz Festival, 77 concerts including Pancho Sanchez, Bobby Shew, Ann Patterson's Maiden Voyage, and Grammy winner and recently nominated again, Gordon Goodwin's Big Phat Band. Check out the full, mind-blowing 2015 Conference Clinician and Performer linepup! Oh, and did we mention that Herbie Hancock will be delivering the Keynote Speech on Thursday, January 8, 2015?!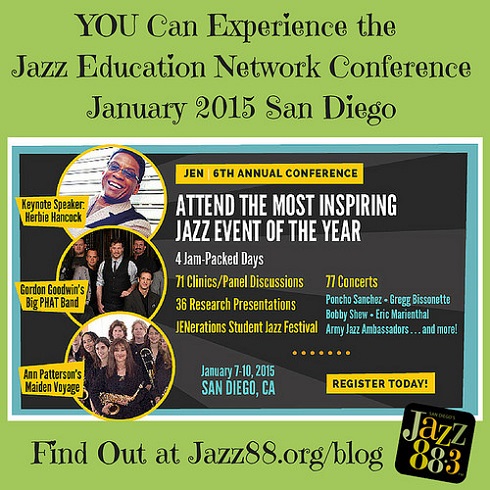 On a personal note, I attended the 2014 conference in Dallas and was BLOWN AWAY by the how much I learned and experienced in 4 short days...and the future of Jazz looks bright!
Read on
for
5 ways you can experience
this unique and one-of-a-kind event!