Ahmad Jamal, who celebrates his 85th birthday this Thursday, July 2, is the San Diego's Jazz 88.3 Artist of the Week starting June 29, 2015! Your favorite Jazz 88.3 hosts will be playing his music and telling their personal stories of the impact of his music overall and on them personally.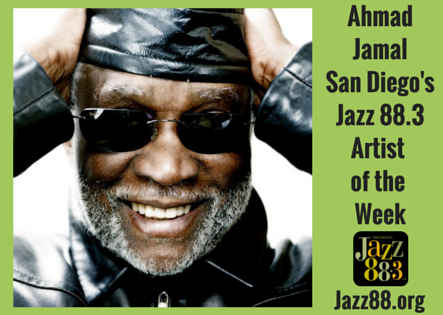 Check out the full KSDS Jazz88.3 On-Air Weekly Schedule and LISTEN LIVE!
READ THE FULL ARTICLE for more on this great Jazz artist...
Ahmad Jamal On The Web
Ahmad Jamal on AllMusic.com (Matt Collar bio, discography, credits, more): "One of the most individualistic pianists, composers, and arrangers of his generation, Ahmad Jamal's disciplined technique and minimalist style had a huge impact on trumpeter Miles Davis, and Jamal is often cited as contributing to the development of cool jazz throughout the 1950s." More bio...
Ahmad Jamal In The Jazz 88.3 Music Library
There are more than 50 collections of music by Ahmad Jamal, as both a solo artist and in trio settings, in the Jazz 88.3 Music Library. Check out the list below.
| | |
| --- | --- |
| Album | Record Label |
| A L'Olympia | Sony |
| A Quiet Time | Francis Dreyfus Music |
| After Fajr | Dreyfus Jazz |
| Ahmad Jamal | Argo |
| At The Olympia | Dreyfus Jazz |
| At The Pershing ( But Not For Me ) | Chess |
| At The Pershing-But Not For Me | UMG Recordings, Inc. |
| Big Byrd | Polygram |
| Big Byrd - The Essence Part Two | Dreyfus Jazz |
| Blue Moon | Jazz Village |
| But Not For Me | Chess |
| Chamber Music Of The New Jazz/Standard Eyes | |
| Chicago Revisited: Live At Joe Segal's Jazz Showcase | TELARC |
| Complete Alhambra And Blackhawk Performances | |
| Complete Argo Sessions | Mosaic |
| Complete Live At The Spotlite Club 1958 (Disc 2) | |
| Complete Trio Argo Sessions 1956-62 (Discs 1-9) | Mosaic |
| Cross Country Tour: 1958-1961 [Disc 1] | |
| Crystal | Rhino Records |
| Digital Works | Atlantic/WEA |
| Extensions | Argo |
| Freeflight | |
| Happy Moods | |
| I Remember Duke, Hoagy & Strayhorn | Universal Music Group |
| In Search Of Momentum | Dreyfus Records |
| Inspiration | Independent |
| It's Magic | Dreyfus Music |
| Jamal Nature Ess3 [Disc 97] | Rhino Records |
| Les G�nies Du Jazz VI 12 Ahmad's Blues | |
| Live At Montreal Jazz Festival 1985 | Atlantic |
| Live At The Montreal Jazz Festival 1985 | Rhino Records |
| Live in Paris '92 | Verve |
| Nature: The Essence, Part III | Rhino Records |
| Olympia 2000 [Live] | Dreyfus Records |
| One | 20th Century Fox |
| Pavanne | Mosaic |
| Pittsburgh | Rhino Records |
| Poinciana | Columbia |
| Poinciana Revisited | |
| Saturday Morning | Jazz Village |
| Some Of My Best Friends Are...The Piano Players | |
| The Awakening | Impulse! |
| The Awakening | |
| The Awakening | Impulse! |
| The Best Of Chess Jazz | . |
| The Best of Impulse! Volume 1 | Impulse |
| The Complete Ahmad Jamal Trio Argo Sessions 1956-62 | VERVE REISSUES |
| The History Of Chess Jazz Disc 1 | Chess Reissue |
| The Impulse Collection | Impulse |
| The Legendary Okeh & Epic Recordings | Epic/Legacy |
| With The Assai Quartet | |