Jazz 88.3 is very proud to support the Athenaeum's 2017 season. Up next: Ralph Towner on March 2nd! The Athenaeum is a 501(c) 3 and is devoted exclusively to music and art! To become a member of the Athenaeum and/or for more information, simply click here! MORE ON THE SERIES' ARTISTS...
Athenaeum Jazz at TSRI - Fall 2016 Season
The Athenaeum's jazz program returns to The Auditorium at TSRI
for our 20th annual fall series. In October 1996, the Athenaeum presented the first three public concerts in this beautiful, acoustically perfect concert venue. Join us for a celebration of two decades of jazz with a special evening of duos featuring the brilliant San Diego–based pianist Geoffrey Keezer, a return visit by extraordinary eight-piece SFJAZZ Collective, and a San Diego debut by leading French Gypsy jazz artist Dorado Schmitt. Seating is limited and early reservations are advised! For tickets and information, click below or call (858) 454-5872.
Geoffrey Keezer and Friends - Saturday, September 24, 2016
The fall series begins on
Saturday, September 24, with Geoffrey Keezer and Friends
, featuring Keezer in a series of intimate duo performances with virtuoso vibraphonist Joe Locke, Grammy-nominated vocalist Denise Donatelli, Hawaiian slack-key guitar master Keola Beamer, and rising star vocalist Gillian Margot.
Check out a duo performance of Keezer with Gillian Margot...
SFJAZZ Collective - Saturday, October 8, 2016
The series continues on
Saturday, October 8, with the return of the SFJAZZ Collective
, an eight-piece group featuring many of today's top jazz artists: alto saxophonist Miguel Zenón, tenor saxophonist David Sánchez, vibraphonist Warren Wolf, trumpeter Sean Jones, trombonist Robin Eubanks, pianist Edward Simon, bassist Matt Penman, and drummer Obed Calvaire.
Dorado Schmitt & The Django All-Stars - Tuesday, November 28, 2016
The series concludes on
Tuesday, November 29, with the area debut of Dorado Schmitt & the Django All-Stars
. The ebulliently swinging "jazz manouche" sound, created in the 1930s by pioneering Gypsy jazz guitarist Django Reinhardt and violinist Stéphane Grappelli, is more pervasive today than ever. And no one has done more to ignite interest in the idiom than dazzling French guitarist and violinist Dorado Schmitt.
Curtis Taylor Quartet - Thursday, July 28, 2016
"Equally steeped in jazz and gospel music, trumpet dynamo Curtis Taylor is a relatively new addition to the San Diego scene, having moved here less than three years ago. During that time, he has become an increasingly visible contributor to various area bands, both large and small, from the Rob Thorsen Quartet to Joe Garrison & Night People."
Previous Shows
Dayna Stevens Quintet - Thursday, July 21, 2016
"There are very few rooms in San Diego jazz history with a pedigree like the Athenaeum Music & Arts Library. Even on a day fraught with practical distractions like cancelled flights and an eight hour drive down the coast, the Athenaeum team and the Stephens Quintet partnered for an exhilarating sonic experience that won't soon be forgotten."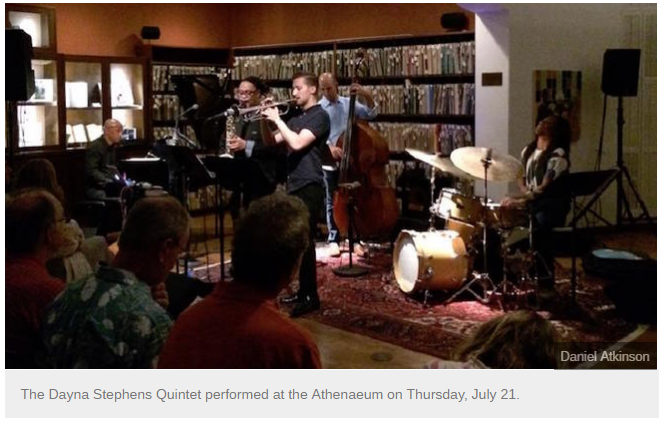 John Hollenbeck Claudia Quintet - Saturday, June 25, 2016
Fred Hersch / Anat Cohen Duo - Thursday, June 9, 2016
"This concert presented two distinctive and accomplished artists. Their overwhelming mastery was on display with every gesture, and the freshness and soulfulness of expression was an honor to witness."