When you want to tune your radio, computer, or mobile device to the best blues music around, any time of the day or night, programmed LIVE by hosts who love the blues, KSDS-FM San Diego's Jazz 88.3 is the place to be.
Janine gives you a taste starting Saturday at Midnight with Blues Up Front, then the Saturday night blues party gets started at 7pm kicking off with Second Line Parade with Drew, Every Shade of Blue with Michael, Honkin' and Screamin' with Raymond, I've Got Blues For You with J Otis, and finishing off the spirit on Sunday morning at 6am with the Gospel Gathering and Janine. And if you want the
blues WHEN YOU WANT THEM, then turn to the Jazz 88 Speakeasy where Full Programs
of many of these show are available for you to stream on-demand. And when you include the weekly
Jazz 88.3 Blues Jam at Proud Mary's
, you've got Blues Radio in San Diego!
READ THE FULL ARTICLE for links to all of our blue shows and playlists, blues hosts pages, Jazz 88 Speakeasy, and more...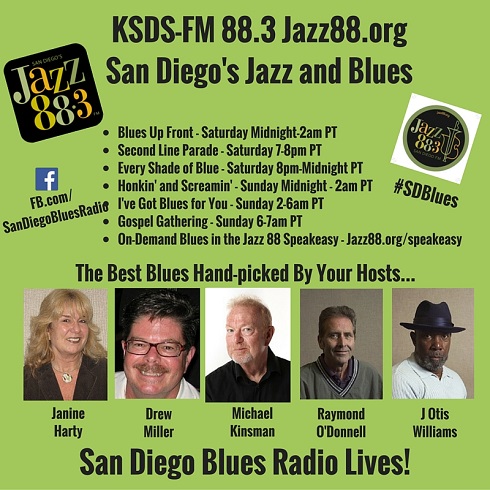 Artists are often at their best when inspired by audience response. Blues Up Front lets you experience the excitement of blues performances without leaving your home. Now you don't have to wait for Saturday night to get your blues fix! Get your weekend party rockin. And, speaking of rockin Blues...your
host Janine Harty
is the President of the
Blues Lovers United of San Diego
. Here is the
Facebook page
for that. Also, please connect to our
Jazz 88.3 Blues Radio Facebook page
as well.
New Orleans music aficionado
Drew Miller
packs up the jazz train and heads down to The Big Easy for a musical gumbo with authentic flavor. Zydeco, funk, gospel, and brass all converge in the experience you get only with The 2nd Line Parade. Check out the
Second Line Parade program page
for Drew's interviews with NOLA stalwarts like Irvin Mayfield, Johnny Vidacovich, Mark Mullins from Bonerama and Paul Sanchez. Connect to our
Jazz 88.3 Blues Radio Facebook page
as well.
The longest running blues radio show west of the Mississippi, Every Shade of Blue keeps you hip to the blues with the latest artists climbing up the blues charts, and the foundations of America's signature sound. You'll find everything from the gut-bucket to the Stratocaster digging in to the heart of the blues. Feel free to drop us a line on the
Jazz88.3 Blues Radio Facebook page
. Host:
Michael Kinsman
Raymond heads into the midnight hour with jukebox tales of blues and boogie. She done him wrong, he done her wrong, everybody's wigglin' to the fat saxophone and not really payin' any mind. Honkin' & Screamin', the gritty sounds of the 40s, 50s, and 60s merging of jazz, blues, and rock & roll. Host:
Raymond O'Donnell
Janine Harty
sanctifies your soul with a healthy Sunday morning serving of the real thing, gospel that rings from the rafters. With a Hallelujah and an Amen, we start off Sunday mornings in a righteous style. Connect to us via the
Jazz 88.3 Blues Radio Facebook page
.
The Jazz 88 Speakeasy is the place for on-demand access to the best blues radio
programming around. Weekly, you can stream the latest programs of Every Shade of Blue, Blues Up Front, Honkin' and Screamin', and I've Got Blues For You. Periodically, you'll also find Jazz 88 Speakeasy Interviews and Shows featuring legendary, up-and-coming, and local San Diego Blues artists. Get the Blues WHENEVER YOU WANT THEM!