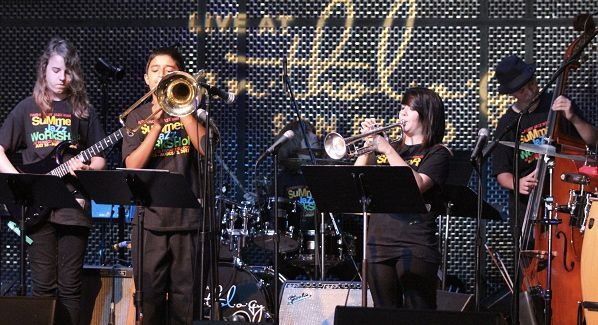 An interesting partnership this summer between a music venue and a private school has resulted in a summer jazz program for tween and teen jazz musicians.
Howard Berkson, owner of the food and music club
Anthology
here in San Diego, got the idea last year for a jazz institute and, with the help of San Diego trumpeter and educator Derek Cannon, put together a great music faculty, outlined a curriculum and set up a whole jazz program. Local top-shelf musicians were enlisted as the teaching staff, most or all of whom are music educators as well. I'm talking about — in addition to Cannon — Mike Holguin, Justin and Melonie Grinnell, Danny Green, Steve and Ella Steinberg, Andy Geib and Tommy Collins. In addition to these instrumentalists, Melonie Grinnell and Leonard Patton took charge of the two jazz singing groups.
Last summer the initial program included about thirty students for a week of music making. This summer the camp had two week-long sessions with a total of over 60 students, and the Francis Parker School donated space at the school, which served as the campus. The first four days — Monday through Thursday — were devoted to auditions, individual and sectional lessons, and combo rehearsals. Friday was the big day, with a final concert for each group combined with a graduation ceremony.
Five groups performed each Friday and were named after jazz composer/players —Thelonius Monk Combo, Herbie Hancock Combo, John Coltrane, Freddie Hubbard and Miles Davis combos. Naturally, each combo featured at least one composition from the namesake artist.
Since the students were placed by ability, some new arrangements were written for the less experienced musicians to simplify the more difficult melodic and rhythmic structures, but without watering down the pieces too much. This was an inspired idea, since it allowed the students to play some really classic jazz tunes. Hancock's "Canteloupe Island," Davis's "All Blues," Monk's "Straight, No Chaser" and other jazz stalwarts were represented. At least a couple of tunes — Coltrane's "Impressions," for example — substituted a half-time funk groove for the usual blistering bop tempo. A good choice, since it gave the combo a better chance of keeping it all together. (Remember, too, that the students and faculty only had four days to get these arrangements rehearsed and polished.) And the new rhythmic foundation gave a hipper, more contemporary sound to mostly 1960's material, which probably appealed to the younger ears of the musicians. As expected, there were standout students in each group, and individual awards were presented to the most-improved and most valuable players. It was immediately apparent that the faculty members had become real friends and mentors to these students. Smiles, high-fives and fist–bumps abounded at the finish of each set.
The vocal groups were especially exciting and surprising, with teachers Patton and Melonie Grinnell joining with the students to sing arrangements with three- or four-part harmony. And everyone was knocked out and enthralled when these young singers jumped into some serious scat-singing! Try this sometime in your shower and you'll realize the difficulty of this enterprise.
Having the closing ceremony/concert at Anthology was a great idea, allowing the combos the full use of the club sound system, stage monitors, lighting, and a big-screen video program, all of which made the whole concert as close to a professional experience as possible. How often do musicians in this age group have the opportunity to play in a real concert venue? Of course, with all the parents, grandparents, friends and family, the place was packed — adding to the ambience.
Berkson says that he hopes to expand the number of weekly sessions next summer and maybe make the institute a national program in five years. Hearing some of the fine playing of these young musicians certainly provides some serious hope for the preservation of the jazz art form.