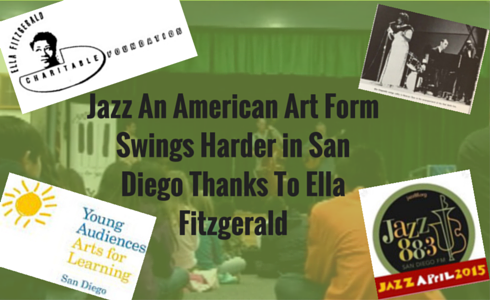 Ella Fitzgerald and San Diego have long and deep ties, from her earliest appearances here in the late 1930's at venues like the Mission Beach Ballroom and through her celebrated accompanists who lived here and still make San Diego home. And to keep the birthday celebration swinging, San Diego's Jazz 88.3 on-air hosts share their thoughts on "Lady Ella" and will be curating some of their favorites tunes featuring the "Queen of Jazz" for you all day Saturday, April 25, the 98th Birthday of "The First Lady of Jazz" and in the weeks ahead.
READ THE FULL ARTICLE for more on "Jazz An American Art Form", Ella's ties to San Diego, and thoughts and favorites from your Jazz 88.3 On-Air Hosts and Staff.
Jazz An American Art Form
"It's a fabulous program," says Sherrie Brown, Performance and Family Program Manager of Young Audiences, "In fact, in 2014, JAAAF was the most popular of all our offerings. Since we started, JAAAF has been presented to more than 20,000 students. The biggest challenge is in making the Title I teachers aware of the Jazz 88.3 'scholarship' funding."
That's where the Ella Fitzgerald Foundation comes in. Thorsen, Brown and Jazz 88.3 are planning a video, showing JAAAF in action, which will be an exciting and engaging 90-seconds, easy for the teachers to view, that clearly illustrates the social, historical and cultural benefits of this entertaining introduction to America's indigenous art form. The gift from the Ella Fitzgerald foundation will fund the production,duplication and distribution of the video in time for teachers to see it before the Fall 2015 school year begins.
The Ella Fitzgerald Charitable Foundation was created by Ella Fitzgerald to fulfill her desire to help people of all races, cultures and beliefs. Ella hoped to make their lives more rewarding, and she wanted to foster a love of reading, as well as a love of music. In addition, she hoped to provide assistance to the at-risk and disadvantaged members of our communities that would enable them to achieve a better quality of life. In making the JAAAF presentation affordable for Title I schools, Jazz 88.3 is helping the Foundation fulfill its mission.
#Ella Fitzgerald's Jazz History With San Diego
Jazz 88.3 On-Air Hosts and Staff Celebrate Ella
J Otis Williams, kicks off the Birthday Festivities, with Ella tunes throughout his Overnight Jazz (Sat. 2-7am PT) show. He goes on,

"The First Lady Of Song
That moniker given to her back in the late 50's & 60's for her mainstream popularity , she was top female Jazz singer for decades , from Chick Web & Benny Goodman in the 30's to Louie Jordan in the 40's she was truly a fresh and new sound . In the late 40's when hooking up with Dizzy Gillespie she took her sound to a higher level with modern Jazz and her take on Jazz scating . she has collaborated such greats as Louie Armstrong , Count Basie and Frank Sinatra , just to name a few , over 200 albums sold , some 2000 songs 13 Grammy's records sales over 40 million , she will always be tops in my book , THE ONE AND ONLY , Ella , First Lady Of Song ..."

Ric, Saturday Morning Jazz host (Sat 7-9am PT) will be featuring Ella's 1957 recording of Sophisticated Lady with Duke, Dizzy, Oscar Peterson & Billy Strayhorn to the7:15 slot.
Jim McInnes, host of Saturday Jazz (Sat 9am-Noon PT):

"I will play a few live tracks from Ella on Saturday. If she isn't, she should have been Artist of the Week!"

"My father and grandmother both adored Ella's music, and her 78 of A-Tisket, A-Tasket helped set my feet on the road to savoring Big Band music. (That was Dad's beloved Decca 78.) Ella's music also bridged race relations, in so many ways. My sister remembers showing up on my grandmother's doorstep in a surprise visit during the early 50s when Nana was at home. Ella Fitzgerald was playing on the Hi Fi, and Nana explained to my 5-year-old sister that this was "colored music" and said "we're not SUPPOSED to like it" with a big wink."

"I remember the first time I heard Ella. It was the song "Tea For Two", and I just wanted more. That's how I started to really like jazz. I can't wait for my Sunday show, I will be playing a lot of Ella this Sunday."

Barry Farrar Jr, host of Percussive Profiles (Thurs 8-10pm PT) and Wednesday Early Evening Jazz (6-8pm PT),

"Ella and I share the same bday, April 25th..I saw her twice: once in SD and once at disneyland The original scat master. She had me at first listen to "A Tiskit a Tasket"..love ELLA!!!

Joe Kocherhans, host the Jazz Morning Drive, (Mon-Fri, 6-9am PT), and Portrait in Jazz, (M-F, 12n - 1pm PT) ,

"Our parents give us many gifts through their experience and interests while we're growing up. I was fortunate to have both parents be huge fans of Ella Fitzgerald. "Ella In Berlin" was an album she won a grammy for. My late mother played it repeatedly while I was growing up. I alway held a major fondness for her version of "How High The Moon". In later years, I would play it for my friends to show them what a virtuoso jazz singer can do with a scat solo, and to this day, it remains my favorite version of this type of singing. Her versions of The Great Amercian Songbook will, to me, always be definitive. Her performance of "I've Got You Under My Skin", "It's Only A Paper Moon", "The Lady Is A Tramp" and so many others, I will never grow tired of hearing. The First Lady Of Song...only one person bears that title."
Joe featured Ella in Portrait in Jazz on Thursday, April 23.

Jane Niemeier, Jazz 88.3 Volunteer Coordinator,

"I'm not a deejay, but I can give you an Ella story. I am a retired French teacher, and I really dreaded parent-teacher conferences because I had to be at school from 6:30 am until 9 pm. As I was driving to work on one of those days, I heard Ella and Louis singing "Cheek to Cheek", and it made the day a hundred times better!
Also my friend from high school worked with Ella on a commercial and she said that Ella was absolutely wonderful. I was green with envy!"

Claudia Russell, host of The Jazz Ride Home (Mon-Fri, 4-6pm PT) and Jazz 88.3 Interim Station Manager,

"Funny thing about Ella Fitzgerald…my first exposure to her was on a Memorex TV ad. She sang the note…she shattered the glass! Or DID she?
But, I was also fortunate that I heard Ella in my home…not schooled per se, but she was part of a wide variety of music in our house. When I got a little older, I heard more…and more…and more…and was amazed at the vocal range, ability to interpret and re-interpret songs, and just the sound. So many recordings that it's hard to choose favorites. There are so many legitimately great performances! Standouts remain anything she recorded in duet with Louis Armstrong, a live duet she did with Stevie Wonder (You Are The Sunshine of My Life), and the incredible Live in Berlin performance from 1960 (Mack The Knife! How High The Moon!)
Life without Ella would be so very plain…"