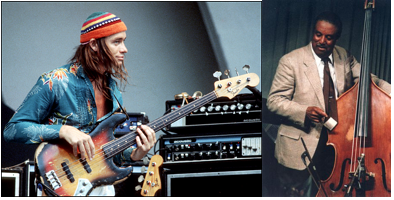 Perhaps I started feeling empathy for bass players many years ago when I realized that low-noters were replacing drummers in the jokes that musicians like to tell. As a drummer, I was relieved when an old joke such as, "How do you know when a stage is perfectly level? — the drummer is drooling from both corners of his mouth," was changed to make bass players the objects of ridicule. But it also occurred to me that it was a positive development for people to be thinking about bassists at all.
There never has been a valid reason for bass players to feel less important than the other musicians in an orchestra or band, yet growing up I always sensed that they struggled with feelings of inferiority. Bassists were the musical counterparts to baseball catchers or football centers in that they played an essential role, but garnered much less attention that the flashier position players.
Vocalists naturally hogged the spotlight because they carried the message and the melody, and if their physical attributes, wardrobe, movements, and onstage comportment were sufficiently provocative, they easily monopolized a situation. Those wielding melody instruments (guitarists, violinists, saxophonists, flutists) enjoyed the advantage of being favorably placed in the timbral pecking order, and they could draw additional attention to themselves by virtue of instrumental prowess, especially if they soloed. Pianists/keyboardists could seduce listeners with the rapturous breadth of sounds they conjured with their fingertips. Drummers directly connected with audiences by addressing the primal urges for propulsion, rhythmic excitement, and functional security.
Bass players...kinda stood there, off to the side, frequently in the recesses of the stage setup, playing notes that you'd only notice if they weren't there. If a jazz "combo" were portrayed in an animated cartoon of the '40s, '50s, and '60s, the figure on the upright bass might look a lot like Goofy, his mouth hanging open to reveal a slack tongue, his long dog ears dancing wildly as he maniacally slapped at the strings. Bass players were either invisible or silly. Ouch.
In the real world, jazz had its bass mavens — such players as Jimmy Blanton, Paul Chambers, Niels-Henning Ørsted Pedersen, Ray Brown, Slam Stewart, Charlie Haden, and Scott LaFaro were sidemen by definition but artists by predisposition. Yet even jazz, which tended to lionize individuals in a genre that emphasizes self-expression, silently demanded that a bassist also be a composer and/or bandleader (e.g. Mingus) if he or she wished to experience a full measure of critical and popular appreciation as an artist.
If you imagine a music timeline, it's hard not to conclude that the picture for bass players grew considerably brighter with the advent of the electric bass, or "bass guitar." Whereas the upright double bass, or contrabass, had been an orchestral fixture for centuries, it gained entry to jazz only when turn-of-the-century New Orleans marching bands moved indoors and the upright bass became a practical substitute for the tuba or sousaphone. It served the same function in other subgenres of popular music, including R&B, country, rockabilly, and early rock and roll.
Not surprisingly, Leo Fender provided the game changer in 1951 by producing the Precision Bass, the first commercially viable electric bass. No longer anchored in place, bassists could prowl the footlights at the edge of the stage as freely as guitarists, and the combination of amplification and the instrument's horizontal posture allotted them a portion of the performance pie they long had been denied.
Still, there were no bass "stars" in rock and pop until the Beatles' Paul McCartney permanently shifted the paradigm. Probably because he was a guitarist in an early, guitar-crowded incarnation of the Beatles, McCartney brought along a heightened melodic sense when he reluctantly switched to bass in 1961, to replace the departed Stu Sutcliffe. By 1965's Rubber Soul album, Paul was contributing colorative filigrees and high-neck turnarounds previously never heard from a pop or rock bass player. I have a friend who once attended a conducting camp run by Leonard Bernstein, and he told me that at an after-hours gabfest at a nearby restaurant, Bernstein held a table of students spellbound with his rhapsodizing about McCartney's bass playing.
Less than a decade later, Stanley Clarke and Jaco Pastorius had similar effects on the jazz world. As one-fourth of the fusion juggernaut, Return to Forever, Clarke didn't so much anchor the band's sound as ride roughshod through it with his almost industrial tone, superhuman speed, and automatic-weapon bursts of notes.
Pastorius, meanwhile, introduced a singing, legato tone and a melodist's sense of economy and structure, counterbalanced by guitar-like speed, almost single-handedly changing the fretless electric bass's lexicon and its place in the musical mix. His work in Weather Report, with Joni Mitchell, and as a solo artist left an imprint that's still felt 26 years after his tragic death. As Pat Metheny once pointed out, you hear echoes and outright rips of Jaco's style everywhere these days — in TV commercials, in the underscores of sitcoms, in the recordings of jazz and rock bands, in the solos of bassists of almost every genre. Of course, it helped their respective profiles that both Clarke and Pastorius were composers and bandleaders.
In January 2012, when I put together the first installment of a Jazz88.3 program I call "The Low Down: Bass Players and Groups Led by Bassists", I wanted to showcase all facets of the bass-playing art. In addition to airing tracks that featured technically proficient playing, I wanted to give exposure to various bassists' compositional and leadership skills.
The third all-new installment, which airs Sunday, May 19, 2013 from 3-5 p.m., promises to be the best yet. Among the talents who will make this a very special two hours are Washington, DC's Ben Williams, Canada's Brandi Disterheft, legendary Ray Brown, John Patitucci, Brian Bromberg, Jeff Berlin, Jaco Pastorius, Stanley Clarke, Victor Bailey, Jack Bruce, Christian McBride, Esperanza Spalding, and Avishai Cohen.
I hope you can join me live, but if not, Jazz88.3 archives each of my shows for a week. To listen to archived shows, you first must sign up for the "Speakeasy" club. It's free — just go to:
...and provide an email address and password (and don't worry — no one will bug you, send you emails, or share your info anyone; Speakeasy simply is a special "Premium Content" section of the website for interested listeners).
Once you're signed on and you land on the Speakeasy page, scroll down a bit and you'll see a list of "Full Programs". My show, "Johnny D's Jazz Journal", is at the top of the right column. Just click on it and you're listening to that week's show...
Cheers