Summer is almost over and what better way to celebrate than to celebrate in style at
The Westgate Hotel
with their annual
Sunset Poolside Jazz Series
! The last show of the 2017 series is tonight from
6:30-9:30PM.
Jazz enthusiasts will sway and groove to the sounds of Southern California's finest Jazz talents, offering an eclectic jazz experience poolside! Set against a backdrop of downtown San Diego's skyline at sunset, the event series will feature a different performance
every
week, complimented by signature cocktails, wine and craft beer, as well as a gourmet array of appetizers and tapas. The series is curated by world-renowned trumpeter, Gilbert Castellanos, so it's bound to be a phenomenal summer concert series! To view the complete lineup, click
here
.
PREVIEW SERIES ARTISTS...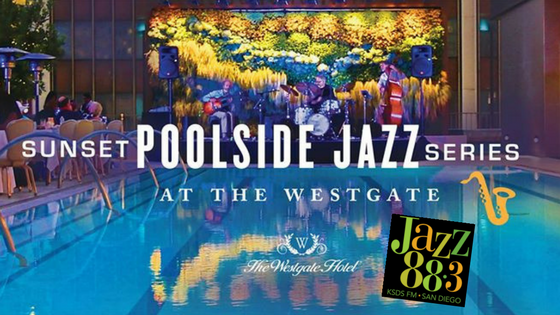 Westgate Sunset Poolside Jazz Series 2017 YouTube Playlist
Upcoming Events In The Series...
August 24 - Allison Adams Tucker
See you on the Rooftop for Allison Adams Tucker Trio featuring Danny Green piano & Julien Cantelm drums!
Born in San Diego, California, multi-lingual jazz vocalist
Allison Adams Tucker
began singing before she could speak. Growing up on the border with Mexico, Allison was exposed to intermingling cultures and her love for languages and world cultures also began at an early age. She has studied and sings in 6 languages besides her own, lived in Japan and Spain, and has traveled to over 15 countries. Allison's debut album "Come With Me" (Allegato Music, July 2008), co-produced by jazz guitarist Peter Sprague and arranged by Kamau Kenyatta, received international acclaim, was nominated for Best Jazz Album 2009 by the San Diego Music Awards, and continues to receive airplay on radio stations in 18 countries. Allison returned to the studio for her third album "WANDERlust" (Origin Records, August 2016), this time in New York City under the direction of award-winning producer Matt Pierson (Brad Mehldau, Milton Nascimento, Joshua Redman, Jane Monheit). As an international artist, Allison has entertained audiences in Japan, Europe, Mexico, and the US, including performances in the Blue Note New York, Ronnie Scott's London, Herb Alpert's Vibrato Los Angeles, San Jose Jazz, The Jazz Kitchen Indianapolis, Idyllwild Jazz in the Pines Festival, Hawaii Public Radio, Takatsuki Jazz Street Festival Osaka, Body & Soul Tokyo, Le Baiser Sale' Paris, Music Inn Rome, Lucca Jazz Donna Festival Tuscany, among others.
MORE ABOUT ALLISON...
August 31 - Gilbert Castellanos Trio
Previous Events
June 1 - Besos De Coco
Innovative and eclectic chamber group,
Besos de Coco
, is stirring up a great deal of excitement with their groundwork performances in Southern California. Tap-dancer Claudia Gomez Vorce, double-bassist Evona Wascinski, and classical guitarist/vocalist Lorraine Castellanos formed the trio in August 2011 when the musically magnetic connection was soon recognized. Individually, each of the three women are compelling and masterful artists in their particular musical disciplines. Collectively, Besos de Coco presents stunning musical performances destined for the world to experience.
MORE BIO ON THE BESOS DE COCO WEBSITE...
June 8 - Lori Bell Trio
An award winning flutist of admirable depth and broad musical sympathies whose recordings and live performances over the years have set new and higher standards in contemporary jazz and classical music,
Lori Bell
paid heartfelt tribute to her family and birthplace on her critically acclaimed 2016 album Brooklyn Dreaming.
MORE BIOGRAPHY ON THE LORI BELL WEBSITE...
From the opening strains of "Bell's Blues," it's evident that something special is going on. Bell exhibits a gorgeous, liquid tone and luxuriant vibrato over the manic comping and wickedly swinging bass line of Satterfield, which elevates his partner into a wild solo that crests with a snippet of the Sonny Rollins classic "Blue Seven." Out of nowhere, he cranks up the intensity with ebullient scatting. "Bell's Blues" appears on blue(s), Bell's 10th studio album.



June 15 - Leonard Patton Quartet
Leonard
will be singing and playing cajon, with Curtis Taylor trumpet, Melonie Grinnell keys, and Mackenzie Leighton bass.
After two decades of performing, years of studying music and earning his degrees, Patton's enthusiasm for his craft is undimmed. He says, "I'm still into all types of music. I mean everything. I don't want to only focus on my own thing. Getting out there and focusing on what others are doing, focusing on everything, allows me to have more creative freedom."

MORE...



June 22 - Trio Gadjo
Trio Gadjo
is composed of Jason Durbin guitar, Jeremy Eikam bass, and Aaron Mahn guitar. Check our the
Trio Gadjo Facebook Page
.
New-World Sound, Old-World Name: TRIO GADJO breathes new life into a past genre (Tabitha Hernandez, San Diego Troubadour, July 2014):
"...chances are you will hear a rhythmic and jivey music swelling from a corner of the dimly lit main room. These beats being laid out are not those of a swing, funk, blues, or classic jazz band but the sound of a music that took to the streets of Europe in the 1930s, namely Gypsy jazz. The band is Trio Gadjo, three local fellas that have been playing together and spreading the sound all over San Diego for the past five years. The trio is composed of Jason Durbin, Jeremy Eikam, and Aaron Mahn. This band has a history that was 80 years in the making, beginning with Gypsy jazz itself."
MORE...
UPDATE 6/20 via Westgate Hotel's Facebook Event and Trio Gadjo:
We will be featuring Claudia Gomez on tap percussion this Thursday at the Westgate. Wow! it just keeps getting better.
June 29 - Coral Macfarland Thuet
July 6 - Robert Dove Group
Robert Dove
's talent for music was identified early on in elementary school by his music teacher. At his suggestion, Rob began studying jazz technique and form on the saxophone with Mark Donavan at the age of 10 (Ft. Hayes High School, Columbus, OH). In middle school, Rob became affiliated with the Jazz Arts Group of Columbus and participated in their Jazz Academy ensemble. He also attended jazz music summer programs at Eastman School of Music in Rochester New York and the Jamey Aebersold jazz program in Louisville, KY. Rob was a 4-year member of the Columbus Youth Jazz Orchestra, under the direction of Todd Stoll, a premier Central Ohio High School youth jazz ensemble sponsored by the Jazz Arts Group of Columbus. Rob was the recipient of the Hank Marr Scholarship Award and the first Rahsaan Roland Kirk Scholar.
MORE FROM ROBERT'S BIO...
"The way he tells it, Robert Dove only came out here from Ohio to visit a girlfriend. But one night, she took him to Seven Grand, a small whisky bar in North Park, and what he heard there became a major tipping point in his life. Dove, 24, went back home and put in for a job transfer. He packed up his horns and his bicycles, and headed out West for good. Romance may have brought him to San Diego, but it was jazz that made him stay."
MORE,,, ("Psst. The local jazz scene is exploding, making San Diego the center of West Coast Jazz", Dave Good, San Diego Magazine, Sept 2014)
Here's a 2015 Jazz 88.3 interview with Robert talking about his then newly released "Paradigm Shift",
July 13 - Irving Flores Trio
Irving Flores
is an accomplished pianist, composer, arranger and music producer. Born in Veracruz, Mexico, Flores began his music studies at age 6 with organ. His father, Irving Flores Sr., was with the famed Orchestra Tampico, and it was from him, that young Irving began to learn saxophone and arranging. On one occasion, the Orchestra was surprised to discover that one of their arrangements was actually the work of the younger Irving Flores. While a teenager, Irving moved to Mexico City, switched to piano developing as a composer and arranger.
MORE ON IRVING'S WEBSITE...
July 27 - Steph Johnson Quartet
From Steph's website bio
: In the wake of the economic crisis of 2008, aspiring musician Steph Johnson made a brave choice: The singer/guitarist chose to abandon her 12-year career in banking and pursue her dreams of making music full-time. It wasn't the only time the intrepid Johnson would eschew the safe decision.
MORE...
August 3 - Charlie Arbelaez Quartet
Facebook Event: Sunset Poolside Jazz Series: Charlie Arbelaez Quartet
Charlie Arbelaez - Saxophone
Bob Boss- Guitar
Ed Kornhauser- Organ
Charles Weller- Drums
August 10 - Holly Hofmann Quartet
What a lineup!
Holly Hofmann - Flute
Frank Potenza - Guitar
Rob Thorsen - Bass
Jeff Hamilton - Drums
Here's a 2014 Jazz 88.3 interview with Holly about her "Low Life: The Alto Flute Project" release...