Jazz April is here and Jazz 88.3 is EXCITED! With the Smithsonian's Jazz Appreciation Month celebrated here in the United States throughout April and ending with UNESCO's International Jazz Day on Thursday, April 30, 2015, There are LOTS YOU CAN DO TO CELEBRATE! It's the perfect month to discover a new group or genre of Jazz. Check out one of the local Jazz clubs. Try your hand at writing a review of one of the new albums at Jazz 88.3 (we'll publish it!). Add the Jazz Appreciation Month logo or a Jazz April Twibon to your social media profile.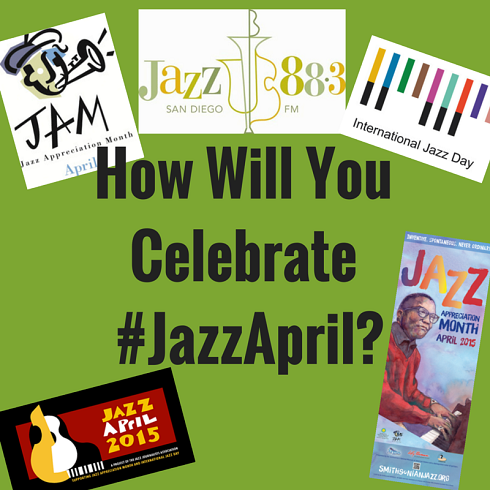 READ THE FULL ARTICLE
for our handy list of ideas and links and then tell us how you plan to celebrate with a COMMENT BELOW or on our social media pages at Facebook, Twitter, Google+, LinkedIn!
Add the Jazz Appreciation Month Logo To Your Profile Pic or Cover Photo
Get Happy with Lower Left at the Jazz 88.3 Happy Hour at The Lafayette on Thursday, April 2, 2015
Check out the Smithsonian's 112 Ways To Celebrate Jazz Appreciation Month then PICK SOMETHING!
Make a Jazz April Twibon for your Social Media Profile Pic.
Listen and Learn about The Blue Note Legacy, it's founders and artists with J Otis Williams on Over Night Jazz, Sunday, April 5, 2-7AM.
Volunteer To Share About Jazz At Your School on International Jazz Day, Thursday, April 30, 2015
Attend A Jazz or Blues Jam Session...there are LOTS of them in San Diego, including the Jazz 88.3 Blues Jam each Wednesday night at Proud Mary's Southern Bar and Grill!
Listen and Learn About San Diego's Jazz Legends and Young Lions with Joshua White Quintet and Jazz 88.3's Vince Outlaw on Saturday, April 11, 2015 in the Ruby G. Schulman auditorium located at the Carlsbad City Library complex as part of the City of Carlsbad This Is Jazz! series.
Enter For FREE Jazz 88.3 Speakeasy Tickets to the SFJazz Collective concert on Monday, April 20, 2015.
Attend a Jazz 88.3 Blues Brunch (details coming!)
Get The Blues with The Missy Andersen Blues Band at Jazz Live San Diego on Tuesday, April 21, 2015
Plan Your International Jazz Day Celebration!
Purchase Jazz Music Through Jazz 88.3 Amazon Affiliate. Proceeds benefit Jazz 88.3!
Celebrate International Jazz Day on Thursday, April 30, 2015!
How do YOU intend to celebrate your appreciation of Jazz during April? Add a COMMENT BELOW or on the Jazz 88.3 social profiles on Facebook, Twitter, Google Plus, and LinkedIn!