The full spectrum of Jazz, including vocals, groove, world, international, and progressive are represented in the New
Adds to the Jazz 88 Music Library
for Monday, June 30, 2014 with San Diego connections with the first release of local group The Applebrown Jazz Ensemble ("The Way On Up") and Azar Lawrence ("Seeker") who recently played a John Coltrane Tribute show here.
You can check out their debut on The New Jazz Thing @Jazz88, Monday, June 30 2014 between 6 and 8 PM PT!
The full list, with additional annotations and your chance to comment on this week's New, is after the split...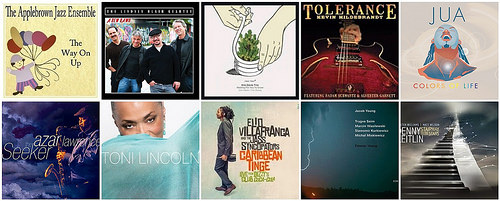 THE APPLEBROWN JAZZ ENSEMBLE – "THE WAY ON UP"
LINDSEY BLAIR QUARTET – "A NEW DAWN"
KRIS DAVIS – "WAITING FOR YOU TO GROW"
KEVIN HILDEBRANDT – "TOLERANCE"
JUA – "COLORS OF LIFE"
AZAR LAWRENCE – "SEEKER"
"TONI LINCOLN"
ELIO VILLAFRANCA AND THE JASS SYNCOPATERS – "CARIBBEAN TINGE"
JACOB YOUNG – "FOREVER YOUNG"
DENNY ZEITLIN – "STAIRWAY TO THE STARS"