This week's Adds to the Jazz 88.3 Music Library look to be loaded with female vocalists (6 out of 12 releases), but there are also some interesting instrumentation with releases bass clarinet, guitar and harmonica, and even a new set featuring San Diegan's in an adventurously-timed outing.
And YOU can check out their Jazz 88 DEBUT on The New Jazz Thing @Jazz88, Monday, September 29 2014 between 6 and 8 PM PT! ! (UPDATE: Hear the Jazz 88 Speakeasy replay of the 9/29/14 TNJT to hear all of these New Jazz Things!)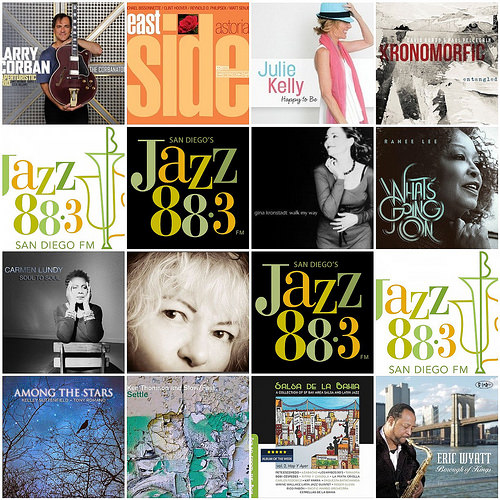 LARRY CORBAN & THE APERTURISTIC TRIO – "THE CORBANATOR"
EAST SIDE – "ASTORIA"
JULIE KELLY – "HAPPY TO BE"
KRONOMORFIC /DAVID BORGO & PAUL PELLEGRIN – "ENTANGLED"
GINA KRONSTADT – "WALK MY WAY"
RANEE LEE – "WHAT'S GOING ON"
CARMEN LUNDY- "SOUL TO SOUL"
SHELLEY NEILL – "THE CURRENCY IS HEAT"
KELLEY SUTTENFIELD – "AMONG THE STARS"
KEN THOMSON AND SLOW/FAST – "SETTLE"
VARIOUS ARTISTS – "SALSA DE LA BAHIA, VOL.2: HOY Y AYER"
ERIC WYATT – "BOROUGH OF KINGS"
Read the entire article
for your additional annotations about this week's New and your chance to Comment on New Jazz!