September, 2014

Even after review the vibe was cool. Rest In Peace, Kenny Wheeler. We all know the future is now.
Gnu High, 1975 recording. Kenny Wheeler with Keith Jarrett, Dave Holland, and Jack DeJohnette. Played the whole thing. Brilliant isn't strong enough. Neither is stunning, nor is mindblowing. Heyoke and Gnu Suite are long pieces but the intensity never waivers. Smatter is only six minutes but its punch is not pulled. Throughout, the artistry is astounding.
David Borgo has some new music coming out and the Progressive Nights staff is understandably thrilled. Positive anticipation but I hope the new disc title is easier to say than Micro Temporal Infundibula. Hard to type, even.
Taylor Ho Bynum is riding his bike from Canada to Tijuana. Hope to get a word as he zooms past...Stepwise.
Thanks for listening
Contact our Underwriting Account Manager Ann Bauer. You can reach her by phone at 619-388-3301, or via e-mail at AnnB@Jazz88.org.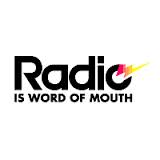 Businesses that partner with Jazz 88.3 to sponsor our broadcasts or public service programs reap remarkable rewards. We have developed true community among our audience; listeners often look to us to help decide what shows to attend, where to eat, or what to do on the weekend.
Ultimately, our listeners prefer to do business with our sponsors. National research supports this statement. Jacobs Media's Underwriting Research Review found that 80% of public radio listeners prefer to do business with companies that support public radio. And 88% of public radio listeners say that their opinion of a company is more positive when it supports public radio. It's called the "Halo Effect." A halo of good will surrounds the brand image of businesses that support public media.

It's a great batch of NEW Adds to the Jazz 88.3 Music Library for the week of September 14, 2014, including the latest from Jazz Live San Diego alum's Andy Bey (1/8/2008) and Sammy Figueroa (?) and our upcoming November 18, 2014 Jazz Live San Diego guest Hal Galper!
You can check out their Jazz 88 DEBUT on The New Jazz Thing @Jazz88, Monday, September 15, 2014 between 6 and 8 PM PT! (Update: Hear all the new as played on TNJT 9/15/14)!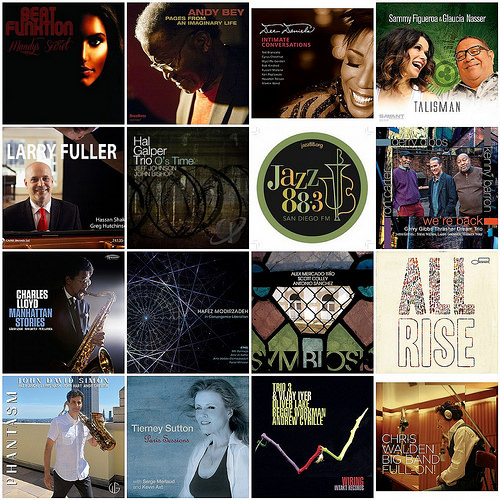 BEAT FUNKTION – "MANDY'S SECRET" (Do Music)
ANDY BEY – "PAGES FROM AN IMAGINARY LIFE" (Savant)
DEE DANIELS – "INTIMATE CONVERSATIONS" (Origin)
SAMMY FIGUEROA & GLAUCIA NASSER – "TALISMAN" (Savant)
"LARRY FULLER" (Capri)
HAL GALPER TRIO – "O's TIME" (Origin)
GERRY GIBBS THRASHER DREAM TRIO – "WE'RE BACK" (WCS)
CHARLES LLOYD – "MANHATTAN STORIES" (Resonance)
HAFEZ MODIRZADEH – "IN CONVERGANCE LIBERATION" (PI)
ALEX MERCADO TRIO – "SYMBIOSIS" (Conaculta/Fonca)
JASON MORAN – "ALL RISE: A Joyful Elegy For Fats Waller" (Blue Note)
JOHN DAVID SIMON – "PHANTASM" (WarmGroove)
TIERNEY SUTTON – "PARIS SESSIONS" (BFM)
TRIO 3 & VIJAY IYER – "WIRING" (Intakt)
CHRIS WALDEN BIG BAND – "FULL-ON!" (Origin)
Read the entire article for the full list with further annotations and a place for you to Comment On The New!

LIVE Monday, September 15, 2014, 6-8 PM PT @Jazz88 San Diego's Jazz 88.3 FM, Jazz88.org, and Apple/Android Apps to The New Jazz Thing @Jazz88 with Vince Outlaw
...Supported by Listener Contributors like YOU and...YOUR BUSINESS (
learn more about underwriting The New Jazz Thing!
).

Jazz 88 Playlist Archive for Monday, September 15, 2014
(scroll to 6-8 PM PT to see entire show playlist or check out the screenshot below)


Read the Entire Article
for Jazz 88 Speakeasy Audio of the Entire Show and Marcia Ball Interview, Top 10 Countdown replay, Links to New Adds to the Jazz 88 Library, and more!

The last few week's have provided major blows for Jazz. We lost one of our very own here in San Diego (Daniel Jackson) but also Gerald Wilson and Joe Sample. These men were integral to the art form as composers and arrangers. Their trumpet and piano, respectively, lent to the honest voice of jazz music. For Gerald, it began in the Jimmie Lunceford Orchestra in 1939 when he replaced the star trumpeter in the group at the time (Sy Oliver). Joe's contribution started in hard bop and grew into many different styles of playing. Both men led bands and forged new roads. Their music and jazz history will preserve forever.

Brother Jack McDuff is San Diego's Jazz 88.3 Artist of the Week starting September 15, 2014. AllMusic.com's Ron Wynn calls McDuff "A marvelous bandleader and organist as well as capable arranger..." and about the work on his instrument "...one of the funkiest, most soulful styles of all time on the Hammond B-3." Here's our AOW version of the Portrait In Jazz show that will be be airing on Wednesday, September 17, the 88th anniversary of his birth in 1926.





Tune into Jazz 88.3 and Jazz88.org all week as our hosts play the music of this versatile artist. Read the entire article for more facts about Brother Jack and your chance to comment on your favorite tunes...

There was something in the air that made hesitation seem inexcusable.
The Diminished Triangle by Gerald Wilson was grand and sweeping, varied and flexible, a showcase for strong writing and playing. He contributed greatly, rest in peace.
The Great Lake Suite will prove to be problematic because it's pretty deep in the dig/digest/grok sense and it provides endless variables of any/all elements. Wadada Leo Smith, Henry Threadgill, John Lindberg, Jack DeJohnette.
Charles Gayle is commitment personified. He is like a laser beam of intention balancing between Larry Roland and Michael TA Thompson.
Thanks for listening

A fantastic night of Jazz Live San Diego with Jeffrey Joe Morin with Trio Los Besos, Janet Klein and Her Parlor Boys, and all in honor of the diamond birthday of Jazz 88.3's host of Jazz Roots, Lou Curtiss...
Coming Up - Jazz 88 Speakeasy (On-Demand, Click to Play): Jazz Live San Diego (Entire Show), Tuesday, September 9, 2014
Coming Up - Jazz 88 Speakeasy: Janet Klein Jazz Live San Diego Interview, Tuesday, September 9, 2014\
Coming Up - Jazz 88 Speakeasy: Jazz Live San Diego Preview - Joshua Breakstone - Tuesday, October 14, 2014 ()

AllMusic.com Biography of Joshua Breakstone by Scott Yanow
AllAboutJazz.com Review of 2014 With The Wind and The Rain: "Loaded with creative solos, improvisational twists, an excellent selection of music and a lively augmented string-based instrumentation, the With the Wind and the Rain reveals a masterful performance from Joshua Breakstone and crew, and challenges the normal definition of the standard rhythm section.

A list of new to really RAVE about, with new projects from former Jazz Live San Diego guests The Bad Plus and Roseanna Vitro, Jane Bunnett, Stanley Clarke, former San Diegan Kristin Korb, Chick Corea, and LOAD MORE! You can check out their Jazz 88 DEBUT on The New Jazz Thing @Jazz88, Monday, September 8, 2014 between 6 and 8 PM PT! (Update: Link to TNJT Debut coming soon)!
THE BAD PLUS – "INVITABLE WESTERN" (Okeh)
DAVID BIXLER AUCTION PROJECT – "SLINK" (Self released)
JANE BUNNETT – "MAQUEQUE" (Justin Time)
STANLEY CLARKE – "UP" (Mack Avenue)
KRISTIN KORB – "FINDING HOME" (Double K Music)
KENNY WERNER - "COALITION" (Half Note)
CHICK COREA TRIO – "TRILOGY" (Concord)
CONRAD HERWIG - "THE LATIN SIDE OF JOE HENDERSON" (HN)
MEDESKI, SCOFIELD, MARTIN & WOOD – "JUICE" (Indirecto)
ADAM MECKLER ORCHESTRA – "WHEN THE CLOUDS LOOK LIKE THIS" (Self released)
ANDY MILNE & DAPP THEORY – "FORWARD IN ALL DIRECTIONS"
WADADA LEO SMITH – "THE GREAT LAKES SUITES" (TUM)
IVO PERELMAN & KARL BERGER – "REVERIE" (Leo Records)
GARY SCHUNK – "KAYAK" (DMT)
MARK TURNER QUARTET – "LATHE OF HEAVEN" (ECM)
ROSEANNA VITRO – "CLARITY" (Random Act)
Read the entire article for the full list with further annotations and a place for you to Comment On The New!

San Diego Blues Festival founder and music writer
Michael Kinsman
has begun hosting "
Every Shade of Blue
" Saturday nights from 8 p.m. to midnight. You can hear his first show by clicking this
link
and in the future all shows will be in the
Speakeasy
. Kinsman succeeds on-air personality "T," who retired June 30 after more than 30 years with the station. "We're thrilled to have Kinsman join us," said Program Director Claudia Russell. "His love for the blues, the San Diego community and music education is unwavering – a perfect fit for KSDS."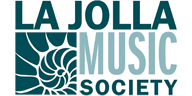 Support Jazz 88.3
while you shop at
Pat Launer's Center Stage