January, 2015

San Diego's Jazz 88.3 extends an America's Finest City welcome to The Jazz Education Network and their 2015 Conference at the Manchester Grand Hyatt starting TODAY, Wednesday, January 7, 2015 and going through the late evening hours of Saturday, January 10, 2015 (and you know those late Jazz Jam session will run into early Sunday)! Starting with Wednesday evening's full evening concert lineup, there will be 71 clinics and panel presentations, 36 Research Presentations, the next JENeration of Jazz with the JENerations Student Jazz Festival, 77 concerts including Pancho Sanchez, Bobby Shew, Ann Patterson's Maiden Voyage, and Grammy winner and recently nominated again, Gordon Goodwin's Big Phat Band. Oh, and did we mention that Herbie Hancock will be delivering the Keynote Speech on Thursday, January 8, 2015?! YOU CAN STILL BE PART OF IT!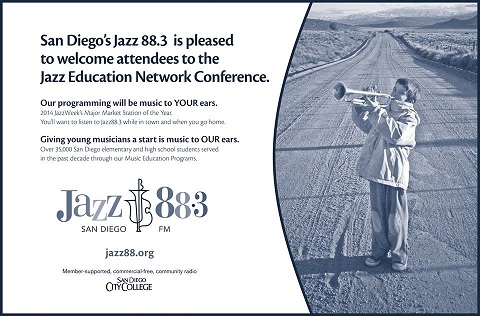 Jazz Live San Diego will be kicking of 2015 in great fashion with a series of concerts that starts January 13, 2015 at 8pm PT with legendary mallet man Joe Chambers, and includes San Diego's own Euphoria Brass Band, saxophonists Christopher Hollyday and San Diego icon Joe Marillo leading a quintet, and W.C. Handy Blues Award nominee The Missy Andersen Band. Jazz Live San Diego is San Diego's Jazz 88.3's monthly (twice a month June/July) live concert series from the Saville Theatre on the San Diego City College campus broadcast world wide on Jazz 88.3 and Jazz88.org,




READ THE FULL ARTICLE for more about these upcoming shows and how YOU CAN GET IN FREE!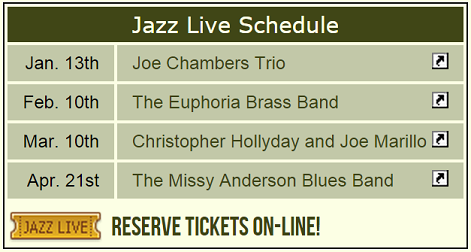 LIVE Monday, January 5, 2015, 6-8 PM PT @Jazz88 San Diego's Jazz 88.3 FM, Jazz88.org, and Apple/Android Apps to The New Jazz Thing @Jazz88 with Vince Outlaw
...Supported by Listener Contributors like YOU and...YOUR BUSINESS (
learn more about underwriting The New Jazz Thing!
). Tonight on the show...
Jazz Education Network Conference 2015...aka #JEN15...swings into San Diego Wednesday, January 7 through Saturday, January 10, with clinics, presentations, vendors, and shows Shows SHOWS! Tonight we preview the conference and the special JENerosity Celebration Fundraiser event in Hour 2 with members of the JEN board.
READ THE FULL ARTICLE for the rest of our preview of 2015, with links to artists, events, and more!

JENerosity Celebration 2015, with a full late afternoon to late evening of dinner, cocktails, honorees, and performances by Mundell Lowe, Pancho Sanchez, and many more, in support of the Jazz Education Network's (JEN) Jazz Music and Education scholarship and outreach programs takes place on Friday, January 9, 2015, as part of JEN's 2015 Conference at the Manchester Grand Hyatt. Your $125 donation ($88 for conference attendees) includes a late afternoon concern by Mundell Lowe starting at 3pm, the JENerosity Celebration of music, cocktails, dinner, and awards with artists including NEA Jazz Master Jamey Aebersold, Lynne Arriale, John Clayton, Charles McPherson, Holly Hoffman and more, a special performance by 2015 JEN LeJENds of Latin Jazz Poncho Sanchez, special seating at the conference's evening concerts including Caliente, Joe Santerre Ensemble, Army Jazz Ambassadors with Bobby Shew, and m-pact. GET YOUR TICKETS NOW for this NOT TO BE MISSED evening of and for Jazz in San Diego!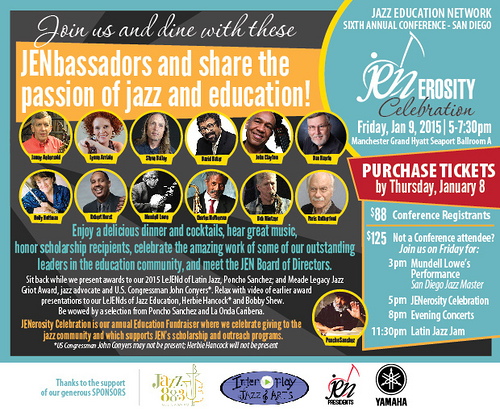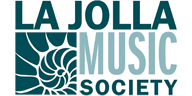 Support Jazz 88.3
while you shop at
Pat Launer's Center Stage