With 15 new releases to the Jazz 88.3 Music Library the week of November 2, 2015, there is something for everybody! From Latin sounds with Chucho Valdes ("Tribute to Irakere") and new vocals from Nancy Lane ("Let Me Love You"), to the latest from guitarist Lionel Loueke ("Gaia"). These new releases will be featured by all your favorite Jazz 88.3 hosts in the weeks to come!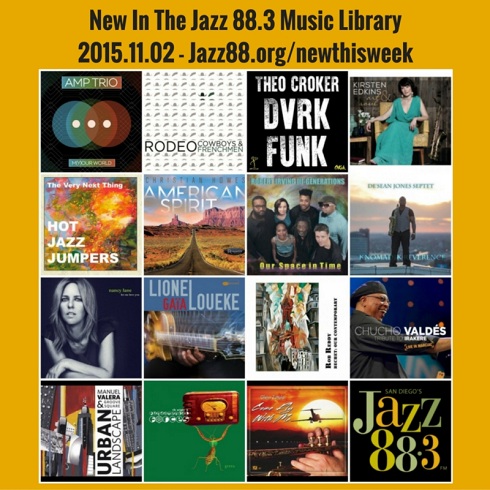 AMP TRIO – "M(Y)OUR WORLD"
COWBOYS & FRENCHMEN – "RODEO"
THEO CROKER & DVRK FUNK – "DVRKFUNK EP"
KIRSTEN EDKINS – "ART & SOUL"
HOT JAZZ JUMPERS – "THE VERY NEXT THING"
CHRISTIAN HOWES – "AMERICAN SPIRIT"
ROBERT IRVING III-GENERATIONS – "OUR SPACE IN TIME"
DE'SEAN JONES SEPTET – "KNOMADIK REVERENCE"
NANCY LANE – "LET ME LOVE YOU"
LIONEL LOUEKE – "GAIA"
BOB REDDY – "BECHET: OUR CONTEMPORARY"
CHUCHO VALDÉS – "TRIBUTE TO IRAKERE"
MANUEL VALERA & GROOVE SQUARE – "URBAN LANDSCAPE"
RIK WRIGHT'S FUNDAMENTAL FORCES – "GREEN"
GLENN ZOTTOLA – "COME FLY WITH ME"
READ THE FULL ARTICLE
for links to artists websites, release reviews, and additional listening notes from the Jazz 88 Music staff....