Proud Mary's Southern Bar and Grill at the Ramada Inn on Kearny Mesa and San Diego's Jazz and Blues 88.3 are bringing San Diego's Finest authentic southern breakfast eats and Live Blues Music together for Sunday's Best Blues Brunch, with the inaugural hit on Sunday, April 21, 2015 from 11am to 3pm.
Proud Mary's owner and chef Michael Jacobs will be creating all new menu items for the Brunch including such items as Grandma's Picnic Basket with Fried Chicken, Hangover Helper with Chicken Fried Steak, unique "Benedicts" with Grandma's recipe scratch Potato Pancakes, Graceland Fosters Waffles, and the Proud Mary's Bloody Brunch. The Blues music will be LIVE with Blues music by harmonica, guitar, bass, drum, singer (whew!) Jon Atkinson with his Allstar Jammers kicking it off, continuing the new sensation that is the Jazz 88.3 Blues Jam each Wednesday evening at Proud Mary's, with Jazz 88.3 On-Air Host J Otis Williams presiding over the Sunday Brunch festivities too!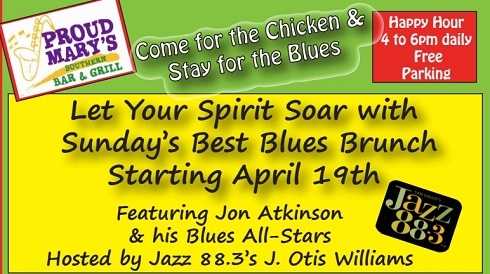 READ THE FULL ARTICLE
for more brunch menu items and information on this great partnership between San Diego's #1 place for Southern cuisine with Live Blues Music and San Diego's #1 Jazz and Blues 24/7 Music Station!