Jazz 88.3 celebrates New Jazz Music WEEKLY with the addition of new Jazz releases into the Jazz 88.3 Music Library...and the week of April 6, 2015 is no different with new music from some of the most recognizable names in Jazz including Cohen, Coryell, Elias, Gadd, Mabern, and Sanborn. We've also got the new release from Nhojj who will be performing with San Diego's Peter Sprague for Jazz Against Malaria (JAM) 2015, Sunday, April 26 at 4pm.
You can check out the debut of all the new releases each week on
The New Jazz Thing with Vince Outlaw, Monday evenings 6-8pm PT
and then your favorite Jazz 88.3 Hosts will be adding them to their playlists for YOU to enjoy and learn!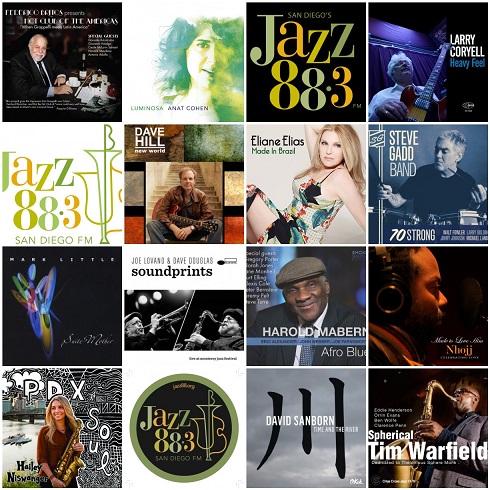 "FEDERICO BRITOS PRESENTS THE HOT CLUB OF THE AMERICAS"
ANAT COHEN – "LUMINOSA"
LARRY CORYELL – "HEAVY FEEL"
DAVE HILL – "NEW WORLD"
ELIANE ELIAS – "MADE IN BRAZIL"
STEVE GADD BAND – "70 STRONG"
MARK LITTLE – "SUITE MOTHER"
JOE LOVANO & DAVE DOUGLAS – "SOUND PRINTS"
HAROLD MABERN – "AFRO BLUE"
NHOJJ – "MADE TO LOVE HIM"
HAILEY NISWANGER – "PDX SOUL"
DAVID SANBORN – "TIME AND THE RIVER"
TIM WARFIELD – "SPHERICAL"