As Missy Andersen prepares, San Diego Blues Fans hope, to take away the Best Soul Blues Female Artist award at the Blues Foundation's Blues Music Awards tonight on Memphis, we'd like to salute her recent performance at Jazz Live San Diego on Tuesday, April 21, 2015 with some of the audio, video, pictoral, and social highlights from the show!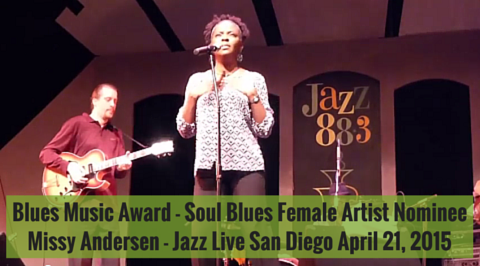 READ THE FULL ARTICLE to relive the show!

It's Gator By The Bay time again and San Diego's Jazz and Blues 88.3 is pleased to be hosting the KSDS Jazz 88 Festival Stage featuring a great musical gumbo of blues, zydeco, honky tonk, boogie woogie, and more from opening night Thursday with BeauSoleil to Mother's Day Sunday close with Brian Jack & The Zydeco Gamblers. Some of your favorite Jazz 88.3 Jazz, Blues, and Second Line on-air hosts at will be keeping the party moving all weekend, so get down to Spanish Landing, Say Hi, and Let The Good Times Roll! Read on for the full list of performers on the KSDS Jazz 88 Festival Stage at the east end of Gator, near the Sheraton! READ THE FULL ARTICLE for full Festival Stage lineup and additional key links!