May, 2015

LIVE Monday, May 11, 2015, 6-8 PM PT @Jazz88 San Diego's Jazz 88.3 FM, Jazz88.org, and Apple/Android Apps to The New Jazz Thing @Jazz88 with Vince Outlaw
...Supported by Listener Contributors like YOU and...YOUR BUSINESS (
learn more about underwriting The New Jazz Thing!
).
GET SOCIAL @TNJT on Facebook and Twitter.
Tonight on the show...Interviews with Archive Thompson, Pastor Jerry Andrews, and Robert Dove with new CDs and Release concert news, what's coming up this week in your ears, on Jazz88.org, and in Jazz, along with the debut of all the new Jazz music being released into the Jazz 88.3 music library the week of May 11, 2015. LISTEN LIVE!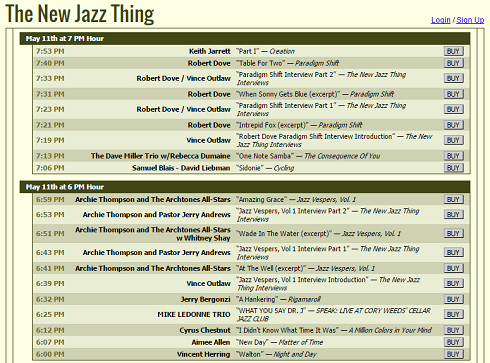 READ THE FULL ARTICLE for further info and links to everything that NEW on The New Jazz Thing!

One of the best things I find out in the interviews I have the honor of doing on The New Jazz Thing or as part of Jazz Live San Diego, or just in talking with Jazz and music lovers I come across is the influence of their family and upbringing on what they love as their passion and/or do as their livelihood. And while having a talented Jazz Mom may give you a little step-up in following in her footsteps, there are many other ways that our parents, and Mom's in particular as we head toward Mother's Day 2015, have put us on the path toward the music we love and play and listen to day in and day out. My Mom, in particular, made sure that we listened to big string orchestrated music which I think directly led to my liking of both small ensembles with strings and to the complexity that can come with large ensemble Jazz music.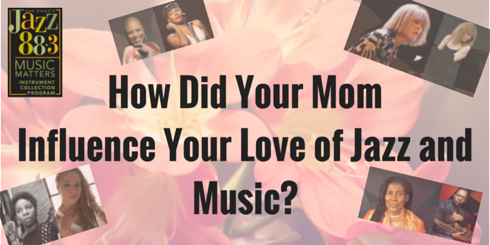 READ THE FULL ARTICLE for remembrances shared by Jazz 88 members, listeners, and staff...and Happy Mother's Day!

As Missy Andersen prepares, San Diego Blues Fans hope, to take away the Best Soul Blues Female Artist award at the Blues Foundation's Blues Music Awards tonight on Memphis, we'd like to salute her recent performance at Jazz Live San Diego on Tuesday, April 21, 2015 with some of the audio, video, pictoral, and social highlights from the show!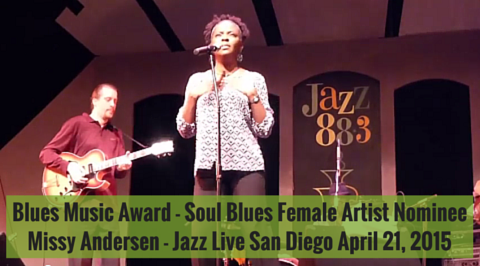 READ THE FULL ARTICLE to relive the show!

It's Gator By The Bay time again and San Diego's Jazz and Blues 88.3 is pleased to be hosting the KSDS Jazz 88 Festival Stage featuring a great musical gumbo of blues, zydeco, honky tonk, boogie woogie, and more from opening night Thursday with BeauSoleil to Mother's Day Sunday close with Brian Jack & The Zydeco Gamblers. Some of your favorite Jazz 88.3 Jazz, Blues, and Second Line on-air hosts at will be keeping the party moving all weekend, so get down to Spanish Landing, Say Hi, and Let The Good Times Roll! Read on for the full list of performers on the KSDS Jazz 88 Festival Stage at the east end of Gator, near the Sheraton! READ THE FULL ARTICLE for full Festival Stage lineup and additional key links!





LIVE Monday, May 4, 2015, 6-8 PM PT @Jazz88 San Diego's Jazz 88.3 FM, Jazz88.org, and Apple/Android Apps to The New Jazz Thing @Jazz88 with Vince Outlaw
...Supported by Listener Contributors like YOU and...YOUR BUSINESS (
learn more about underwriting The New Jazz Thing!
).
GET SOCIAL @TNJT on Facebook and Twitter.
Tonight on the show...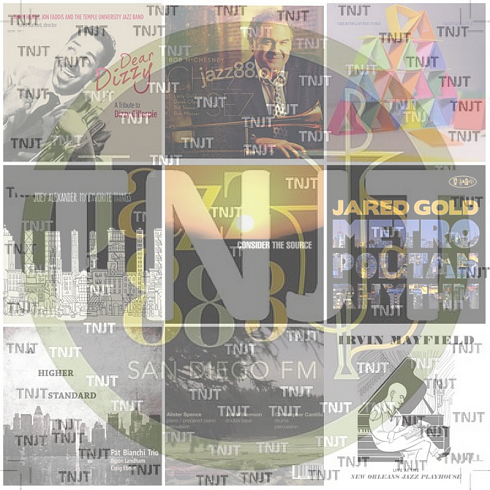 READ THE FULL ARTICLE
for more details on EVERYTHING from tonight's show!

From the elder Masters of Jazz (Jimmy Heath, 88, 2003 NEA Master, "Dear Dizzy") to the youthful Future of Jazz (Joey Alexander, 13, "My Favorite Things") with LOTS OF KEYS in the mix (5 of 9 new led by piano/organ players), there is LOTS OF NEW JAZZ to check out in the adds to the Jazz 88.3 Music Library the week of May 4, 2015! Your Jazz 88.3 hosts will be introducing you to these new releases all week, so Listen Long, Often, and LIVE at 88.3 FM San Diego and Worldwide at Jazz88.org! You can check out the debut of all the new releases each week on The New Jazz Thing with Vince Outlaw, Monday evenings 6-8pm PT.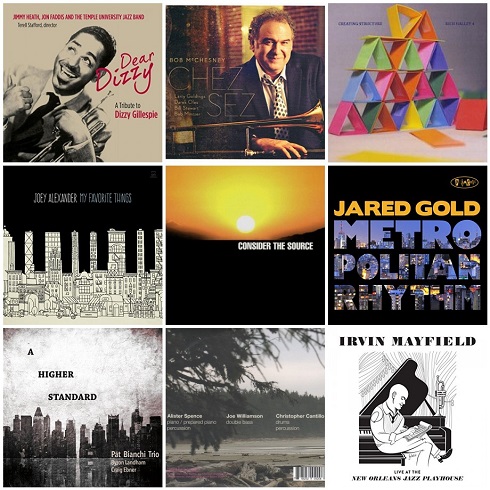 JIMMY HEATH, JON FADDIS & THE TEMPLE UNIVERSITY JAZZ BAND - "DEAR DIZZY"
BOB McCHESNEY - "CHEZ SEZ"
RICH HALLEY 4 - "CREATING STRUCTURE"
JOEY ALEXANDER - "MY FAVORITE THINGS"
DAWAN MUHAMMAD - "CONSIDER THE SOURCE"
JARED GOLD - "METROPOLITAN RHYTHM"
PAT BIANCHI - "A HIGHER STANDARD"
ALISTER SPENCE / JOE WILLIAMSON / CHRISTOPHER CANTILLO - "BEGIN"
IRVIN MAYFIELD - "LIVE AT THE NEW ORLEANS JAZZ PLAYHOUSE"
READ THE FULL ARTICLE for links to artists websites and social networks, release reviews, and additional listening notes from the Jazz 88 Music staff....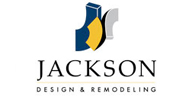 Support Jazz 88.3
while you shop at
Pat Launer's Center Stage