Jazz pianist
Eldar
, known as Eldar Djangirov during his high school years at Francis W. Parker here in San Diego, has released his new collection of live recordings "World Tour, Vol. 1" and it's one of 16 new releases to the Jazz 88.3 Music Library for the week of June 22, 2015. Here's the full list and later, links to the artist websites and more...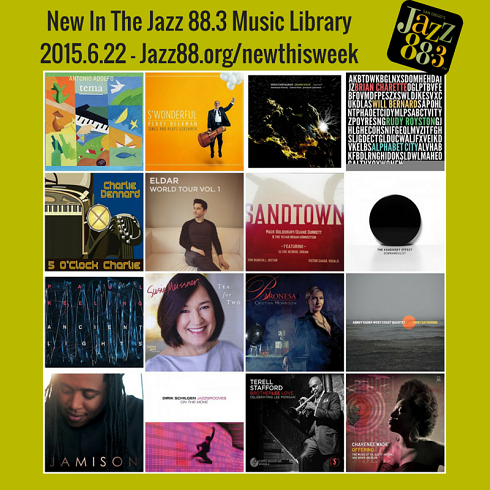 ANTONIO ADOLFO – "TEMA"
PERRY BEEKMAN – "S'WONDERFUL: PERRY BEEKMAN SINGS AND PLAYS GERSHWIN"
HUGO CARVALHAIS - "GRAND VALIS"
BRIAN CHARETTE – "ALPHABET CITY"
CHARLIE DENNARD – "5 O'CLOCK CHARLIE"
ELDAR – "WORLD TOUR, VOL.1"
MACK GOLDSBURY / DUANE DURRETT – "SANDTOWN"
THE KANDINSKY EFFECT - "SOMNAMBULIST"
PAUL KEELING – "ANCIENT LIGHTS"
SUSIE MEISSNER – "TEA FOR TWO"
CRISTINA MORRISON – "BARONESSA"
ABBEY RADER WEST COAST QUARTET - "FIRST GATHERING"
JAMISON ROSS – "JAMISON"
DIRIK SCHILGEN – "ON THE MOVE"
TERELL STAFFORD – "BROTHERLEE LOVE"
CHARENEE WADE – "OFFERING"
READ THE FULL ARTICLE for links to artists websites, release reviews, and additional listening notes from the Jazz 88 Music staff....