San Diego Jazz Musician, Composer, Bandleader, Educator, and Innovator Mark Dresser has been named as one of 20 recipients of the Doris Duke Impact Awards for 2015, receiving $80,000 to be used over 3 years as he wishes.
Since April 2014, the foundation has awarded a total of $3.2 million in Impact Awards to 40 artists in the fields of jazz, dance and theatre. The
Doris Duke Impact Award
, in particular, has a unique nomination process, as explained by Ben Cameron, program director for the arts at the Doris Duke Charitable Foundation,
"The Doris Duke Impact Awards are based on nominations submitted by artists, identifying others (often less widely known) that will have enormous impact on the jazz, dance or theatre fields in the future.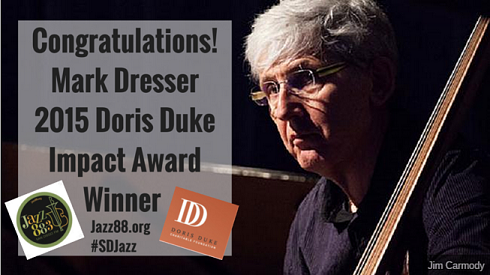 Dresser's reaction to the award, as captured by
Robert Bush, San Diego Jazz Writer, in an NBC San Diego Blog Post
,
"I felt gratified being recognized by this organization and it's especially meaningful to know that I was chosen by a panel made up of distinguished but unknown colleagues in the field. I'm still trying to get a handle on the implications of such a significant financial prize attached and continuing to figure out what that could mean in realizing my music on a more dimensional level."
READ THE FULL ARTICLE
for more coverage of the award, Dresser's music at Jazz 88.3, and more...