September, 2015
"America's Finest Jazz & Blues from America's Finest City"

The iconic alto saxophonist Phil Woods has passed away. As a teen he studied with Lennie Tristano, got inspired by Charlie Parker, and toured the world with Dizzy Gillespie. Later, Buddy Rich, Quincy Jones, and Benny Goodman benefited from his creativity. Pop Culture reference: Phil Woods was the sax solo on Billy Joel's "Just The Way You Are." There is, of course, so much more to his legacy. Keep listening...

Jazz 88.3 is proud to support pianist,
Dan Siegel
and saxophonist,
Steve Torok
:
The Siegel & Torok Project
, taking place at the
MiraCosta College Concert Hall
,
TONIGHT(!)
at
7:30PM
.
Dan Siegel
and
Steve Torok
will be performing alongside a stellar lineup of world-class guest jazz musicians including drummer
Land Richards
, bassist
Alex Al
and guitarist
Allan Hinds
. The event is sponsored by the MiraCosta College music department. As part of the event, there will be master classes presented by the members of the band and guest front of house engineer Chris Eads. A horn section selected from the best MiraCosta Jazz and Commercial music students will also be featured. To purchase tickets, click
here
!

Jazz 88.3 is proud to support vocalist
Jenn Renee Cruz
and the release of her new CD: "You Get What You Get". Jazz 88.3 will help Jenn celebrate,
TONIGHT(!) at 8PM
at
98 Bottles
(2400 Kettner Blvd. San Diego, CA 92101)
in the heart of Little Italy. So if you're a fan of jazz and blues fusion and a compelling voice that possesses both tenderness and power, then be sure to mark your calendars and plan to come out and support this local, talented rising star! *
Please Note
:
This event is 21+
.
MORE: Jenn Visits Jazz 88.3...

Jazz 88.3 is proud to support the 25th Annual San Diego Music Awards happening TONIGHT(!) at Humphrey's By The Bay. Jazz 88.3's very own Ron Dhanifu and J. Otis Williams will be presenters, so if you run into them, be sure to say "Hello!". Click here for a list of this year's nominees! Proceeds from the San Diego Music Awards help to support the San Diego Music Foundation's Guitars and Banjos for schools. To purchase tickets to this year's awards show, simply click here! List of Jazz / Blues Nominees...
Pianist Geoffrey Keezer and vocalist Gillian Margot are back in San Diego, playing two shows in September and October that promise to take the duo thing they have been working on to new places, literally. The two dropped into the Jazz 88.3 studios to chat with Vince Outlaw on The New Jazz Thing on Monday, September 14, 2015, bringing new, unreleased recordings they made to "give people an idea of what we do sound like when it's just the two of us" and chatting about the upcoming shows ("in the round" at Dizzy's on Thursday, September 17 and at The Glashaus with strings on October 13), how their working relationship has evolved, Gillian's time in Hong Kong before the release of this year's "Black Butterfly", and what else San Diego's own Geoffrey has been up to.
READ THE FULL ARTICLE
for audio of the interview and a full transcript...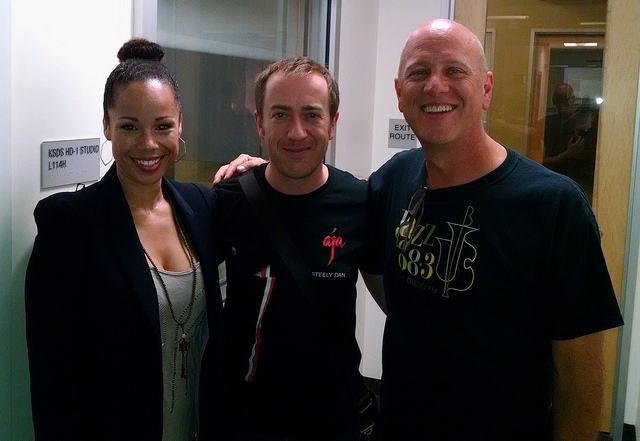 Michelle Coltrane
, the daughter of jazz legend John Coltrane, makes a special visit to the
Jacobs Center
TONIGHT at 6:30 pm
. She will be joined by acclaimed jazz guitarist Shea Welsh and opening act, San Diego's own dynamic trio Besos de Coco. Michelle and her band will perform their unique retro and modern sound as well as some of her father's classics. Enjoy signature cocktails and tapas as the sultry sounds of jazz fill the air in a unique setting only minutes from Downtown San Diego. To purchase tickets, click
here
.
UPDATE: Interview with Michelle and Shea...

Jazz 88.3 is proud to support the San Diego Blues Festival -- a benefit for the Jacobs and Cushman San Diego Food Bank, happening THIS(!) Saturday and Sunday, September 26th and 27th from 12-8PM, at Embarcadero Marina Park North. Come out and enjoy 2-days worth of great live music by some of your Blues favorites like: Booker T. Jones, Marcia Ball, Lil' Ed & The Blues Imperials and many more; all while supporting a great cause! To purchase tickets, simply click here! We'll see you there! MORE on Blues Radio in San Diego...

Jazz 88.3 is proud to support "
The International Academy of Jazz: San Diego.
" Directed by brilliant trumpeter,
Gilbert Castellanos
, The International Academy of Jazz: San Diego" is a 501c 3 non-profit and San Diego's ONLY full-academic year program for our young, aspiring musicians (ages 10-18). The IAJSD is currently accepting new students for the 2015-2016 program year. Opening day is
THIS(!)
Saturday, September 5th at
10AM
at the Music Department at Grossmont College (Opening day is
FREE
to the public)! For more information or to register your child for the program, simply click
here
!
HEAR IAJSD Executive Director Guy Gonzales...