Hear San Diego Jazz history being made when an all-star band recreated the music of Barney Kessel's "Some Like It Hot" in the ballroom at the Hotel Del Coronado on Saturday, March 12, 2016. The inaugural concert in the San Diego Jazz Heritage Series presented by KSDS-FM, San Diego's Jazz 88.3 included dinner and a panel discussion led by Jazz 88.3 Station Manager and Los Angeles Jazz Institute Founder Ken Poston and featuring Gene Cipriano, multi-decade veteran of the Hollywood film industry and the man who "ghosted" the saxophone parts played by Tony Curtis in the movie "Some Like It Hot" which was filmed at the same Hotel Del in 1959.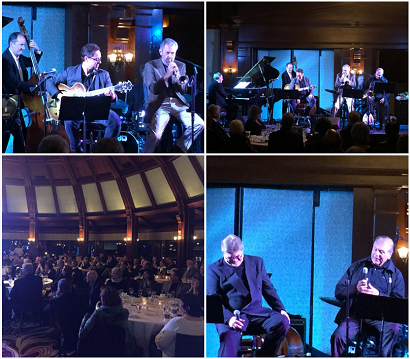 The band for the event included Larry Koonse (g), Gene Cipriano (reeds), Carl Saunders (trumpet), Christian Jacob (piano), Darek Oles (bass), Kendall Kay (drums).
READ THE ENTIRE ARTICLE
for the set list for the concert, video of the panel discussion, and photos from the evening at "The Del"...