KSDS-FM's Jazz Live San Diego's 2015 Concerts by Kronomorfic, Joe Garrison and Night People, and Joe Chambers were featured in NBC San Diego / Sound Diego's list of Unforgettable Jazz Concerts of 2015, compiled by noted Jazz critic Robert Bush.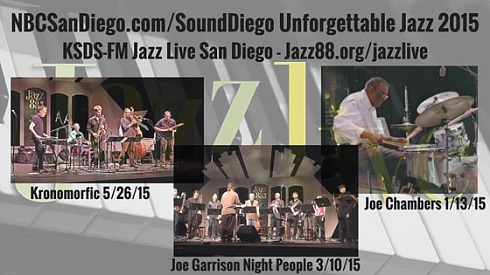 (photo creds to great jazz fans Barbara Wise, Deborah Wolfe, Michael Oletta)
In the full article, Mr. Bush provides a quick synopsis of why each show made the cutoff...and if you've been to shows around San Diego, you know Robert sees a lot of them! Here's the short list, then further below, we provide links to Roberts original reviews of the Jazz Live shows, along with a link to hear the entire Kronomorfic show, interviews from that show and Joe Garrison, pictures and more.
Mark Dresser Septet -- The Loft, Dec. 11, 2015.
Anthony Davis Solo Piano -- SD Museum of Art, Feb. 19, 2015.
Wadada Leo Smith -- Conrad Prebys Music Center, Jan. 21, 2015.
Charles Lloyd Quartet -- Athenaeum Jazz at TSRI, Oct. 20, 2015.
Joshua White Quintet -- Dizzy's, April 18, 2015.
Gilbert Castellanos, Marshall Hawkins, Joshua White -- Westgate Hotel, Aug. 14, 2015.
Kronomorfic -- Jazz Live, May 26, 2015.
Kjell Nordeson Solo Percussion -- Bread & Salt, May 1, 2015.
Kyle Motl Solo Contrabass -- Conrad Prebys Music Center, Jan. 31, 2015
Red Fish Blue Fish -- Bread & Salt, Jan. 15, 2015
Joe Garrison & Night People -- Jazz Live, March 10, 2015
Joe Chambers Quartet -- Jazz Live, Jan. 13, 2015

Kronomorfic -- Jazz Live, May 26, 2015
"Jazz Live," the flagship program sponsored by KSDS 88.3, reached for the stars with this ambitious booking, and the polymetric assassins co-led by David Borgo and Paul Pellegrin delivered the goods. Also featuring Kjell Nordeson, Andy Zacharias, Michael Dessen and Nate Jarrell.
"...those who were there got to experience a fascinating version of where the music needs to go to honor its own integrity of exploring the new and offending the comfortable."
Joe Garrison & Night People -- Jazz Live, March 10, 2015
"Garrison's huge group, stocked with the area's finest musicians, offers incomparable beauty in the form of his wildly ambitious compositions."
"The constantly evolving musical organism known as Night People -- an improvising orchestra helmed by the intrepid composer/conductor Joe Garrison -- logged another impressive outing on March 10 as a part of Jazz Live, the innovative performance series from the folks at KSDS Jazz 88.3 on the proverbial FM dial.

The ensemble unveiled some new charts, but Night People have the ability to make even their oldest material sound new -- such is the nature of Garrison's art."



On our Jazz 88.3 Jazz Live Blog post of
Joe Garrison at Jazz Live
, check our pictures from the show, audio and video of our interview with Joe, and links to additional resource about this great San Diego treasure!
Joe Chambers Quartet -- Jazz Live, Jan. 13, 2015
"Getting the chance to see a jazz drumming legend like Chambers (accompanied by Josh Nelson, Rob Thorsen and Duncan Moore) is one of the reasons I really love "Jazz Live."
"One of the great virtues of the long-running KSDS concert series "Jazz Live," is the opportunity to bear witness to performances by genuine jazz legends in the intimate confines of the acoustically pristine Saville Theatre on the San Diego City College campus. Whether on vibes or the drum kit, Chambers exemplified total mastery of groove and the ability to tell a compelling story on every tune. One of those nights I won't soon forget."