KSDS-FM's Jazz Live San Diego's 2015 Concerts by Kronomorfic, Joe Garrison and Night People, and Joe Chambers were featured in NBC San Diego / Sound Diego's list of Unforgettable Jazz Concerts of 2015, compiled by noted Jazz critic Robert Bush.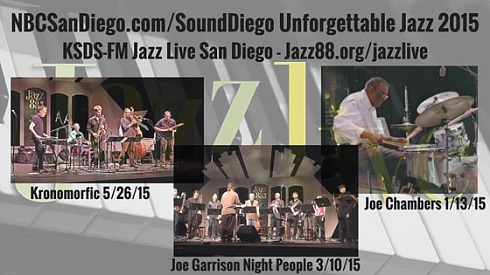 (photo creds to great jazz fans Barbara Wise, Deborah Wolfe, Michael Oletta)
In the full article, Mr. Bush provides a quick synopsis of why each show made the cutoff...and if you've been to shows around San Diego, you know Robert sees a lot of them! Here's the short list, then further below, we provide links to Roberts original reviews of the Jazz Live shows, along with a link to hear the entire Kronomorfic show, interviews from that show and Joe Garrison, pictures and more.