For his recent concert at UCSD's Loft, pianist Danny Green augmented his usual trio-mates, bassist Justin Grinnnell and drummer Julian Cantelm, with three other stellar San Diego musicians – reedman Tripp Sprague, percussionist Mark Lamson and vocalist Leonard Patton.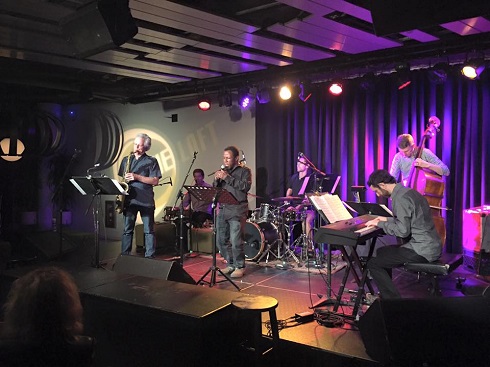 Danny Green is a gifted keyboardist and an equally gifted composer. His recent recordings include most, if not all, of his own compositions, and several of those works made it to the set list at the Loft, along with offerings from Michael Jackson, Djavan and Stevie Wonder.
READ THE ENTIRE ARTICLE for more...

The trio is tight. Several years of working together have let the band gel into a really intuitive group. Being attuned to your fellow musicians makes for a certain relaxed easiness that does not in any way preclude some serious grooving.
The three "guests" inserted themselves seamlessly into the band, as seasoned musicians can do. Sprague has always been able to fit into any type of band, any genre of music and always sounds right at home. His tenor sax sound has a relaxed warm tone that sits especially well in a setting like this with many Latin-tinged tunes. Equally adept as a flutist, his solos are understated yet exciting and always seem well thought out.
Percussionist Lamson is extremely well-schooled in all manner of the Latin instruments, from both the Afro-Cuban and Brazilian sides of the world. He is subtle enough to add just the right amount of flavor, sweetening the overall sound of the band without being overbearing. He really stretched out on some
soloistic passages and some back-and-forth play with drummer Cantelm, using everything from Brazilian agogo bells to bongos and various shakers and woodblocks.
Vocalist Patton has forged a career in San Diego as both a jazz singer, musical theater actor and accomplished composer of both the music and lyrics. His solo recordings, like Green's, contain almost all original material. He's an artist who can sing a nuanced soft passage, then launch into the most soulful R&B line or a scat chorus all in the same breath and in the same song.
Getting back to the original trio, bassist Grinnell has a great touch on what can be a difficult instrument to navigate. His sound is warm yet solid and his deft technique produces some exciting passages. And now that the bass is almost always run through an amplifier, Grinnell is very good at getting the absolute right sound for the room.
Cantelm's drumming is always a treat! He doesn't need to resort to pounding to get the band moving and he seems to be able to avoid most of the drum clichés that most drummers fall into. He always sounds fresh and can keep the music going even when playing his groove on the rims of the drums or just using the cymbals.
Green's keyboard playing is refined yet intricate, not only in the composed passages but in the solos as well. He has a very soft touch for the ballads yet can pound out a montuno line with mucho gusto! He is also a musician who always has something new to say and says it well.
Kudos also to the Loft's soundman. He knows the room well and actually listens!
(This concert was held at The Loft venue on the campus of UCSD on January 29, 2016.)