Hank Mobley, "one of the Blue Note label's definitive hard bop artists" (Steve Huey, AllMusic.com) at saxophone, is the San Diego's Jazz 88.3 Artist of the Week starting July 7, 2015! Listen to Jazz 88.3 all week as our on-air Jazz hosts share their favorite Mobley tunes with you. Share your favorite Hank Mobley composition or collaboration with us and other Jazz fans using the Comment feature below or via any of Jazz 88.3 social media channels, such as Facebook and Twitter @Jazz88.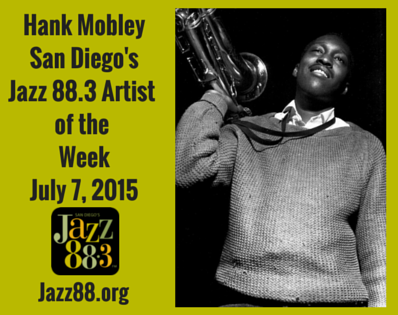 Hank Mobley On The Web
Hank Mobley Biography at BlueNote.com (Steve Huey): "His solo lines were full of intricate rhythmic patterns that were delivered with spot-on precision, and he was no slouch harmonically either. As a charter member of Horace Silver's Jazz Messengers, Mobley helped inaugurate the hard bop movement: jazz that balanced sophistication and soulfulness, complexity and earthy swing, and whose loose structure allowed for extended improvisations. As a solo artist, he began recording for Blue Note in the latter half of the '50s, and hit his peak in the first half of the '60s with hard bop cornerstones like Soul Station, No Room for Squares, and A Caddy for Daddy."
Hank Mobley Downbeat Interview, August 17, 1973: "It's hard to get your own thing together, then play something of Monk's. He's unique; if you try to go his way don't think you'll bring your own self out. To me, if you're with Monk you should play in the upper register as much as you can. Then it blends with him, 'cause he plays precise-like. A few saxophones could play with Monk. One was Trane, one was Rollins, the other was-me!"
Hank Mobley In The Jazz 88.3 Music Library
There are more than 30 collections of music by Hank Mobley, as both a leader and in groups, in the Jazz 88.3 Music Library. And this doesn't include all of his recordings with The Jazz Messengers! Check out the list below.
| | | |
| --- | --- | --- |
| Album | Artist | Record Label |
| A Caddy For Daddy | Hank Mobley | Blue Note |
| A Slice Of The Top | Hank Mobley | Blue Note |
| A-1 The Savoy Sessions | Lee Morgan & Hank Mobley | Savoy Jazz |
| Another Workout | Hank Mobley | Blue Note |
| Blue Note Perfect Takes | Hank Mobley | Blue Note |
| Blue Porter | Hank Mobley | Blue Note |
| Breakthrough! | The Cedar Walton/Hank Mobley Quintet | Savoy Jazz |
| Dippin | Hank Mobley | Blue Note |
| Far Away Lands | Hank Mobley | |
| Good Time Blues: The Ultimate Tenor Sax Collection | Hank Mobley | good times |
| H. Ballard & His Midnighters | Hank Mobley | Bear Family Records |
| Hank | Hank Mobley | SINETONE AMR |
| HI Voltage | Hank Mobley | Blue Note |
| Jazz Message #2 | Hank Mobley | Savoy Jazz |
| Jazz-Club - Tenor Sax | Hank Mobley | Jazz Club Tenor Sax |
| Messages | Hank Mobley | Fantasy Inc. |
| No Room For Squares | Hank Mobley | |
| Peckin Time | Hank Mobley | Blue Note |
| Quintet | Hank Mobley | Blue Note |
| Reach Out | Hank Mobley | Blue Note |
| Roll Call | Hank Mobley | |
| Sanctified | Hank Mobley | Blue Note |
| Soul Station | Hank Mobley | Blue Note |
| Straight No Filter | Hank Mobley | |
| Sugar Hips | Hank Mobley | Jazz Club |
| The Birth Of Hard Pop - Featuring Lee Morgan, Donald Byrd, Hank Mobley | Morgan/Byrd/Mobley | |
| The Flip | Hank Mobley | Blue Note |
| The Hank Mobley Quintet | Mobley, Hank | Blue Note Records |
| The Jazz Message Of Hank Mobley, Vol. 1 | Hank Mobley | Savoy Jazz |
| The Turnaround | Hank Mobley | Blue Note |
| Thinking Of Home | Hank Mobley | Blue Note |
| Third Season | Hank Mobley | Blue Note |
| Triple Bill | Bill Mobley Sextet | |
| Workout | Hank Mobley | Blue Note Records |